No 1.
I wanted to quickly mention this cool giveaway for an artisan knife set from New West KnifeWorks. These guys are making beautiful high quality knives in Wyoming and have recently become a Partner on Honest Fare. I have two of their knives in solid dark wood, but they actually specialize in colorful inlay handles. I've been using the knives they sent me just about every day for two months now and absolutely love how sturdy they feel all around (both handle and blade). You feel so much safer using a good knife and the chopping really does become fun.
They're offering two giveaways right now:
This one on their website.
And this one on their FaceBook page which ends Sept. 7
Go for it!
No 2.
The second thing I want to tell you all about is this little kitchen linen project I'm excited about. I've got a pretty substantial collection of kitchen linens in rotation these days. More than can fit inside the large garden basket that sits on top of my fridge, so I'm guessing at least 25. Some I picked up in places I've visited; some I spent good money for because the quality was worth it; some I got at IKEA for under a dollar because the quality was irrelevant at that price. I like to have a variety because it means the right kitchen linen is always handy for every use. There are usually a couple making the rounds in my kitchen at all times – one for hand drying, another for wiping down countertops and even one for laying out veggies to dry after washing. (Clearly a huge fan of the kitchen linen over the paper towel.) The only issue I have with my beloved collection is that half of them are all busted up from all their action. And the other half are inevitably on their way to looking all busted up too! You've probably got some busted up looking kitchen linens in your collection too. Am I right? That's what happens when you use stuff.
I do attempt to revive their luster by bleaching them every once in a while, but the stains usually just change color (like from yellow to gray or brown to pink) and I can't really decide if that's any better than the original stain was! Then, a few weeks ago, it hit me that I was going about it all wrong. Instead of trying to get rid of these stains, I should be covering them up. With blue Rit dye, of course.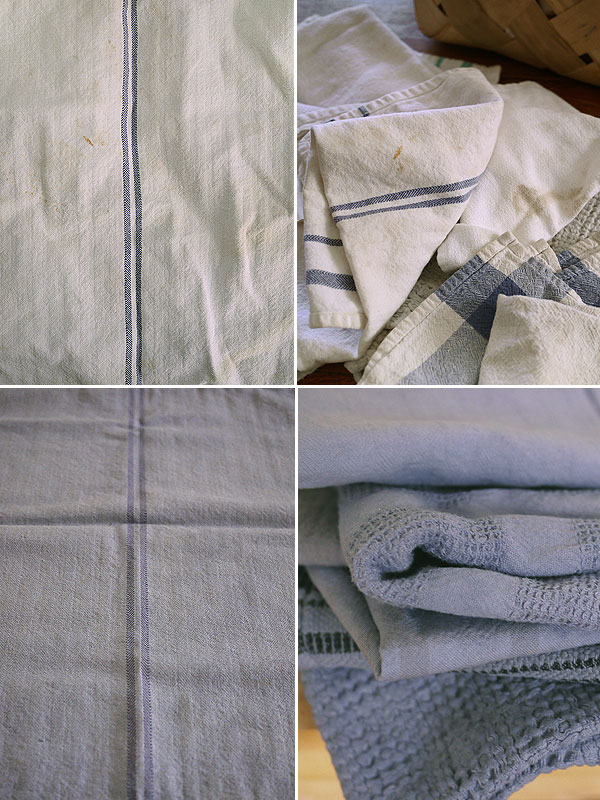 How impressed are you by these mind-blowing before and after pics? Have you ever seen anything this innovative and unique? Yes, it's a simple Idea, but it never occurred to me to do with kitchen linens and it works so well. They can be as old and nasty as they want to be and you can cover it right up!
Odds are you've used Rit dye before so I won't get into it all. Just this one tip for getting an even dye: Dissolve the amount of dye your using into near boiling water in a separate vessel and let it sit for a couple minutes before adding to your linens that are already soaking in water. I prefer to use the washing machine to dye stuff.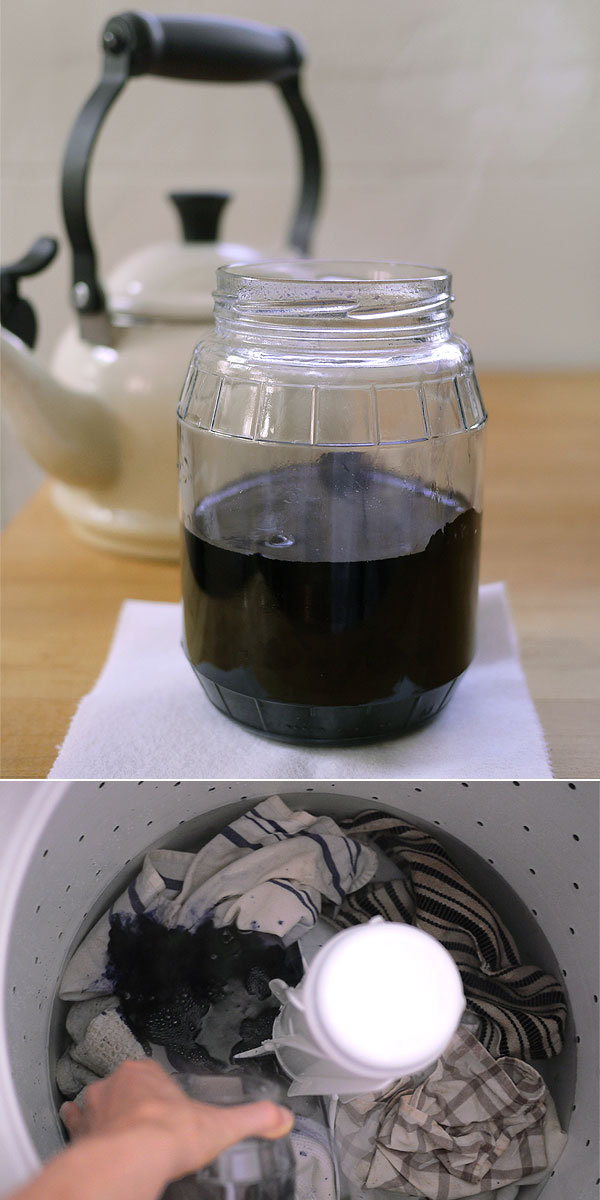 It was interesting to see the way the dye took to the striped and textured linens. I'm very happy with How they all came out. I went with blue for a more traditional look, but you could obviously play around with the colors to match your kitchen.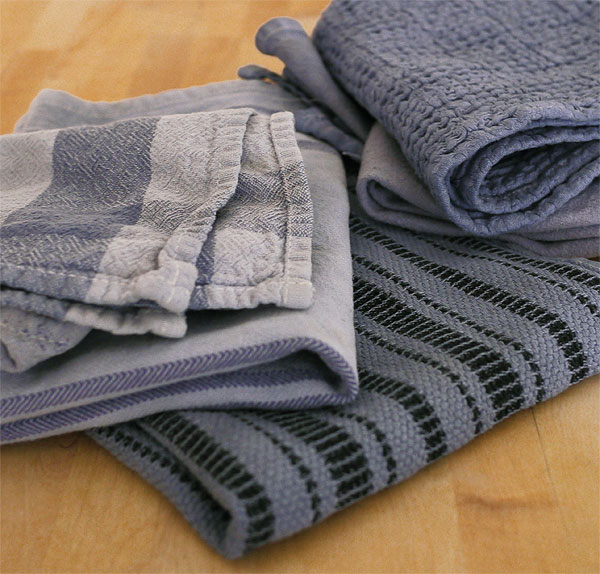 Have a beautiful Labor Day weekend!