There's something truly magical about bisque. Reels me right in every time I see it on a menu. Call it a mushroom soup and I might turn the other cheek…but bisque…a bisque gets me thinking. Amazing how bisquing (new verb) something can turn the most meager of ingredients into a bowl of decadence. Take celery, for instance. But like most things I eat, I'm really picky about my bisque. It shouldn't be too thick or porridge like. I hate when it's overly creamy and rich. And there's nothing worse than gelatinous or corn starchy bisque.
The truth is, most bisques aren't all that great for you. That's what I get hung up on. Bisque, by nature, usually implies butter and heavy cream (and really noisy guts, if you're anything like me). A lot of the vegan bisques use vegetable oil or non-dairy weirdness as a substitute—which isn't terrible, but it's not particularly nutritious either. The point being, bisques are as fattening as they are delicious. Enter Silken Tofu. Problem solved.
We all love our extra firm tofu, but when it comes to pureeing or adding texture and protein, silken tofu is where it's at. The slippery stuff incorporates right into just about anything when blended well. And when it comes to bisques, it's kind of a blessing for those of us who don't get down with cream (and you seriously cant tell the difference in this case). Whatever it is, I'm freaking out about this celery bisque. Creamy, sweet, clean flavor with just enough some heat. It might be the best soup I've ever made…
Note: Make sure you cook the celery enough otherwise you'll get fibrous soup. Should be tender and basically falling apart, and look something like this: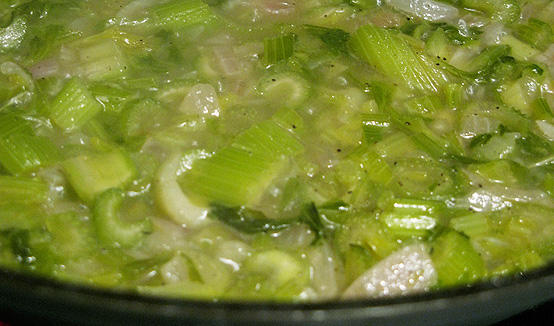 Print Recipe
Back to Top
Recipe
Coop+prep time: 35 mins. Serves 4. Freezes great. Vegan.
You need:
Entire cluster of celery
Half a red onion
One clove of garlic
1/6 teaspoon cayenne pepper
3/4 Tablespoon salt
2 tablespoons sugar or agave nectar
1/3 teaspoon black pepper
3/4 container silken tofu
4 Tablespoons olive oil
1 1/2 cup water
Directions
. Dice celery (including the leaves), garlic and onion. Sauté in olive oil in a large pan on med-high heat. After a couple minutes, add salt, black pepper and sugar (not the cayenne pepper though).
Cook uncovered and stir until it starts to break down a bit (about 6-7 minutes). Add 1.5 cup of water, cover, reduce heat to a simmer and cook until celery is good and tender and falling apart (about 15 minutes).
Spoon all the celery mixture into the food processor or blender (or better yet, if you have an emersion blender, use that!). Add the cayenne pepper, silken tofu and puree away until nice and smooth. Add a bit more water if necessary.
If it tastes perfect to you, just serve it up. Otherwise, feel free to add a touch more salt or pepper and give it another quick blend.
HonestFare.com