It seems like juice is all I crave during these unbearably hot Florida summer months. So instead of paying $7 a pop for it, I finally just ponied up and got myself the masticating juicer I've been coveting for about two years now. Mainly I'm excited because the centrifugal one I'd had for years sucked so bad, so it's nice to have one that actually works well. That thing was just too loud, too big, and such a pain to clean – so I gave it up for a whopping $10 at our garage sale. Big money in the world of garage sales…Oh, some poor fool. Anyway, masticating one I have now is much more efficient, and even quite enough to use while I'm on the phone.
Now, I promised myself that if I got this thing, I'd actually use it – A LOT. And I have been. Here are a couple things that help with that:
1. Making a large batch that lasts a few days so that I don't have to start from scratch each time. It keeps just fine and most juices will taste fresh for up to five days. Juicing in some lemon helps preserve it too.
2. Keeping prepped (washed, peeled and chopped) veggies in airtight containers is another way to make the task easier and faster. It's so nice to have pre-washed and chopped kale, beets and carrots on hand.
I'm having a great time experimenting with my new toy over here. Take this awesome Orange & Sweet Potato juice for instance. Inspired by the summer sunshine and nostalgic of a classic ice cream truck creamsicle in flavor!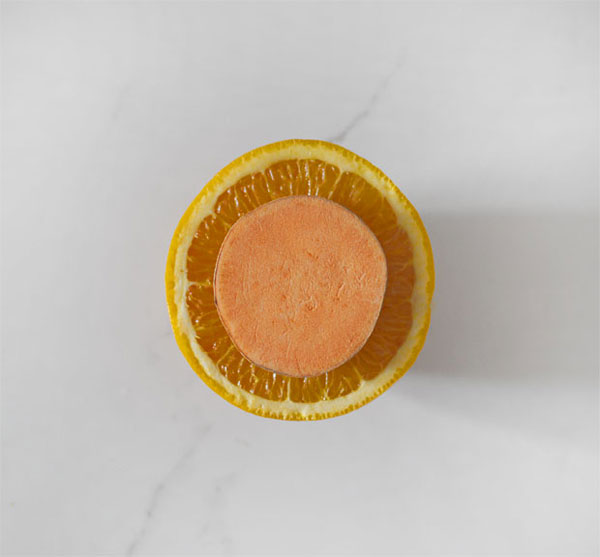 I remember hearing somewhere that sweet potatoes could be juiced and result in a certain sweet creaminess, so it was one of the first things I tried. The subtle flavor was indeed nice mixed with beet, carrot and ginger, but I really wanted it to shine more. Oranges are the perfect counterbalance to the sweet, milky juice of a sweet potato.
Look at these guys…talk about your odd couple…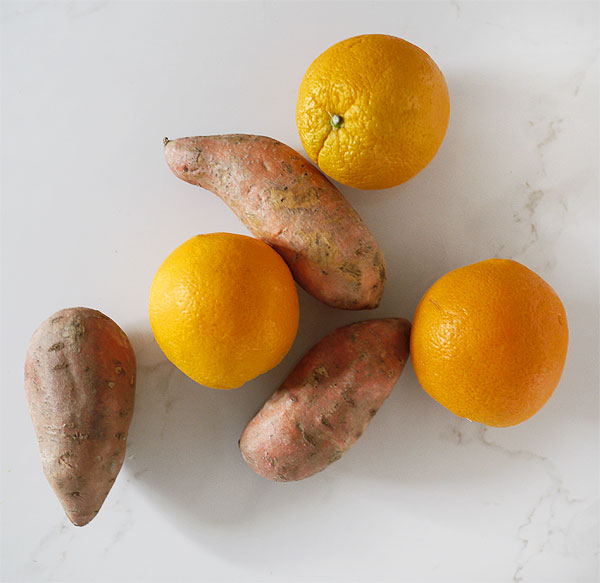 You basically end up with a toned down, less acidic, creamy version of OJ. The color is really what surprised me the most – it's SO orange. It looks like Tang! Ugh, remember Tang? But don't worry, it tastes nothing like it.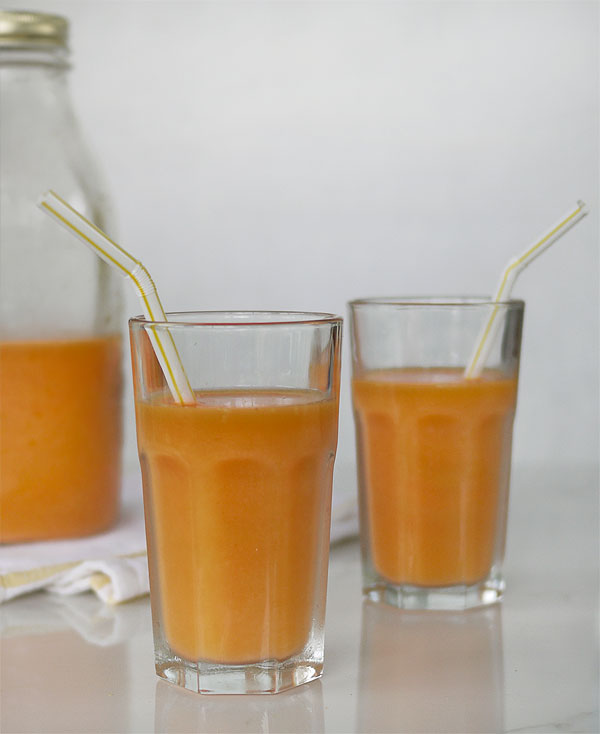 You can play around with the ratio of orange to sweet potato depending on how you like it. And it doesn't matter if you don't have a masticating juicer – a centrifugal juicer will work just fine.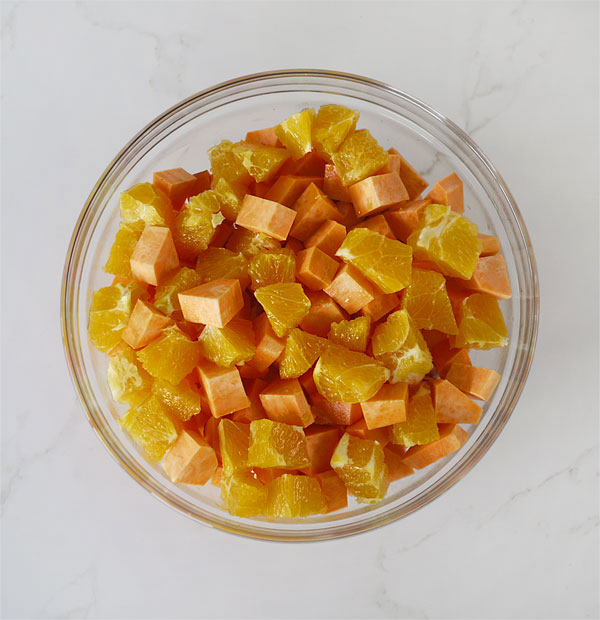 Fun idea: It would be cute to freeze these as an all-natural take on the creamsicle. I haven't actually tried it yet, but bet it would be great!
Print Recipe
Back to Top
Recipe
Makes approximately 12 oz of juice. Feel free to play with the ratio provided here depending on how much or little sweet potato flavor you like. Adding some ginger is nice too. Best served cold and even better served over ice!
You need:
1 medium-sized sweet potato
2 large oranges
Directions
Wash and peel your sweet potato. Cut into chunks that will fit into your juicer's shoot.
Peel your oranges and cut into chunks that will fit into your juicer's shoot.
Add more sweet potato for a creamier juice. Chill before serving or serve over ice!
HonestFare.com