Wait. Mustard greens in salad? Like raw? Oh yes. Are you guys already on this tip and I'm totally out of the loop or what? Either way, I'm definitely a little embarrassed to say that I just tried raw mustard greens for the first time about a month ago. And I live in the South! So there's no excuse. I've had them cooked, but it's never occurred to me to throw them in a salad. Always, always with the kale. You know, I really needed a new salad green in my life. So mustard greens it most enthusiastically is.
Not only is it delicious, this salad is such a pretty sign of spring: greenish-yellow ruffles with blushing pear slivers peeking through.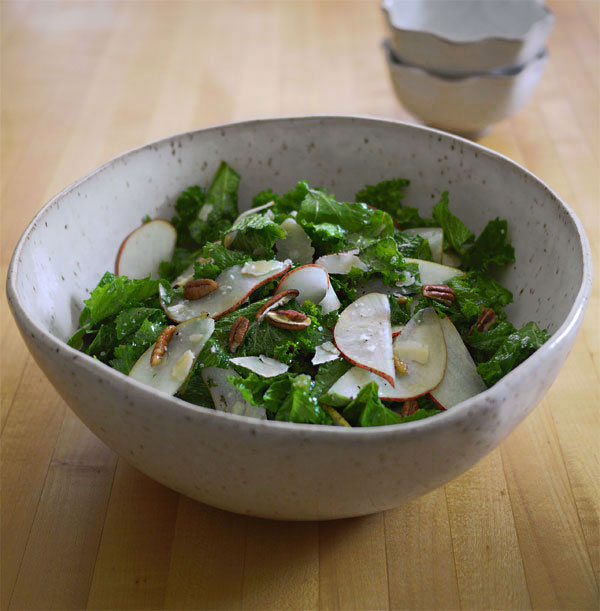 Mustard greens are similar to kale in that tough and flavor-packed way, but they're much leafier and less "green" tasting. They actually taste surprisingly mustardy. Go figure. And because their leaves are softer, mustard greens are more manageable to eat in raw form than kale is. They're like if arugula and kale had a lovechild; so, mustardy instead of black-peppery. The essence of mustard hits you right in the nasal cavity. In a good way. Hope that made sense. I'd recommend tearing the greens into small, bite-size pieces, and you can even toss with another, milder lettuce like frisee, red leaf or bib.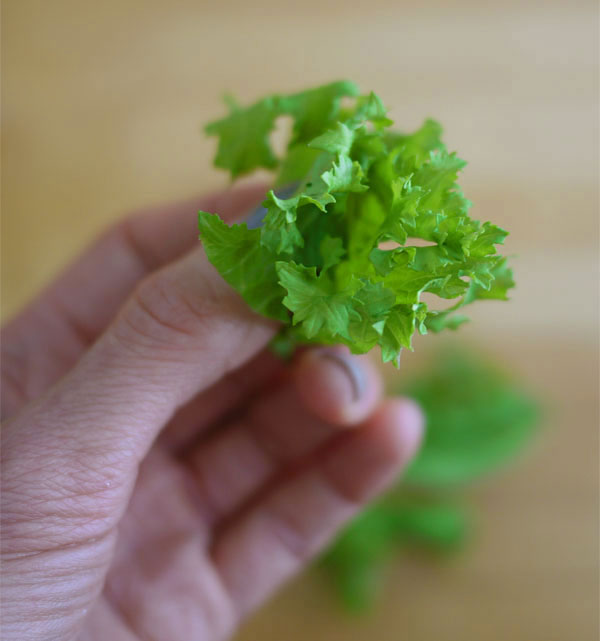 And this lemony-thyme vinaigrette is one of those 30-second dressings you can whiz right up. Just put lemon juice, agave, salt & black pepper, fresh thyme leaves, olive oil and a dash of white balsamic vinegar in a jar—and shake it up real good.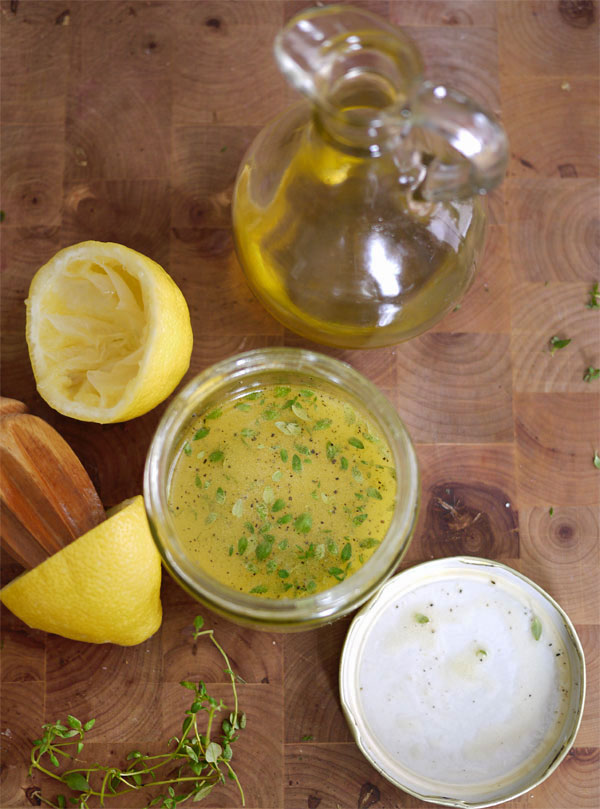 Pecans, delicately slivered pears and Parm cheese help balance out the mustardy kick from the greens with a little nutty sweetness. Other nice additions or substitutions are: fig, avocado or goat cheese instead of parmesan.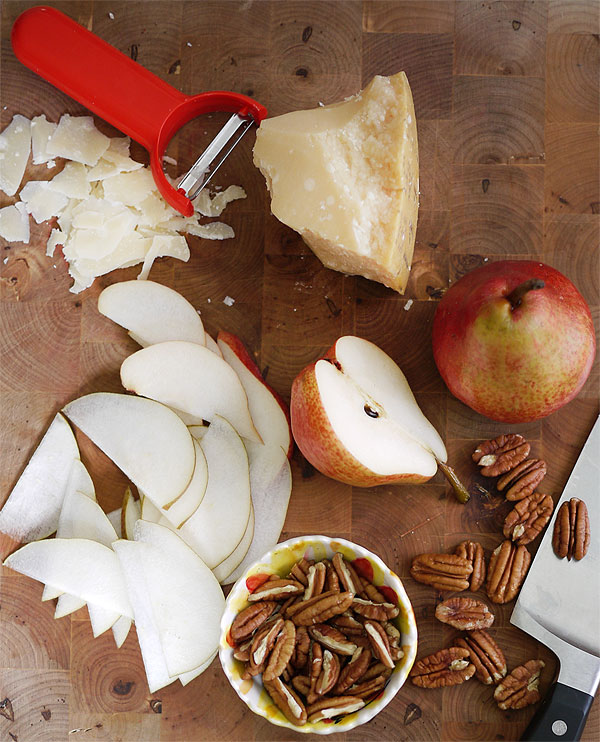 Another great thing about mustard greens is that, like kale, they hold up great in dressing and won't get soggy too quickly. I think they're actually quite nice naturally wilted a tad from the acid in your vinaigrette.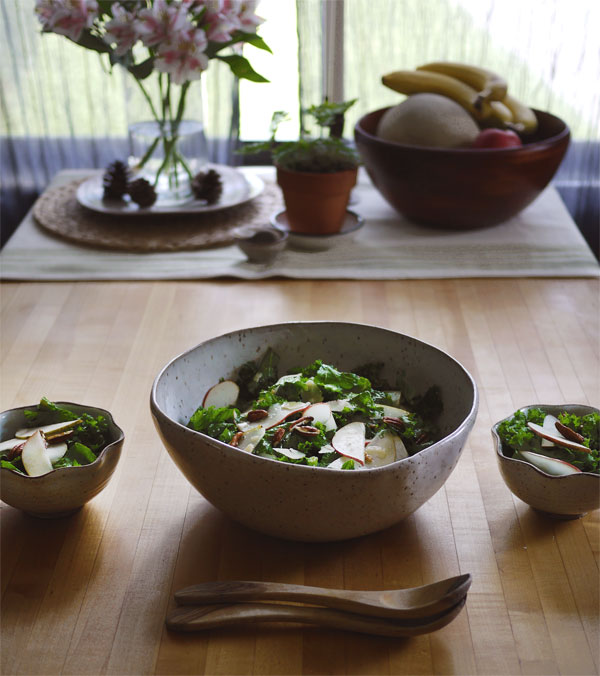 Print Recipe
Back to Top
Recipe
Feel free to also mix in some milder lettuces like: frisee, red leaf or bib. Dressing keeps for up to 4 days in the fridge. Avocado or goat cheese is also nice as a sub for parm cheese.
You need:
Mustard greens
1 firm but ripe pear
1/3 cup pecans
1/3 cup shaved or grated parmesan cheese
Juice from 1 lemon
Splash white balsamic vinegar
1-2 Tbs agave or honey
About 1 Tbs fresh thyme leaves
Kosher sea salt
Cracked black pepper
Olive oil
Directions
Place lemon juice, vinegar, olive oil, agave, pinch of salt & pepper and fresh thyme leaves into a jar and secure lid. Shake until well combined and dressing begins to thicken. Set aside.
Wash and dry mustard greens and tear leaves into bite-size pieces. Slice pears into thin slivers using a sharp knife or mandolin. Break the shelled pecans into pieces. Place mustard greens into large serving bowl and toss with desired amount of dressing. Add pears and cheese and pecans and toss again a little additional dressing.
HonestFare.com