I recently made this little set of serving dishes and glazed them pale whitish yellow. And for some reason, since the moment I took them out of the kiln, I've been stuck on cooking something yellow in them. In a tonal mood, I guess. So I thought about everything yellow—zucchini, corn, lemons, bananas…and on and on until I got to polenta.
As much as I love Italian food, polenta has never become part of my kitchen repertoire. I'm generally turned off by the stuff because of the prepared form it's commonly sold in. You know, that plastic wrapped yellow log found next to the Prego tomato sauce. Like I'm just supposed to slice off a piece and eat it? What is it, like the starch equivalent of Spam or something? But, the yellow log is not what polenta is all about.
Polenta, dubbed "Italian grits," is like many other "mush" type foods in that it has its links to poverty. Northern Italians subsisted on little more than the cornmeal-based dish for centuries—working the fields all day, and then coming home to a plate of humble, yet versatile and satisfying polenta. Some say polenta is truly a national dish with more history than pizza and pasta.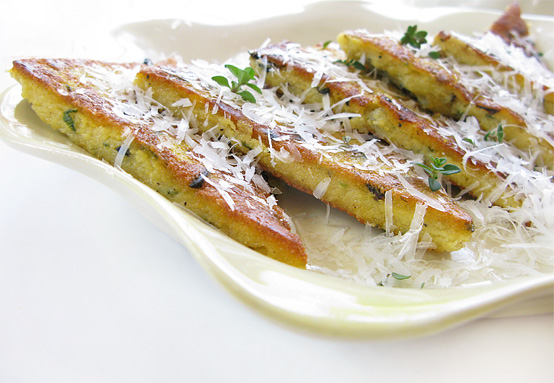 Either way, it's yellow. Plus, I can always get down with some grits, so this past weekend I decided to make polenta (from scratch, of course).
Now, "from scratch" when you're talking about polenta means water + cornmeal. Pretty basic. They sell Italian polenta mix in the store, which is essentially just stone ground cornmeal, but I just used straight up cornmeal (medium/coarse grain). Same thing. In the past, I've always made creamy polenta to be eaten out of a bowl, but this time I wanted to get a little more creative with it so I did cakes. Lightly fried mushroom and herb polenta cakes topped in roasted tomatoes.
When I set out to do this, I assumed I'd be in for an annoying step-by-step, process based experience, but the truth is it wasn't bad at all. I enjoyed it. And the kitchen didn't even get as messy as I thought it would.
After cooking the polenta in boiling water and stirring until nice and creamy, I added ½ a cup of shredded mozzarella cheese and my baby portabellas and scallions, which had been seasoned and sautéed in olive oil.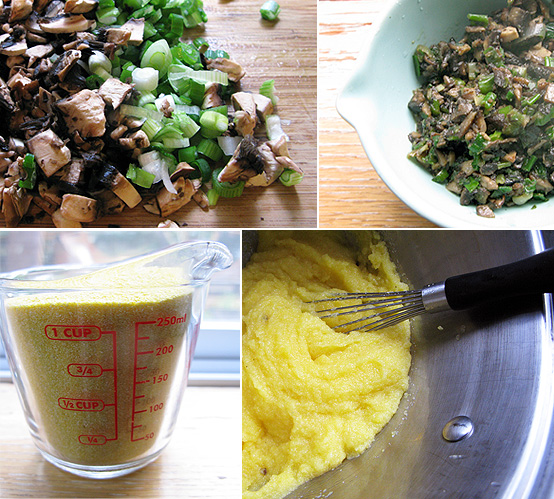 Then I evenly spread the mixture across a baking sheet; placed a piece of parchment paper over it and patted it down with my hands before pressing the bottom of another baking sheet on it to compact it further into form. Then I put it in the fridge to cool and solidify into one giant slab. All of the above took about 20-25 minutes.
Fast-forward 12 hours. I pulled a Martha Stewart and used triangle shaped paper stencils to cut out eight perfect, three-sided polenta cakes.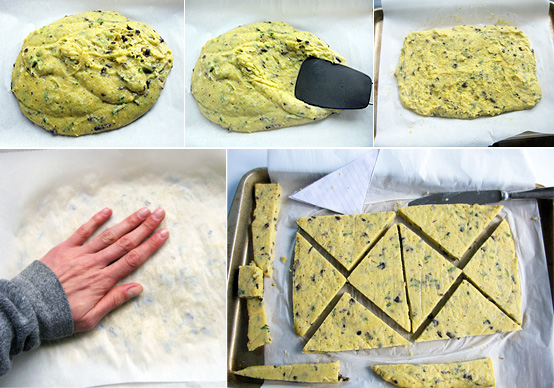 Fighting my inclination to bake everything that tastes better fried, I decided to lightly fry them in olive oil. Glad I did. Then I topped them with Romano cheese and thyme and served them with some simple roasted grape tomatoes.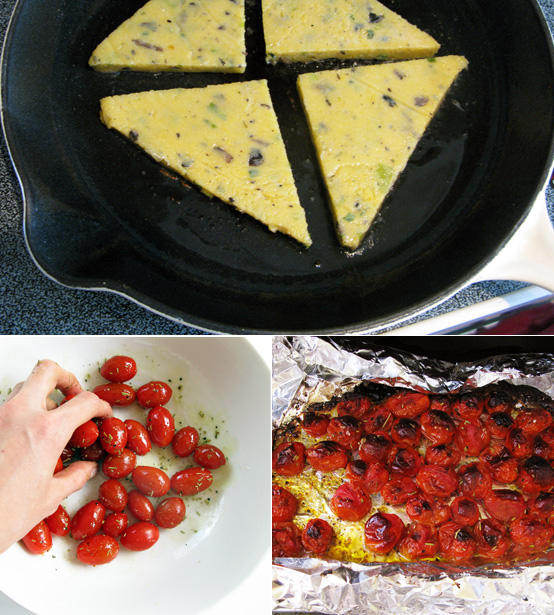 It was incredible.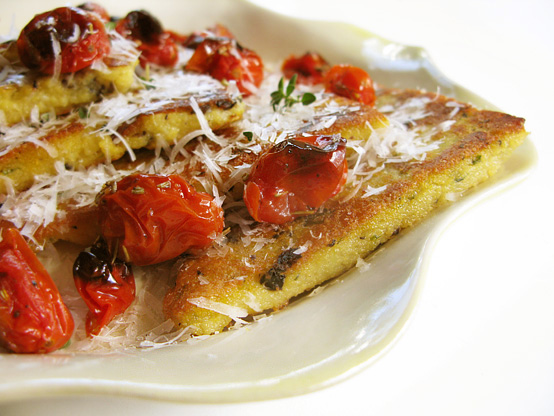 Print Recipe
Back to Top
Recipe
Recipe makes 8-10 medium-sized polenta cakes. Be sure to dice up the mushrooms and scallions into very small pieces or they'll break the cakes apart. Suggestion: You can have the polenta chilling on a baking sheet overnight so all you have to do is cut out the cakes when you're ready to fry or bake them. I thought these were excellent served with roasted grape tomatoes, but it's up to you!
You need:
1 cup med/coarse cornmeal
4 cups water
1 cup diced brown mushrooms
1/2 cup diced scallions
Salt to taste
Pepper to taste
1/4 teaspoon garlic powder
1/2 cup shredded mozzarella cheese
Olive oil for frying
Romano cheese for topping
Thyme for topping
Grape tomatoes(optional serving suggestion)
Rosemary (for tomatoes)
Directions
Finely dice mushrooms and scallions. Sauté in olive oil, salt, pepper and garlic on medium heat. Remove from heat when scallions are soft. About 4 minutes. Set aside.
Bring 4 cups water to an almost boil in a large pot. Lower heat and slowly add one cup of polenta while stirring so it doesn't clump. Stir until polenta is creamy and begins to thicken. Add salt (start with a 1/2 teaspoon and add more to taste) and 1/2 cup mozzarella cheese. Continue cooking and stirring for about 10 minutes. Remove from heat. Stir in mushrooms and scallions.
Line baking sheet with parchment paper. Spread polenta evenly across using back of a spoon or spatula. Cover with another sheet of parchment paper. Flatten, smooth and form nice edges by gliding your hands across top of parchment paper. Put in fridge to cool for at least 1 hour.
Once a solid polenta slab has formed, it's time to cut out the cakes. Pat slab dry with paper towels if any moisture has formed. Cut out cakes (squares, triangles, circles, whatever) using stencil if desired.
Coat bottom of pan in olive oil and heat to medium high heat. Place a cake on the pan and DON'T move it. Let it fry for 2-3 minutes per side untouched. Flip and repeat.
Drain on paper towels. Top with grated Romano cheese and fresh thyme before serving.
For the roasted tomatoes: Just toss grape tomatoes in a little olive oil, salt, pepper and rosemary. Bake for about 20-25 minutes or until blistering and slightly browning at peaks. Serve hot atop polenta or on the side.
HonestFare.com