If you need to find me, just follow the trail of oats. Suppose it could be worse. Chocolate fudge, for example, might get me into some trouble. But I see no real harm in walking around with a fist full of rolled oats, nuts and dried fruit. Morning. Noon. And night.  Oh God, I need help.
Please note the obscenely large container of it sitting on the counter. (I can conveniently fit my entire arm in there.)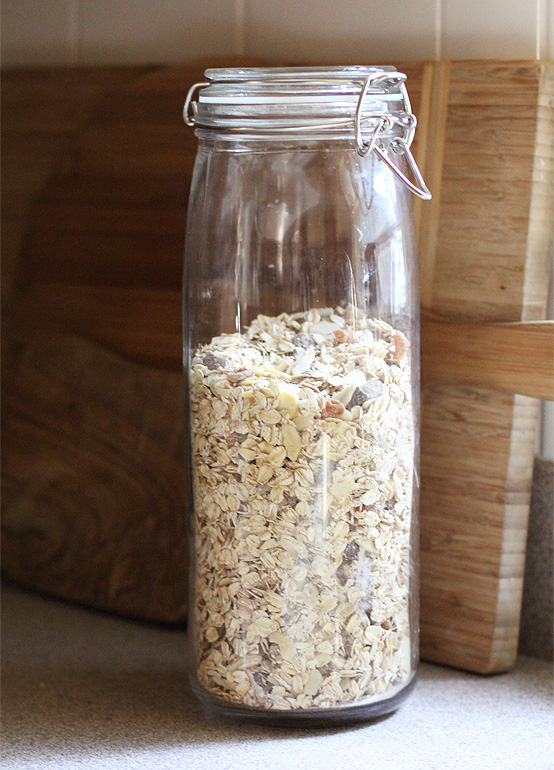 I get on crazy kicks like this from time to time. For a while there it was rice cakes with smashed avocado, arugula and sriracha chili sauce. Then there was the Green Smoothie Obsession. Now we're on to muesli. I've been eating it plain, with soy milk and over yogurt. Join me?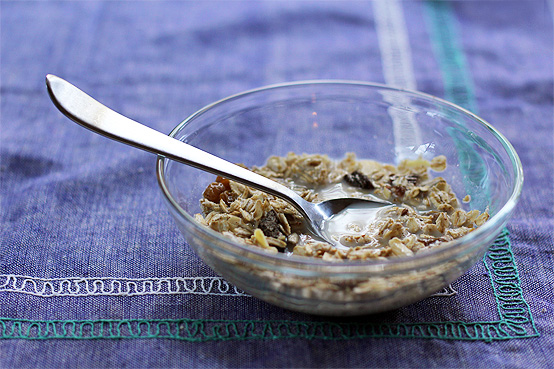 Muesli isn't a new discovery for me though – what's going on here is that I've just discovered the perfect recipe. Rolled oats, raw sunflower seeds, shaved almonds, flax seeds, dried dates and figs, golden raisins, cinnamon, salt.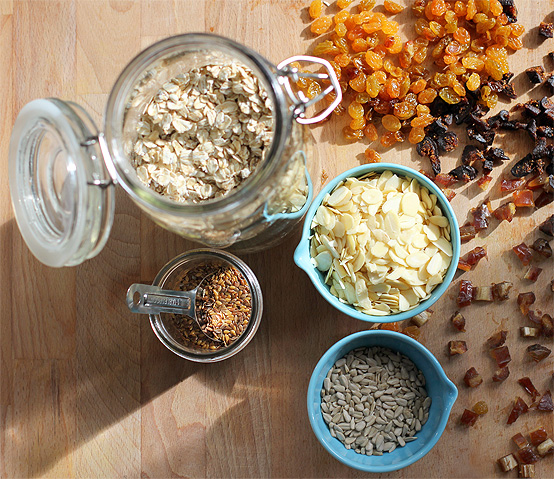 Another secret to this muesli is the order in which you combine things. First, I like to toss the oats with the cinnamon, salt and flax evenly to avoid any of it sticking to the fruit. Then I add chopped dates, a few pieces at a time, and toss with each new addition. It's important to add the dates this way (and before the other fruit and nuts) because they are really sticky and will clump to themselves if added all at once and bind to everything else if added along with the other fruit. When you add them first, they get coated in the oat dust and basically become invincible.  Another little tip about the dates: To make them easier to handle, I like to put them in the freezer for a few minutes before chopping. Otherwise I find that they get mashed and stick to your fingers.  Anyway, once the dates have been tossed in the oats, you're good to add the rest of the ingredients. I like to store it a jar so I can shake it up nice and good before eating cause the smaller stuff (like cinnamon, salt and flax) tends to settle at the bottom.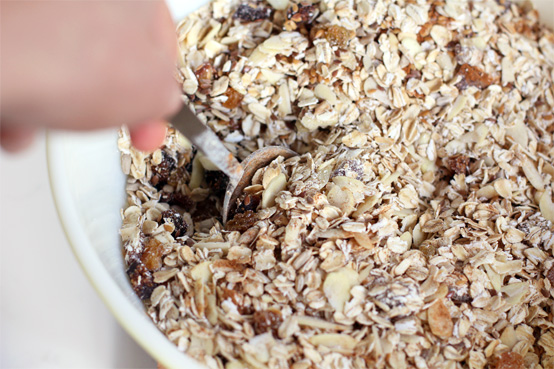 It's like a healthy, deconstructed cookie. The dates are nature's caramel. And with no added sugar or oil, it's SO much better for you than granola. I wasn't actually going to do a post about this (thought it might be boring), but my love for it has grown so much lately, that I couldn't really hide it anymore. Plus, I've been handing it out left and right and have got some pretty good responses so hopefully you'll like it too!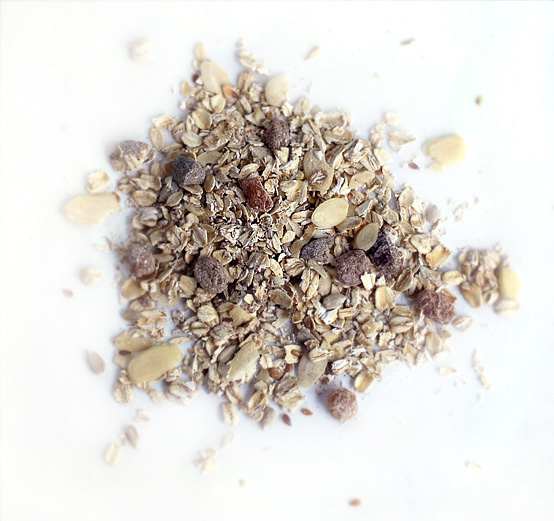 ps.  The oats get such a nice texture if you let stand in the milk for a minute or two to absorb some moisture before eating.
Print Recipe
Back to Top
Recipe
Prep + assembly time: 15 mins. Be sure to add dates before all other fruit and nuts so they don't clump up. And as always, feel free to experiment with the recipe, adding other nuts/seeds like pepitas and fruit like dried cherries!
You need:
5 cups whole rolled oats
1 tsp salt (or more to taste)
1 tsp cinnamon (or more to taste)
2 tablespoons flax seeds
1/2 cup raw almond slivers
1/3 cup raw sunflower seeds
About five dried mission or brown Turkish figs, chopped
About 4 large dried dates (plum ones with no added sugar), chopped
1/2 cup golden raisins
Directions
Place dates in freezer for a few minutes. Meanwhile, place oats in a bowl and measure out all other ingredients and set aside. Add salt, cinnamon and flax seeds to oats and toss. Remove dates from freezer once nice and firm. Cut in half to remove stone and ten chop into small squares (about 1/4 inch in size).
Add dates to the oats, a few pieces at a time, and toss to coat in oat dust. Do this until you've added all the dates. Then add each other ingredient one at a time, tossing well between each.
Store in a large jar and shake before each serving to incorporate the small pieces that settle at the bottom. Eat as is, over yogurt or in choice of milk. If eating in milk, let it sit a couple minutes to absorb some moisture and give the oats a really nice texture.
HonestFare.com