I don't know about you, but I've been indulging a lot lately. More desserts and baked goods and cheeses and even meat than usual. It's like everything is too beautiful and delicious to pass up or something. And all of a sudden I'm telling myself I deserve frozen yogurt for lunch? And that chips and salsa are a good breakfast option?
As you know, I'm a pretty healthy eater (and by that I mean balanced and fresh with some decadence here and there because I think that's important too), but every once in a while I develop some weird habits…like eating a bunch of crackers with butter and honey right before bed. I know that's not a huge deal – it's not like I'm gorging on fist fulls of Cheetos or anything. But, the issue lies in that I just don't FEEL my best when I eat a lot of refined sugars, cheese, meat, etc.
So I'm cleansing. No cheese. No grains. No refined sugars. No frozen yogurt! I'm taking a break from all of it and sticking to purely fruits & veggies for the next…um maybe 10 days. The idea is to keep everything pretty light and packed with nutrients. It's been almost a week now and I feel petty great. I've been eating a lot of nuts and potatoes and avocados and making a bunch of healthy and energizing soups (with ingredients that have detoxifying properties) to offset offset all the ruffage.
Like this miso based veggie soup with the powers of parsley and asparagus to cleanse your kidneys and urinary tract and beet to purify and strengthen your blood. The energizing fresh ginger and protein-rich miso are known for reducing the harmful effects of stored and environmental toxins like radiation, pesticides, cigarette smoke, and air pollution.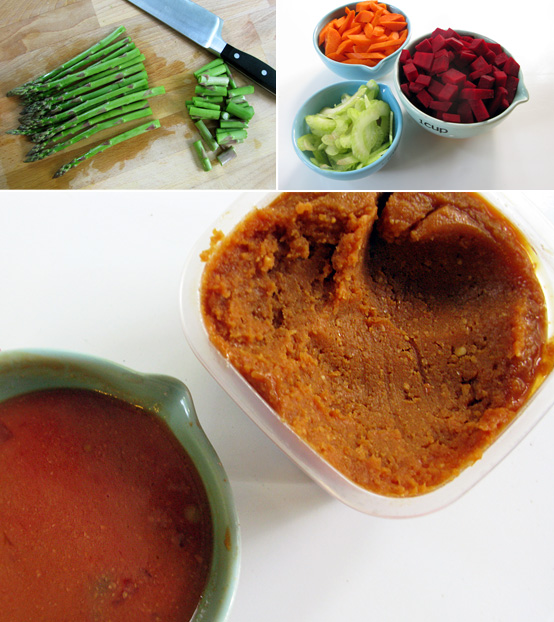 One thing about cooking with miso: You have to dissolve the miso paste with a little hot water (a ladle full of hot soup water will do) before adding to the pot of soup. Do this in a small bowl on the side AND THEN add to the large pot of soup and continue cooking. Skipping this step will result in the miso clumping up in the soup and never fully dissolving.
I'm no nutritionist, but I can tell you that this soup feels like exactly what my body needs.
P.S. I didn't think this would be challenging at all because I've done a lot of cleanses/detoxes in the past and I eat a ton of veggies anyway. But then last night, when Jason suggested we have grilled cheese sandwiches and I almost punched him, I realized that it must be starting to get to me a tiny bit.
Print Recipe
Back to Top
Recipe
Coop/prep time: 30 minutes Serves 4. The flavor of this soup is so refreshing and clean. You'll fell healthier right away!
You need:
1 tablespoon olive oil
1/3 cup onion of choice diced
1/3 cup chopped celery
1 cup peeled, chopped beet
1/2 cup chopped carrot
1 cup chopped asparagus (bases removed, tips left whole)
Some fresh scallions, chopped
Large handful flat-leaf fresh parsley, chopped
1 tablespoon minced ginger
5 cups water
Salt (about 1 teaspoon) to taste
3 tablespoons miso paste of choice
A little minced jalepeño or chile pepper (to taste)
Directions:
Heat the oil in a large pot over medium-high heat. Add the onion and sauté for a few minutes until begins to brown. Add the celery and scallions and half the parsley and sauté for another minute.
Add the water, beet, carrot, ginger, salt and pepper of choice. Increase the heat to high. Bring to a boil, reduce the heat to medium/low, cover and simmer for 10 to 15 minutes.
While that cooks, remove a ladle of the hot water from the pot and place in a small bowl on the side. Add miso paste to the small bowl and stir/mash in until fully combined (refer to image in post). Now add the dissolved miso to the soup pot. You can't skip this step and just add the miso directly to the main pot of soup – it will clump and never fully incorporate.
Add the asparagus and cook for another 5 minutes. Remove from the heat when asparagus are bright green and still firm. Stir in remaining parsley. Place in bowls and serve warm.
HonestFare.com