I had a collard wrap for the first time on a visit to San Francisco several years back. It was at the Ferry Building Market from a raw foods vendor. Of all the great food there is to be had in that city (and we had a lot of it on that trip), the collard wrap I ate on the pier that day made the biggest impression. So delicious and like nothing I'd had before.
Living in the south, I was no stranger to collards, but I'm pretty sure that collard wrap was the first time I'd ever eaten them in raw form and without a side of mac and cheese and fried chicken in close proximity. I don't remember exactly what was in it – cashew butter, beets and carrots for sure – because more than anything, I was blown away at how perfectly crafted and beautiful it was. Each green fold tucked unto the next with layers of color and texture stacked between. So masterfully put together that I had to go back and tell the dude who made it.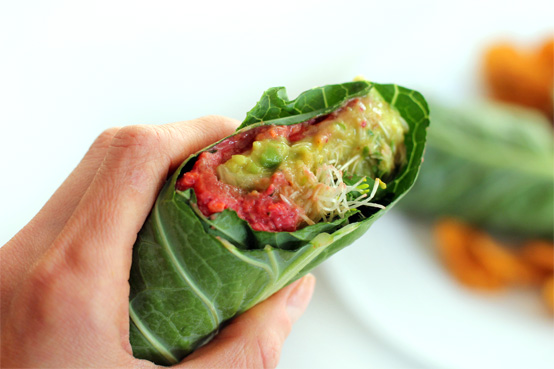 Then there was how great I felt after eating it. Satiated and energized, but not full. Treated, but not guilty. Oddly enough though, it was years before I had another collard wrap. (As if such a delightful thing could not exist outside the vacation bubble?) But luckily, the collard wrap found me again last year in a raw foods café in St. Augustine, and this time, I made sure to pay close attention to its construction, do some research and recreate it for myself.
It's not that making a collard wrap is that complicated per say – it's just that it requires a certain amount of technique and finesse. My first couple attempts were pretty pathetic, but that's because I was doing it all wrong. Luckily, you won't have that problem because I'm going to tell you exactly what to do.
You will require two collard leaves per wrap – the bigger the better. The ones I bought at the market on this particular day were huge!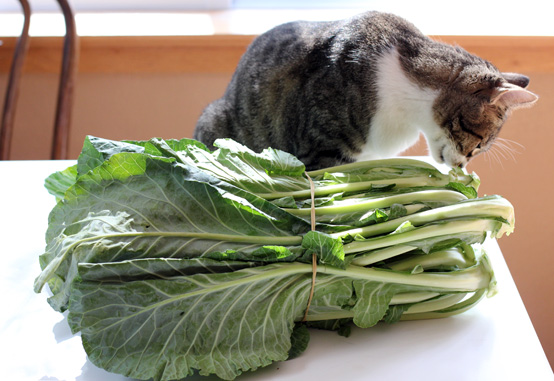 (kitty for scale.)
After cutting off the white portion of the stalk that had no leafy greens attached to it, I soaked them in a bath of warm water and vinegar for about 10 minutes or so. This makes sure they're nice and clean and room temp so they are more flexible for rolling later.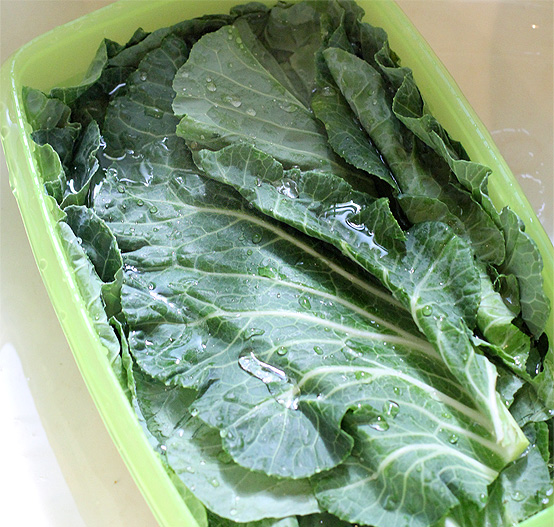 Now, see this big momma of a stalk that runs the length of the collard leaf? It's got to go. Sorry, but if it doesn't, your wrap won't roll properly and you'll just fold and tear things apart in vain until you end up with what looks like a dirty diaper filled with rainbow poop.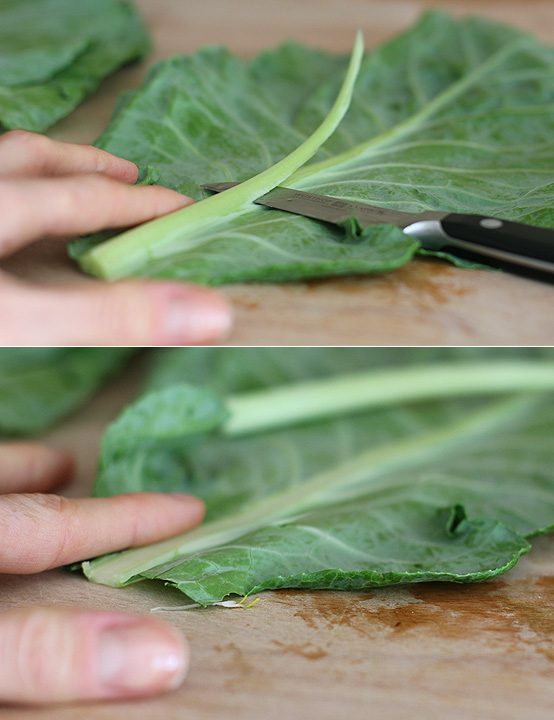 Using a sharp paring knife, shave the dense stalk down until it is more or less the same thickness as the leaf. It'll still be a bit thicker, but the goal is to get to where it's flexible enough be rolled up with the rest of the leaf without snapping. And be careful not to nick or cut into the actual leaf with the tip of your knife as you do this. Glide, not hacksaw.
You can fill these wraps with whichever veggies, spreads, nuts, beans, sprouts, fruits, etc. you like. However, I do find that using a spread (even hummus) helps hold everything together, and is a nice smooth contrasting texture to the crunchy collard. I went with a beet, chickpea and carrot spread that's super easy to make. Pretty too!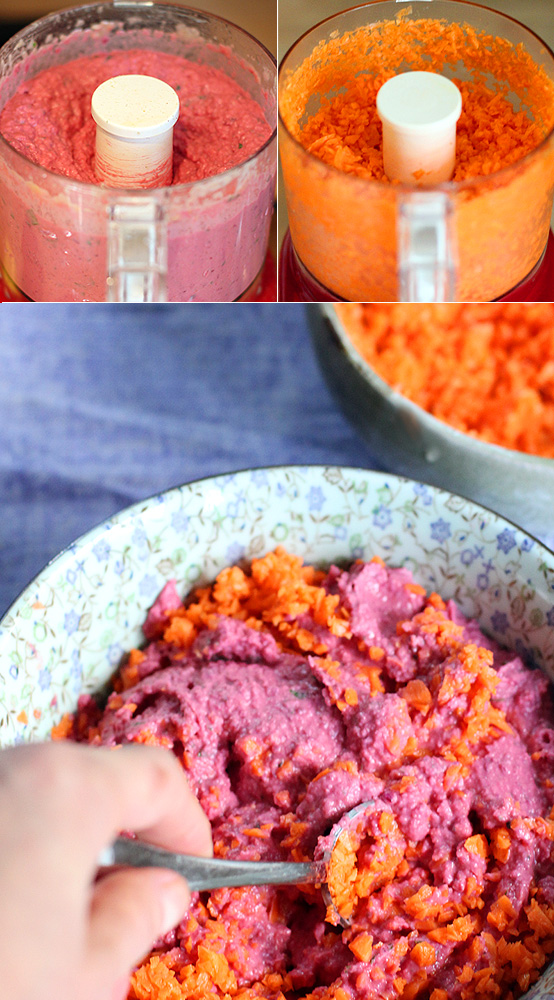 Beets, chickpeas, garlic, lemon juice, tahini, agave, salt, pepper and parsley in the food processor. Blended until creamy. Then I folded in shredded carrots to give a heartier texture.
And now for the fun part…
Place two collard leaves head to foot (stalks at opposite ends) and partially overlap the leaves. Apply your pâté or spread ("the glue") first at the center and then start piling on the other veggies. You can get quite a bit in there, but be careful not to overload.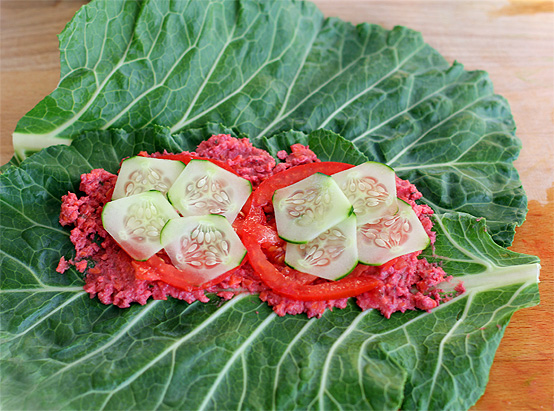 From here, assembly is not so different than what you'd do with a regular wrap or tortilla. Flip the sides up and then tuck and roll, folding in any stray corners that pop out along the way. (And feel free to use two hands, assuming you're not holding a camera.)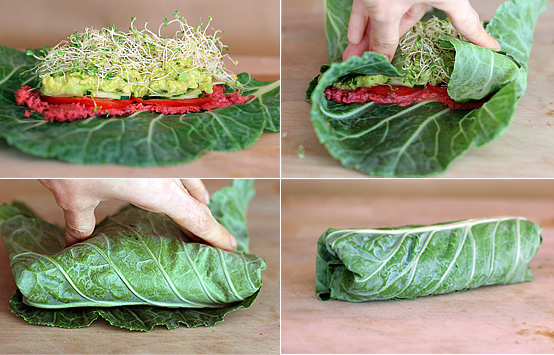 I like to cut them in half cause they're a real handful otherwise.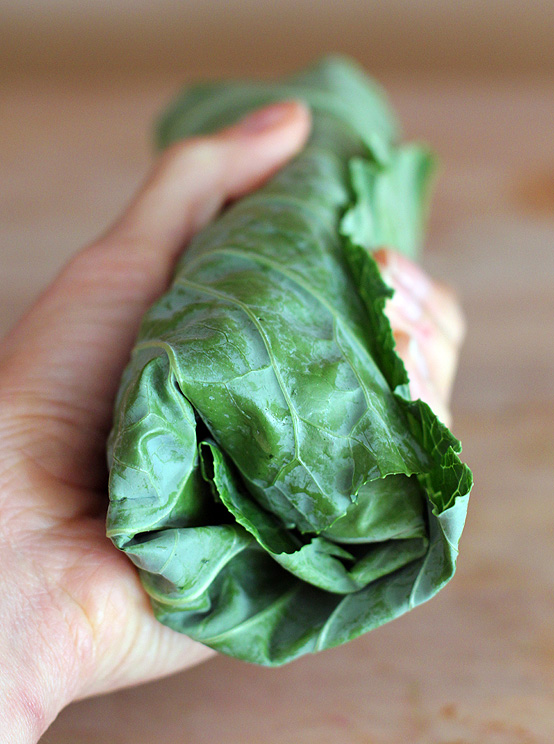 P.S. These travel really well because they don't get soggy like bread does. AND, if kept in an airtight container or baggie, prepped collard leaves stay fresh in the fridge for at least a week, so you can easily make these whenever you're in the mood.
Print Recipe
Back to Top
Recipe
Prep + cook time: 20 mins Makes enough chickpea beet spread for 4 collard wraps. I like to mash up the avocado instead of stacking slices because it gives a nice creamy texture. The bigger the collards the better.
You need:
8 large collard leaves
Veggies of choice (avocado, sliced tomatoes, cucumbers, sprouts, etc.) and even quinoa or sunflower seeds are nice in there too!
Chickpea beet spread
For Chickpea beet spread:
10 oz soaked or canned garbanzo beans
1/2 a med-sized beet, peeled
2 carrots, peeled
Juice from one lemon
2 tablespoons tahini
3 teaspoons olive oil
Salt to taste
Cracked black pepper to taste
1-2 tablespoons agave nectar
A few sprigs of fresh parsley
1/4 fresh garlic clove
Directions
Place carrots into food processor and pulse until consistency of rolled oats. Remove and set aside. Put garbanzos, beets, parsley, garlic, olive oil and lemon juice in food processor and pulse until creamy. Add a little water, one tablespoon at a time, if necessary to thin a little. Scrape sides of food processor and add salt (like 1/4 teaspoon), some pepper, tahini and agave and pulse again a few times. Taste and add any additional salt or pepper. Fold in carrots until well combines. Place in fridge to chill.
Remove the healthiest looking collard leaves from the bunch and trim off the white stalk that does not have any green leaves attached. Soak leaves in warm water and vinegar bath for a few minutes to clean and bring to room temp.
Dry leaves completely. Place leaves flat (rough side up) on a cutting board and gently glide a sharp paring knife across the length of the stem, shaving it down to the same thickness as the rest of the leaf (refer to image in post). Do this for each leaf. Careful not to nick or tear the leaf with the tip of your knife.
Each wrap will require two leaves for rolling. Place two leaves head to foot (with stalks at opposite ends) and overlapping about half way (refer to image in post). Apply a good amount of spread at the center where the two leaves overlap and pile up veggies of your choice. Fold in sides and tightly roll like you would a burrito. Leave whole if traveling or saving for later, but cut through center before eating.
HonestFare.com