Though the weather down here tells a very different story, autumn has officially arrived. And with it, my craving for Brussels sprouts. Maple glazed with hazelnuts, and broiled to a crispy perfection.
Tiny baby cabbages – so cute!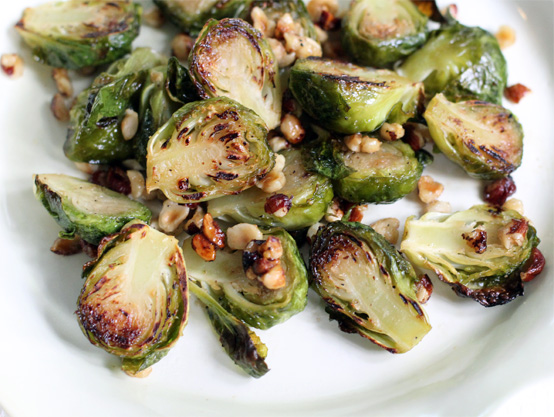 A lot of people think they don't like Brussels sprouts. And I say that they "think" they don't like them because I believe they've just never had them cooked right ;) I too have seen and smelled my share of grossly overcooked and buttery Brussels sprouts, and we all know the reputation they have for smelling like farts. (Side note: Was it just my childhood or did the 80's seem to breed these kinds of vegetable massacres? Or maybe I was just growing up in New Jersey? Buffet lines with green veggies turned almost beige from stewing in salty water for hours. I find it truly amazing that any of us who lived through those years made it out to enjoy veggies at all.)
It's true though – Brussels sprouts CAN smell pretty gnarley. But they don't have to. Overcooking them releases glucosinolate sinigrin, which has a sulfurous odor that isn't exactly the most appetizing. The trick is to cook them just through and go no further so they retain some firmness at their core and don't get smelly. It's really not that complicated.
After removing the very bottoms of their stems, I like to cut them in half so they cook faster and so that more of their surface area can brown. I lightly seasoned these and baked them for just a few minutes.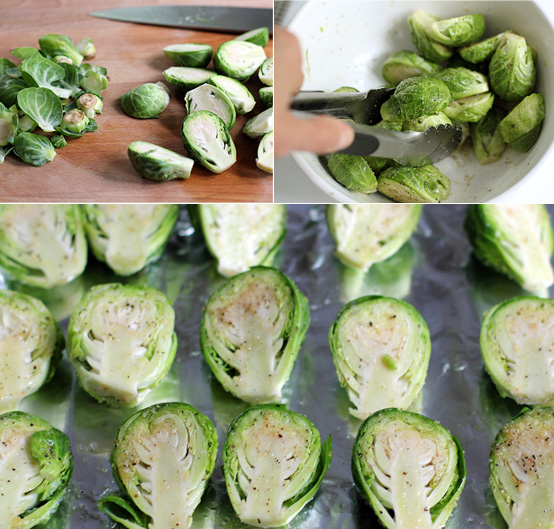 Then I tossed them in the maple syrup and hazelnut mixture and baked them for a few more.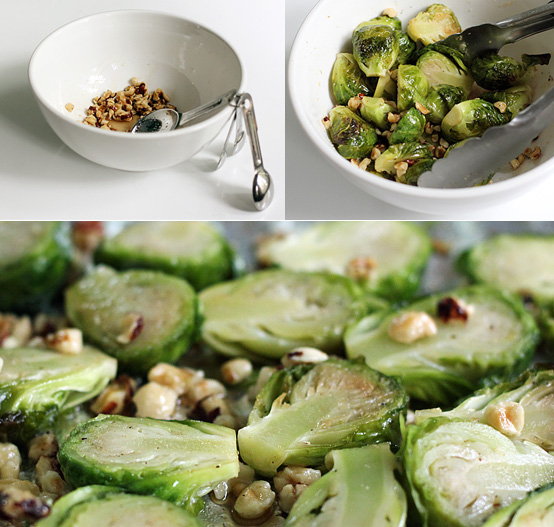 I took them out once they were nice and crispy and the nuts were toasted. You can also broil them for a minute or two at the end for some extra crispy action.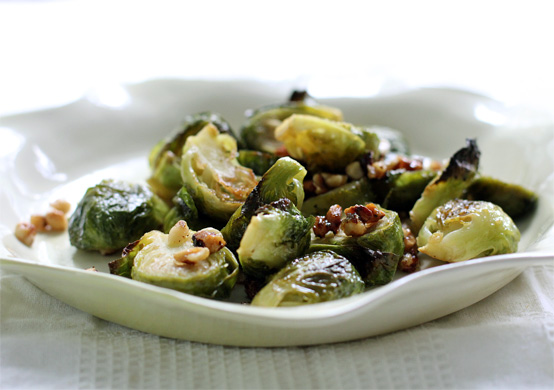 Print Recipe
Back to Top
Recipe
Prep + cook time: 20 minutes. Walnuts are a great substitute if you don't have hazelnuts or don't really care for them. You can broil them for 2 minutes at the very end if you want them extra crispy and brown (careful not to burn the nuts though). Serves 2-3
You need:
About 10-12 Brussels sprouts
3 tablespoons of chopped hazelnuts or walnuts
3 tablespoons of maple syrup
Olive oil
Salt
Black pepper
Garlic powder
Onion powder
Directions
Preheat to 400°F
In a bowl, toss nuts with 3 tablespoons of maple syrup, about 1/2 teaspoon of salt and some black pepper. Set aside
Slice off very bottom dirty portion of stem and remove any damaged outer leaves. Cut in half. Place in bowl and toss with a little olive oil, salt, pepper, garlic powder and onion powder. Place cut side up on a well greased baking sheet. Bake covered for about 5-7 minutes or until they start to just soften.
Leave oven on, but remove partially cooked sprouts and toss in bowl with maple and nut mixture. Spread maple coated sprouts and nuts across baking sheet again and continue to bake uncovered until crispy brown (about 5-7 minutes). You can broil a couple minutes if they aren't browning enough on bake, but keep an eye on them to make sure the nuts don't burn.
HonestFare.com