It's like they say, one woman's stale bread is another woman's golden crouton. Anyway that's what I say. Especially when you have a friend like Jen. Jen likes to buy bread and never eat it. Then she feels guilty throwing it away, of course. So instead, she lets it pile up as artistic expressions of partially eaten, rock solid or moldy (depending) bread landscapes on her counter top. Enter me and my love for homemade croutons.
I went over there the other day and she had not one but TWO half eaten loaves of unsliced bread—and one was even pumpernickel. So I took them off her hands and gave her a serious lesson in crouton making.
I like my croutons big. Like big enough to cut into and break apart in a salad. A giant, perfectly seasoned and toasted crouton can really transform the most modest of salads into a real beaut. Seeeeee…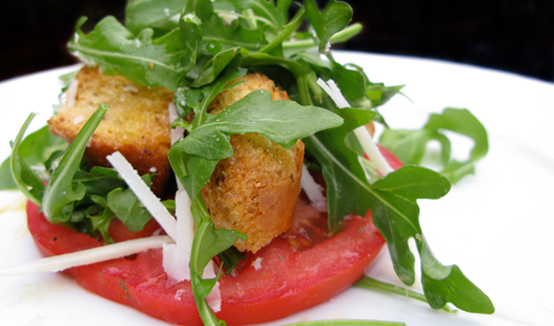 So it's pretty easy. You just cut your stale bread up into squares about two inches in size. Some will be oddly shaped so you'll end up with a few triangles here and there. But so what if your croutons have character, right?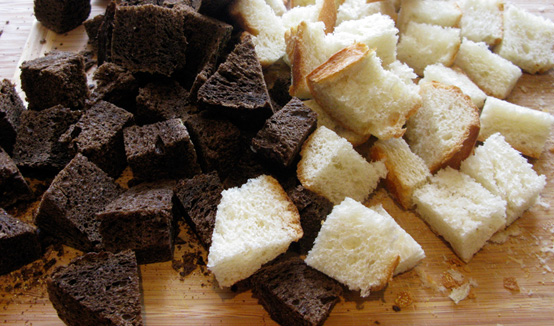 Then you combine your seasonings (I did a rosemary, salt, garlic, lemon zest and cayenne pepper blend) with olive oil, and coat your bread cubes on most sides (again, this does not have to be perfect).
Then you bake them for a few minutes, taking them out to flip a couple times so they cook evenly. You just have to keep your eye on them so they don't burn. I like to sprinkle a little sugar or agave nectar over them before they cool, just for a little hint of sweetness.
You know what's the worst? Buttery ass, generically seasoned croutons that come in a box. You know what isn't? These babies.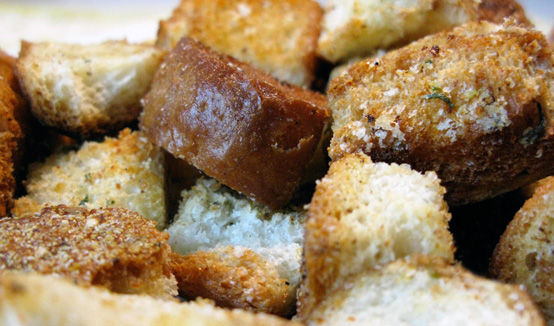 So next time you're at the store and they're selling discounted stale baguettes…
Print Recipe
Back to Top
Recipe
Coop+prep time: 35 mins. Think of these like toast. Keep your eye on them or they'll burn. I happen to prefer garlic powder to fresh garlic for these because the fresh garlic tends to burn too quickly and become bitter.
You need:
About 3 cups of stale bread cubed up
1/4 cup olive oil
1/3 teaspoon of lemon zest
Handful of rosemary
Salt to taste
1/8 teaspoon cayenne pepper
1/2 teaspoon garlic powder
1 tablespoon water
Sugar or agave for sprinkling (optional)
Directions
Preheat the oven to 350°F.
Remove rosemary leaves from stem and finely, finely chop.
If you have a zester or grater use it to remove the yellow surface of your lemon until you have about half a teaspoon. Otherwise, use a sharp knife to skim that yellow layer of zest and then dice it up into tiny pieces.
Combine olive oil, rosemary, lemon zest, salt, cayenne pepper, garlic powder and a tablespoon of water in a bowl. Whisk together and set aside.
Using a good bread knife, cut up your stale bread into about 1.5 inch cubes or whatever shapes you end up with.
Brush your baking pan with a nice layer of unseasoned olive oil. Place bread cubes on pan. Lightly brush each cube with the seasoned olive oil (it's okay if you don't get all sides exactly the same). Sprinkle a little more salt over cubes (optional).
Bake on middle rack for about 20 minutes. You'll need to rotate/flip the cubes every few minutes so they don't burn—keep your eye on them!
Sprinkle with a little sugar if desired before they cool!
HonestFare.com