I find it amazing how a bisque can transform the most meager of ingredients into a bowl of decadence. Take celery, for instance. Not everyone's favorite star ingredient, nor is it exactly hailed for it's deep and rich flavor, but let the bisque work it's magic and you might change your mind about things.
Unfortunately, a bisque usually implies butter and cream – which is partly what makes them so delicious, but also the reason they're not that great for you and tend to be pretty heavy. Vegan bisques are better I guess, but a lot of those use a ton of vegetable oil or fake non-dairy cream stuff as a substitute, which isn't not particularly nutritious either. I find the fake dairy stuff oily and weird anyway. The point being, bisques are as fattening as they are delicious and I just can't get passed that. Enter Silken Tofu as our rich and creamy substitute that's actually loaded with protein and we've got a truly magical bisque here…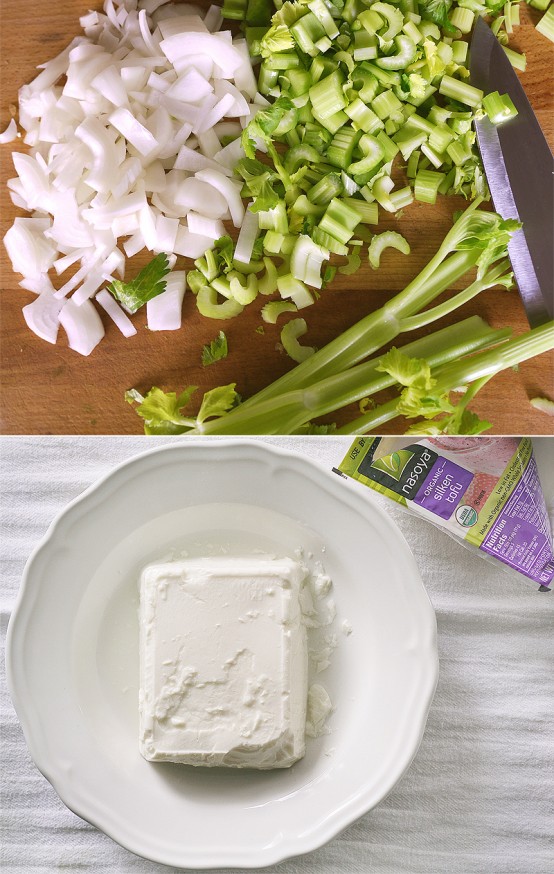 We all love our extra firm tofu, but when it comes to pureeing or adding texture and protein, silken tofu is where it's at. This slippery stuff incorporates right into just about anything when blended well. Great for smoothies and when it comes to bisques, silken tofu is heaven sent for those of us looking for a healthy non-dairy alternative (and you seriously can't tell the difference in this case).
We tend to think of celery as a base ingredient or something we toss in as a background ingredient for some extra flavor or crunch. Like in tuna salad or chicken soup. But I think we forget how incredibly flavorful celery becomes when it's cooked down and all that off-putting stringy stuff transforms to velvety texture and rich flavor. For this soup we cook it down until it's very tender and falling apart, like this. and then whip it up (using and immersion blender, food processor, or blender) until it's sliky smooth.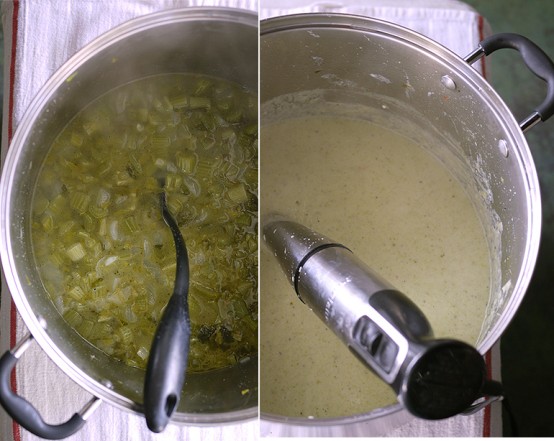 This soup tastes clean and rich at the same time. It's buttery and smooth with a fantastic balance of sweetness and heat from the cayenne pepper. Nobody will believe that it's so healthy, delicious and dairy free! Super simple to make and freezes great. Truly magical.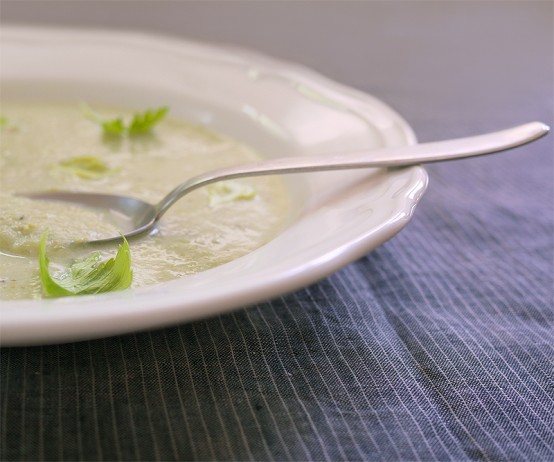 Print Recipe
Back to Top
Recipe
Coop+prep time: 35 mins. Serves 4-6. Freezes great! Vegan. Reserve a little of the raw chopped celery for adding on top of each bowl of soup for some nice and fresh crunch!
You need:
Entire large cluster of celery
Half a white onion
One clove of garlic
1/8 teaspoon cayenne pepper (or some red pepper flakes)
3/4 Tablespoon salt
1 Tablespoon sugar or agave nectar
Small pinch black pepper
3/4 container silken tofu (or more if you like it creamier)
4 Tablespoons olive oil
2 cups water
Directions
Dice celery (including the leaves), garlic and onion. Heat olive oil in a large, deep pan or soup pot and sauté celery, onion, garlic, salt, black pepper until celery begins to break down a bit (about 6-7 minutes). Add water, cover, reduce heat and cook at a simmer until celery is very tender and falling apart (about 15 minutes).
Spoon all the celery mixture into the food processor or blender (or use an immersion blender if you have one). Add the cayenne pepper, silken tofu and puree away until nice and smooth. Add a bit more water if it seems too thick.
Serve it with some raw diced celery and celery leaves sprinkled on top!
HonestFare.com