Yes, I am 10-years-old again and I don't care cause this was fun.
Incidentally, when I was actually 10 and should have been enjoying this sort of thing, I thought macaroni art was kind of stupid and pretty unattractive. Ew, those crusty necklaces. But, the macaroni wheels are a new spin on the whole thing for me…and I did not mean for that horrible pun to come out, but it did so I'll leave it for you.
What can I say, at 28 I pick up the incredible art of making Christmas ornaments out of freaking pasta. And you're about to too.
Every year I make ornaments for our Christmas tree. I never get too fancy with it. In past years I've done glittery pine cones, peacock feathers wrapped in colorful string…stuff like that. Things to amuse us. The holidays feel a lot lighter if everyone can sit around and giggle at the tree. Usually I'll wrangle someone into making them with me (usually it's Jen), but this year it was my mom.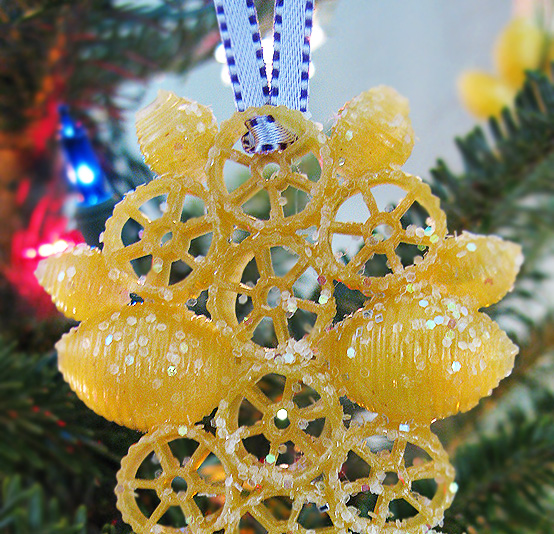 When I saw these here (!) on one of my favorite blogs, I had to copy the idea. I hope it's not too late for you to make these. I wanted to post sooner but have had no time for the blog lately. Sucks. It's easy enough so you should be able to pull of making at least a couple.
We used bamboo sticks to apply the glue. We did them on a tea towel and let them completely dry there. They will stick a bit but you just have to be careful when lifting them up and sort of peel the linen off the backs of them like you would a sticker from a book cover.
Then I gave them a nice spray of clear coat (keep them on the end of a bamboo stick so your fingers don't all sprayed up) just to make them more durable. While they were still wet, I drizzled them with glitter and then gave them a very light coat of clear coat again to seal.
Depending on the orientation of the design you make, you'll find it easier to either hang them with ribbon or wire.
Pretty in the window, on the tree or just sitting there.