There will always be leftover pasta. Take just last night for instance, I made a scallop pasta, and there are leftovers hanging out in the fridge right now. Guess what I'll be making later…
I did a ton of cooking for my family when I was in Sag Harbor, NY last week, which I love to do because they're an extremely enthusiastic bunch when it comes to eating. Okay, most of them are. I say "most of them" because there are children involved. Nuff said, right? For those of you that have children, you're probably accustomed to all the exceptions and alterations to your cooking. I do not and am not.
So I figured I'd do a pasta dish that everyone could enjoy! Cause everyone loves pasta, right? Wrong. One has food allergies and an aversion to certain textures and anything "chunky." One will try things but will more than likely dislike them and ask for pizza instead. And one is currently a pescatarian who hates eggs because of one runny egg incident over a year ago.
Look, I get it. We all have our thing, and I sure as hell have a few of my own. But man, kids can be brutal. "This is disgusting (sour face)," my cousin's son tells me after sampling the couscous. I have to laugh. I'm coming to understand more and more, that things can get really complicated when there are children involved in the dinnertime equation.
The solution: I make spaghetti and red sauce for dinner. Three different kinds of red sauce. One with meatballs, one that has veggies in it and one that comes straight out of a jar. You know, to accommodate everyone. Don't you just love this generation of children that have a voice? I swear there were like 30 different bowls on this table. But what can I say…everyone was happy and at least all the kids liked the garlic bread!
So that was that. And of course, there was leftover spaghetti.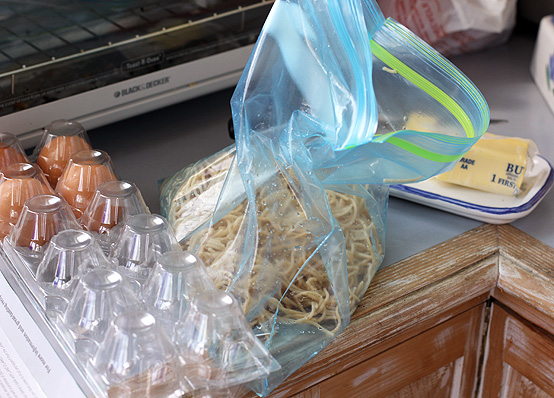 The following morning, we're all sitting around the table when my aunt Loretta (grandmother to the aforementioned children) cheerfully announces that she's going to make a frittata with the leftover pasta from the night before! Nobody seems interested and I already hear mumours about eggs being "so gross." But a frittata sounds great to me. And though I've never had one with spaghetti per say, I have faith in this woman and I'm sure as hell not about to tackle breakfast after the night's fiasco. Good luck, Loretta.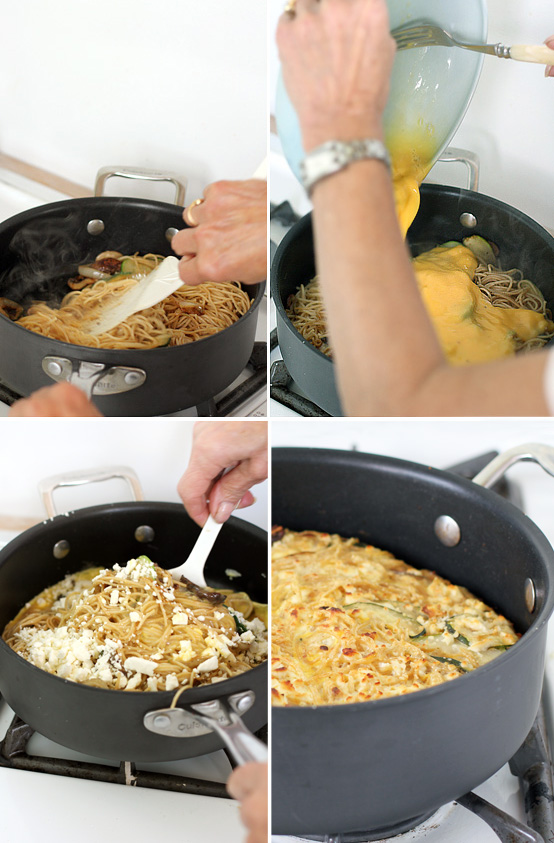 But Loretta doesn't need luck. She's been feeding this family long enough to know what she can pull off. She tosses the spaghetti in the pan with some olive oil and veggies (zucchini, onion and mushroom), pours over some beaten eggs, sprinkles a little feta on top and lets it cook – first on the stovetop and then in the oven to brown the top.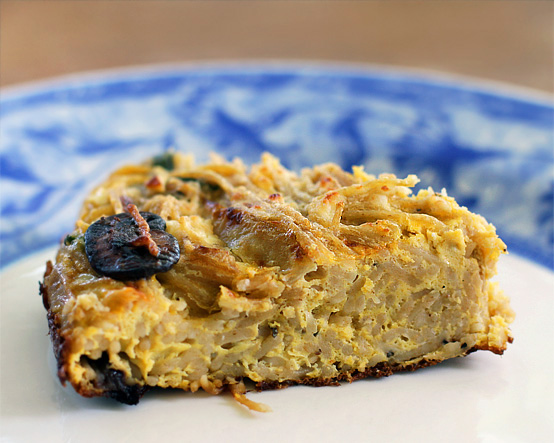 It was fantastic. No, it was perfect. The texture of the spaghetti was so good blanketed inside that fluffy egg! And I just think it's a brilliant use of the leftovers – Loretta, you've done it again.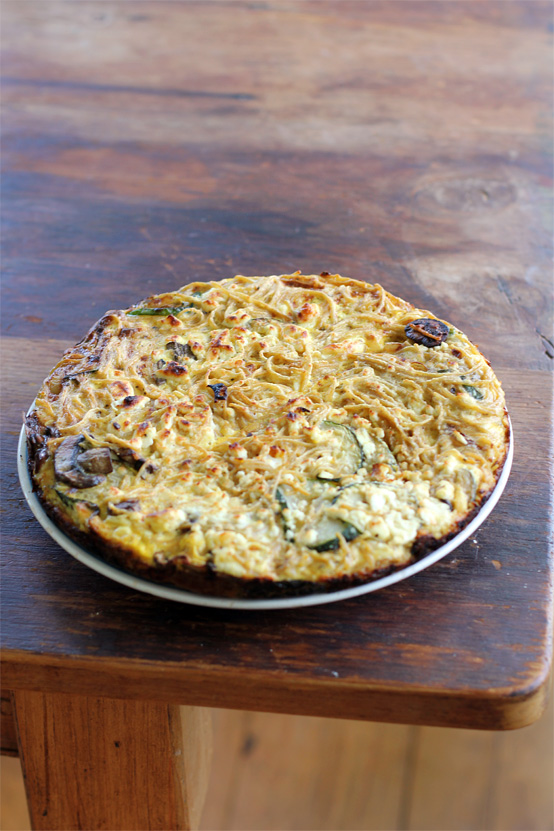 Print Recipe
Back to Top
Recipe
Prep + cook time: 20 minutes. You can use just about any kind of veggie or pasta – whatever you've got in the fridge! Because of the nature of the frittata, there are no exact measurements for this recipe. You'll need to use an oven safe pan (that's one that does not have any plastic on it) so that you can pop it in the oven to crisp at the end.
You need:
Eggs
Splash of milk
Olive oil
Salt
Pepper
Desired veggies (onion, mushroom, zucchini, etc.)
Cold, cooked spaghetti
Feta cheese
Directions
Set oven broil.
Beat eggs and splash of milk and salt and pepper. Keep in mind that you'll need to beat up enough eggs (and splash of milk) to cover spaghetti and veggies in your pan. Set aside.
Heat burner to medium heat. Slice up desired veggies and garlic and sauté with olive oil and salt and pepper until they begin to soften slightly. Add your cold pasta and enough additional olive oil so that spaghetti does not stick to pan (you'll need more olive oil if it's not a non-stick pan). Add beaten eggs to pan all at once.
Sprinkle feta cheese on top and cook uncovered for a couple minutes and then covered for a couple more. When frittata seems about cooked trough, place the pan in the oven to broil for just a few minutes. This will crisp the top nicely.
Remove from oven and slide/shimmy it out of the pan with the help of a spatula.
HonestFare.com