Surprise, surprise my friends! Honest Fare has undergone a slight redesign to freshen things up a little. But, in even more exciting news is the launch of the Honest Fare Apron Collection and online shop, just in time for Mother's Day!
This may seem to have come out of nowhere to you, but the truth is that it's been a long time coming. I've just kept it somewhat under my hat because I get superstitious about jinxing things. If I talk about it too much, it'll never happen. So here we are today, after months of planning and over-analyzing, patterning and prototyping, trying and failing and way too many sleepless nights, the apron collection is a reality!
All the aprons in this collection solve a problem. They don't tie around your neck, tugging at your posture. They're made of cotton chambray fabric so they won't fade. They have removable leather ties so they won't tangle and get messy looking after washing. And in my opinion, they're stylish enough without being over the top so you can wear them all the time without getting sick of them. They're all designed and made in Winter Park, Florida using materials sourced from within the USA. So without further adieu, I present to you the collection!
The Cooking Smock (Available in Bluebird or Ash)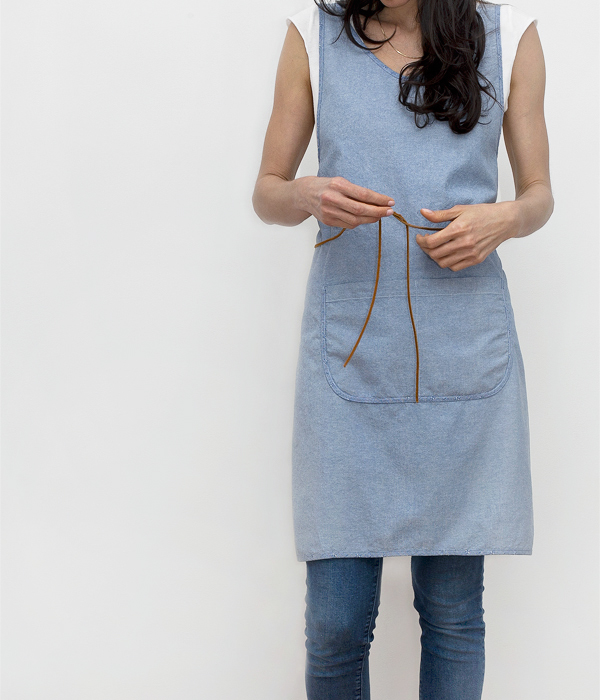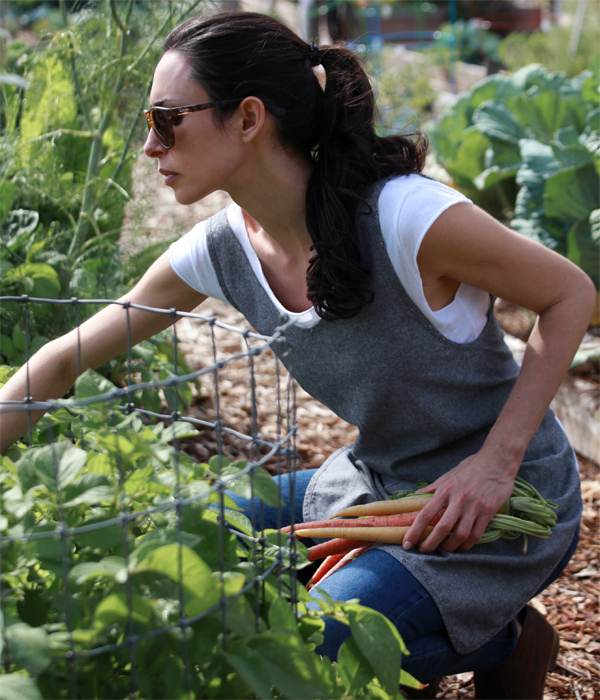 The Children's Cooking Smock (Available in Bluebird or Ash)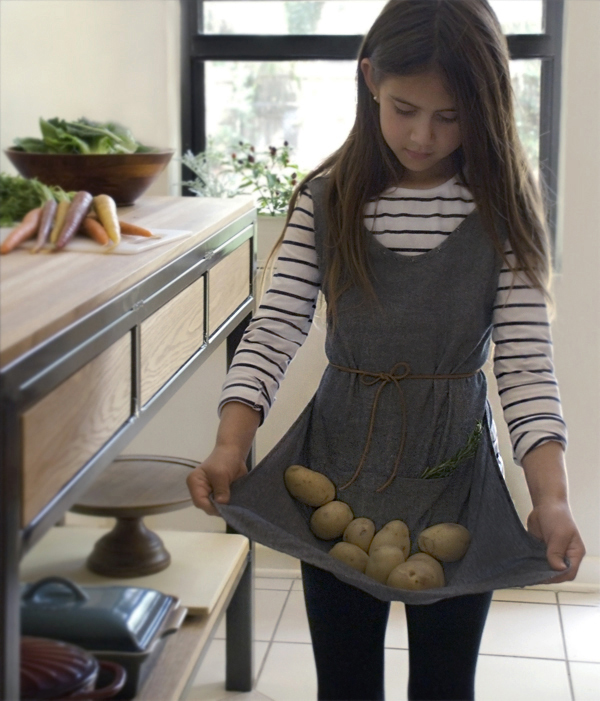 The Mommy & Me Smock Set (Available in Bluebird or Ash)
WITH FREE SHIPPING FOR MOTHER'S DAY!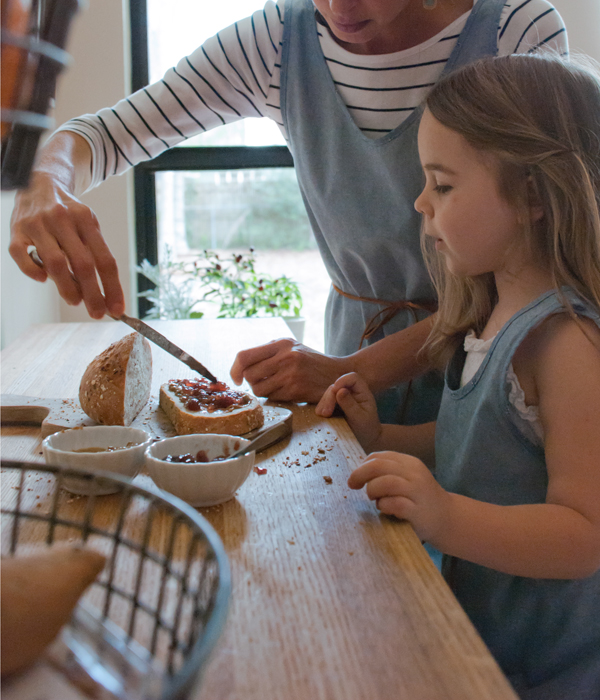 The Café Apron (Available in Black Dobby or Blue Dobby)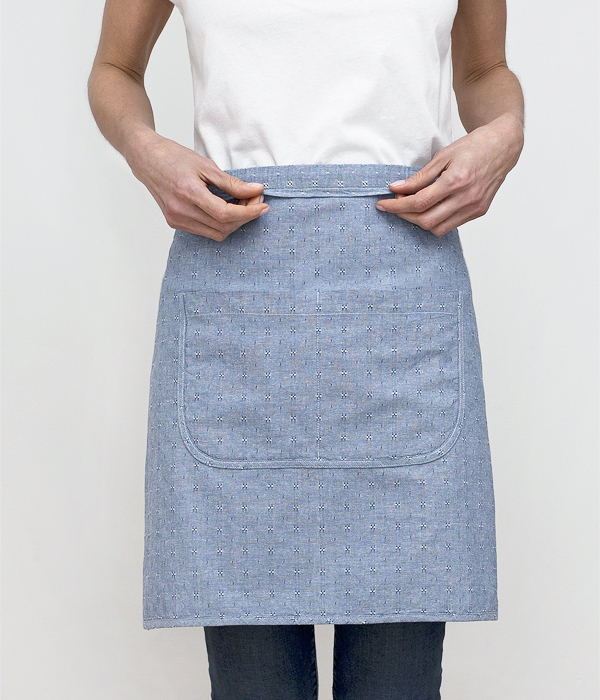 So why aprons?
Because I basically live in them. Every morning I get to the kitchen where we cook everything for the food truck, and one of the first things I do is stare at our pile of aprons. It's never easy to decide which one to wear. Mainly because I'm not that crazy about any of them. We've tried all kinds of aprons, but the fact is that no matter the style or price point, they all end up a frumpy mess within a couple months. Faded with the ties wrinkled and tangled into a frustrating mess. And I'm supposed to wear these things all day? Besides, I like cute aprons.
I've assumed a pretty large collection of pretty aprons over the years, many of my favorites passed down from my grandmother. Those tell stories through stains of eras I've never lived and I cherish them, which is exactly why I don't wear them. The simple fact is that there's no sense in getting all romantic about your apron when 90% of the time it's splattered with ingredients. So on the day-to-day, I can't be bothered with the antique delicate ones I love so much. Those are in the closet and hanging decoratively from hooks in my home kitchen. I've tried embracing a more professional style apron, but those get kind of boring and are too masculine for my taste anyway. For a while there I even tried wearing oversized button-down shirts from thrift stores because they were comfy, but the long sleeves were always an issue. Then I finally just said to hell with it, and made my own aprons that were stylish and practical in all kinds of settings.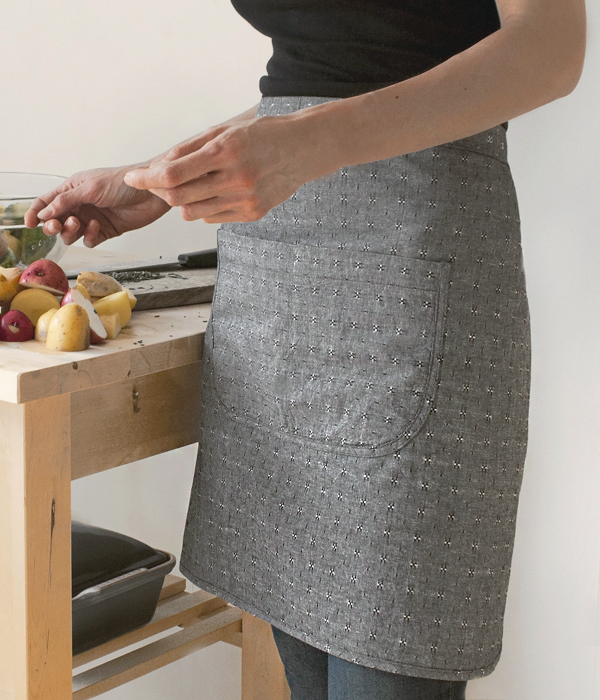 Gardening, cooking, making whatever mess you make and looking put together while you do it. I'm so excited about these!
Okay, so people tell me I should be more open and share more about myself on this blog. I always feel so weird about that though because I'm kind of a private person to begin with and I wonder who the hell really cares about all the ins and outs of my life. But here goes; I'm going to share. (And this is the point where those of you who have heard enough have my absolute understanding and blessing to read no further.)
I've wanted to see this blog grow for a while now, everything needs to grow or it dies. I just wasn't sure what direction to take it in. I know I'm not the type of person who can blog every day or keep up with the latest restaurant trends and things happening in the world of food. And I'm no certified expert in food nutrition either. Nor do I want to endorse products or have this clean space littered with ads. This blog has always been about simple, healthy and practical recipes so I may as well keep it that way since it's what I relate to most. Creating things with my hands, whether food or pottery or random projects, is also something important to me. So maybe it's taken a while to land on, but adding the shop component to Honest Fare made sense because it merges my love for the kitchen with creating well-made, useful and pretty things.
Designing and producing these aprons has been pretty awesome. Not that it was entirely fun and easy by any means, it's been a lot of work, but it's been good work and really rewarding for me. There have been a lot of 'firsts' which always makes things all the more challenging. I think the most challenging thing was sourcing the right materials. It took a lot more digging and sampling than I had expected. Then there were points where the patterning and prototyping seemed never ending. One step forward and two steps back. Even though they're just aprons, I needed them to fit right and be flattering so it was constant trial and error. I've gained a huge amount of respect of actual garment makers, by the way. It's also the first time I've ever worked on a project in which I've been able to hand select every variable. From the materials and fabric for the aprons to the paper for the hangtags, not excluding all the dear friends and talented people who have contributed to the process as photographers, web developers, graphic designers, cute up-and-coming child models, seamstresses and moral supporters. It's hard to follow through and make things happen and you certainly can't do it alone.
Half of my 'great ideas' fizzle out just as they begin to germinate when I realize all that it'll take to rear and nurture them. I'm sure a lot of you experience the same thing. It's good though, you have to stop yourself before you even start sometimes because creative babies are no joke. They eat a ton and they never sleep. I say that from my experience as a business owner – building our food truck and running a business on the day-to-day is the most challenging thing I've ever experienced. I won't glorify working for yourself because no matter how much you love what you've chosen to do, every project is a ton of work and turning it into your livelihood adds that extra element of strain. Like I said, it takes a lot to make things happen and most of it comes down to simply figuring out a way to make it work and surrounding yourself with a good group of like-minded people.
So now what? The aprons are sewn. The online shop is live. I've organized my home office. Now, I guess I sleep again. And I eat again! You can only live off of baby carrots, cookies and coffee for so long. My birthday is this Friday so maybe I should try to use that as an excuse to relax? Maybe. Definitely catching up on season 2 of Downton Abbey. I'm also pretty excited to get back to posting recipes on the blog, plus that'll give all of you a reason to get yourself or someone you care about one of these aprons.
Check them out and let me know what you think!