Heading out to lunch this afternoon, my bike and I end up in the elevator with a coworker who's also on his way out to lunch.
A: The elevator in my office building is the slowest one known to man.
B: At a towering 6 feet 8 inches, my coworker is the tallest man I know.
Both these facts add a couple extra grains of awkwardness to our forced elevator interaction.
Because he is polite, my coworker asks where I'm off to. I tell him I'm riding home to make a smoothie. He just stares back at me. Eventually he gives me the head nod and says, "Cool. Are you gonna put it on your bllllllllllog?" More politeness because what he really wanted to say was: Areyoufuckinginsane? Why would you bike home in the 90 degree Florida summer heat when there's a Planet Smoothie right on the corner?
To which I simply replied, "Cause it's a realllly good smoothie. And YES! It's definitely going on the blog!"
As I pedal off, I realized that I am officially obsessed with this green smoothie. Why else would I be biking home in the 90 degree Florida summer heat for the third time this week?
I get on kicks. Right now I'm on a green smoothie kick setoff by my veggie cleanse last month and then reinforced by Katie's green smoothie post a couple weeks ago.
I've been doing them with parsley, spinach, ginger root, apple and soy milk and 2 other fruits depending on what I have around (either peaches, strawberries, bananas, mango, blueberries). I leave all the edible skin on the fruits for the fiber and great texture.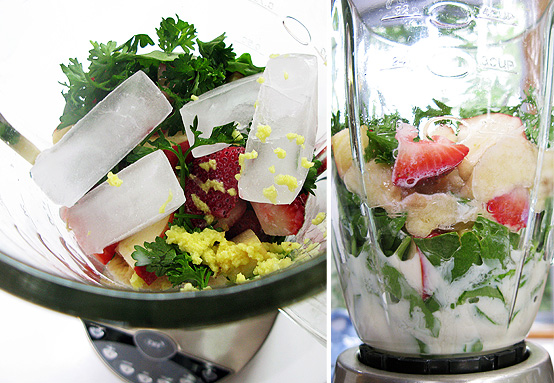 The parsley and ginger make it SO refreshing and I like the idea of cramming all that raw spinach into a glass (keeps you full for a while). I think the ginger counteracts the vegetal flavor cause you mostly taste the fruit. I don't know, there's probably no way for me to make a spinach smoothie sound or look delicious (either you're on board or you're repulsed right now). Please trust me and try it! Even if you think you already know how it'll taste, try it anyway!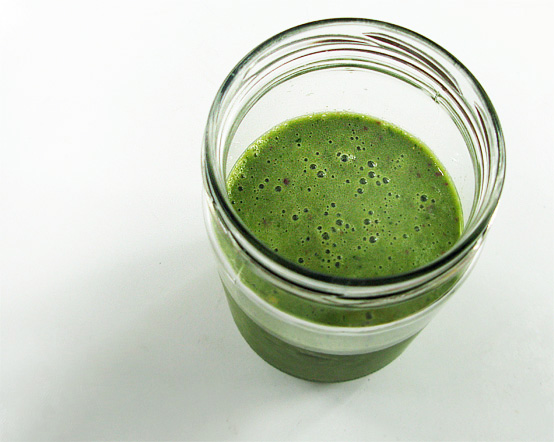 Can you imagine my coworker's reaction if I had told him it was a spinach smoothie I was riding home for? HA! Next time.
Print Recipe
Back to Top
Recipe
Prep time: 3 minutes! Parsley and ginger help subdue the green vegetal flavor so I wouldn't recommend leaving those out. I also think apple is a must, but experiment away with any other additional fruits.
You need:
2 big handfuls of fresh, raw spinach
1/2 apple of choice
A few parsley sprigs
About 1/4 inch ginger root
1/2 cup soy milk
2-4 strawberries depending on size
1/2 a banana
*optional* 1/2 a peach (some blue berries or mango are also good as a sub)
Directions
Wash and cut fruit. Leave skin on apple and any other fruit with edible skin. Mince ginger. Add fruit and ginger to blender with spinach, parsley and soy milk. Blend a few seconds before adding ice cubes. Add ice cubes and blend until good consistency. Add a little extra water or soy milk if necessary.
HonestFare.com