Isn't it funny how when you think of key limes your brain automatically goes to key lime pie? I'm trying to think of another ingredient that has that strong an association to a particular preparation…annnnnd I can't. Surely one exists…I'm just drawing a blank right now. Hm, maybe orange and orange juice? But no, cause you could totally eat an orange alone and you'd probably never sit there and snack on a lime. If you think of one, let me know cause now it's killing me.
Anyway, for a brief second I actually considered doing some mini key lime tarts or pies for the Hello, from Florida photography show. I immediately snapped out of it though, realizing that would be insane for me to pull off. Correctly anyway.
Key lime cookies sounded like a delicious and respectable alternative. These are fantastic. The texture is somewhere between a shortbread cookie and a snickerdoodle. So in other words, divine. And they've got just the right amount of zest, which is something I was initially worried about because I tasted one right out to the oven (foolishly) and was sure I'd used too much zest. But, once cooled, they were perfect!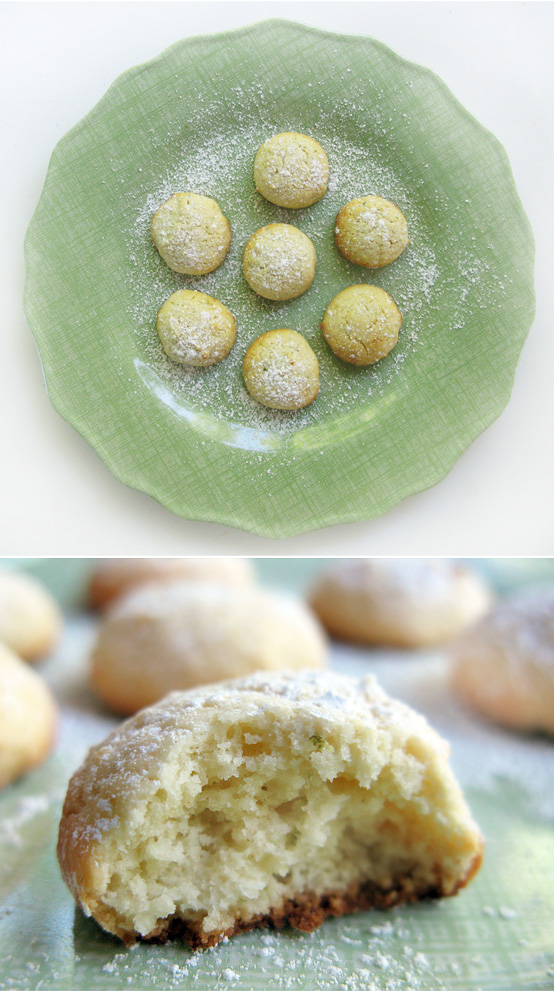 Like the Coco Cupcakes, I'm going to do these small. Bite-sized cookies are the best!
So what's the difference between a key lime and the more common Persian limes? Key limes are much smaller (ping-pong to golf ball-sized), spherical, thin-skinned and typically contain a few itty-bitty seeds. Green key limes are actually immature fruits, prized for their acidity. However, as they ripen to a yellowish color, the acid content diminishes, resulting in a much sweeter fruit.
The ones I picked up were still pretty green. 12 for $1 made me very happy!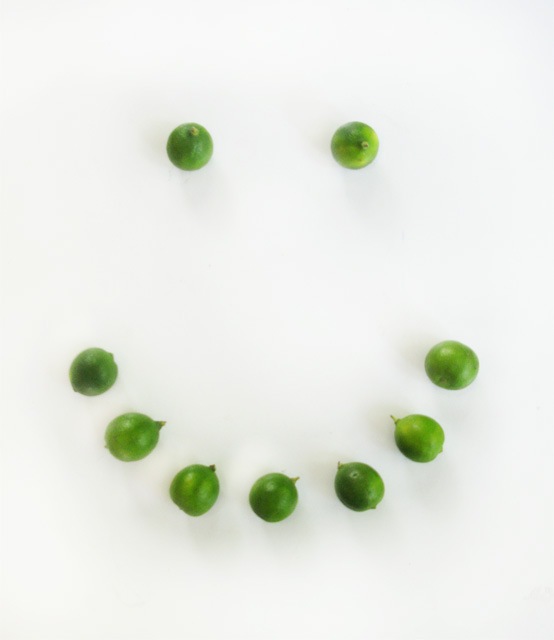 I ended up needing about 4 key limes for this recipe.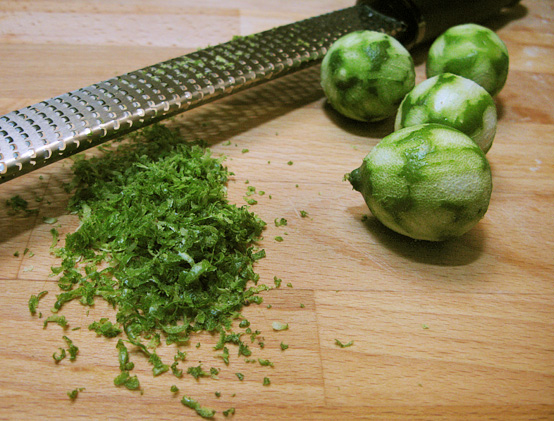 The dough is easy enough to make but does require a chilling in the fridge or freezer before you can really handle/shape the dough balls. See all that pretty green zest in there?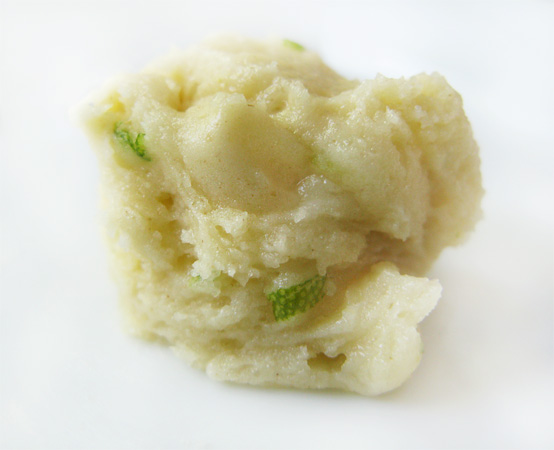 One last thing, I'm not generally a big fan of citrus baked goods (maybe you're not either cause I know a lot of people aren't), so the fact that I like these so much says a lot…I definitely recommend you try them out!
Print Recipe
Back to Top
Recipe
Coop/prep time: about 1.25 hours because the dough needs to chill in the fridge for about an hour. Recipe makes 3 dozen cookies. If you can't find key limes, just use regular limes!
You need:
1/2 cup (1 stick) butter, room temp and very softened (don't microwave the butter to soften though)
1-1/4 cups sugar
1 egg plus 1 egg yolk
1/4 cup Key lime or other lime juice
2 teaspoons lime zest (grated peel)
2 cups all-purpose flour
1 teaspoon baking powder
1/2 teaspoon salt
Confectioners' sugar (for topping)
Directions
Preheat oven to 350°F
In a large bowl, cream butter (that means mix/whip until fluffy) and sugar until fluffy. Add egg and egg yolk, beating until creamy. Beat in lime juice and zest just until combined.
Stir in flour, baking powder, and salt; mix well. Refrigerate dough 60 minutes, until firm (I cheated and just popped the dough in the freezer for like 25 mins and it was fine).
Shape dough into 1-inch balls and place 1 inch apart on cookie sheets.
Bake 10 to 12 minutes, or until light golden. Transfer to wire rack. Let them cool completely before tasting or they'll taste realllly zesty. Dust cookies lightly with confectioners' sugar through a hand strainer.
HonestFare.com