I can't seem to get enough kale lately. Especially raw. And I know that for some it's a bit rough around the edges, so that's why I like to pair it with a sweet or creamy element to take that down a notch.
Honeydew melon is perfect for cutting the bitterness raw kale can have, and it's so refreshing during these hot summer days!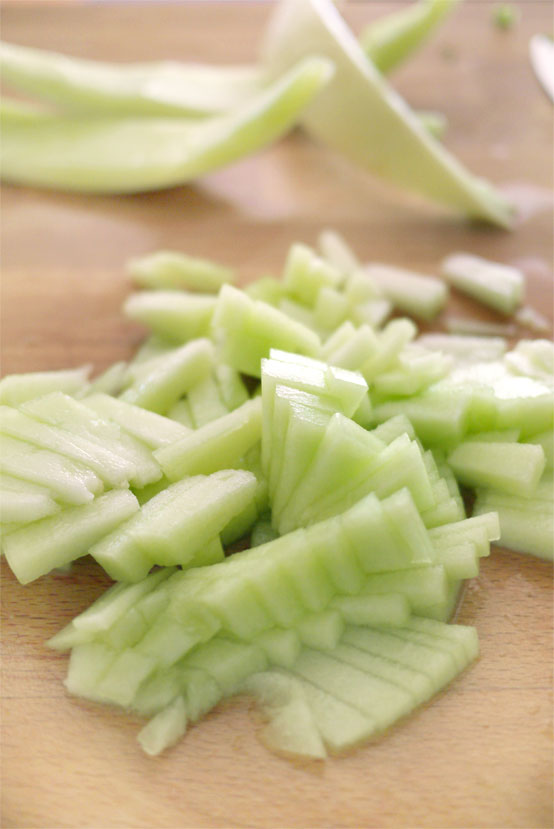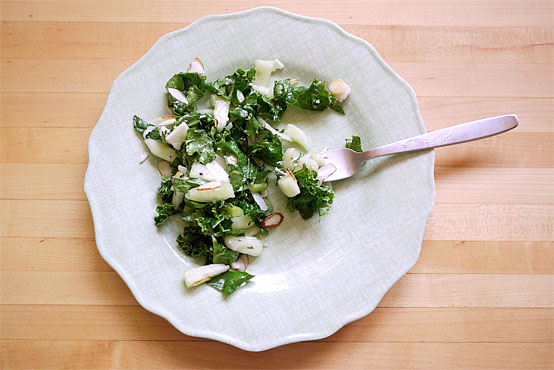 I like to chop the kale into pretty small pieces to make it easier to handle and so it gets as coated as possible in dressing. The dressing is just a simple combo of lemon juice, avocado oil (you can use olive oil instead), salt, pepper and agave. You've got to toss it all up nice and good so that the melon juices and Romano cheese complete the dressing. It's pretty awesome!

This is a super easy one to throw together, and it's pretty filling from the almonds and cheese. Stores well over night too!
Tangy, crunchy, earthy…oh man, I love it!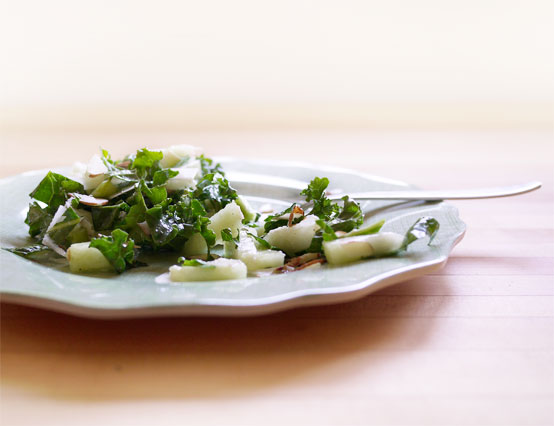 P.S. Here's another favorite kale salad recipe.
Kale Avocado Salad.
Print Recipe
Back to Top
Recipe
Prep time: About 20 minutes. Makes two large salads.
You need:
4-5 stalks of kale
Juice from 1 lemon
Honeydew melon
1/3 cup sliced almonds
1/3 cup shaved Romano cheese
1 tablespoon agave syrup
Salt to taste
Cracked black pepper to taste
2 tablespoons avocado or olive oil
Directions
Wash kale and cut off thick stalks at bottom (but leave stalks that run through the center of leaves). Chop into small pieces/ribbons and set aside in large mixing bowl. Remove melon from rind and cut into thin slices. Set aside. Grate cheese and set aside.
Whisk lemon juice, oil, agave, salt and pepper in small bowl and pour over kale. Toss well. Add melon, almonds and cheese. Toss really well and place in fridge for about 10-15 minutes so flavors/juices can settle in.
Toss immediately before serving and top with a little extra cheese and salt/pepper.
HonestFare.com