My favorite baby is ready to eat! And as her proud "Auntie Gabi," you know I was happy and honored to help prepare her first meals.
So baby food it is. Mushy yes, but tasteless never!
I know babies have to be introduced to flavors slowly. (So no hummus or gazpacho. Got it.) Very little salt. Very few ingredients to watch out for allergies. Not too sweet. No nuts. Some even say no dairy. And all that makes prefect sense—you wouldn't want to go exploding their virgin taste buds or anything—but it still seems like your first introduction to food should be memorable, in a good way. Not a bland, stinky, processed pea way.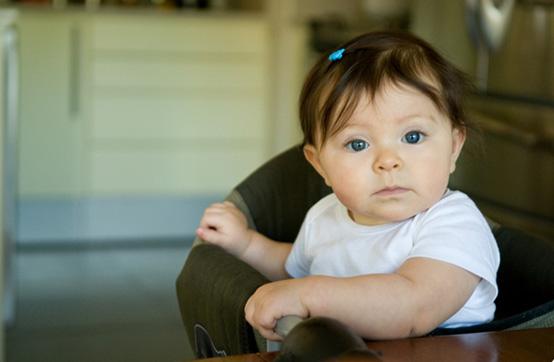 For example, one of my favorite first meals was banana mashed up with orange juice. My mom fed it to me as a baby and I liked it so much that I continued to eat it as a treat all through my childhood. Believe it or not, I'd even make myself a little bowl of it in high school every once in a while. (Hmmm, come to think of it, I might have to indulge in that again sometime soon.)
Anyway, before embarking on this project, I took a couple little spoons full of store bought baby food (peas) just to see what I was up against. Pretty damn disenchanting to be honest. No wonder babies can't keep it in their mouths! Yucky.
The major drawback to those store bought foods is that they bare very little resemblance to what good food actually tastes like. Probably because the store bought baby food is so overcooked and processed. In other words, stripped of a lot of its nutrients. And much of it also has fillers, thickening agents and preservatives, which are never a good idea.
At least when you make it at home, you know exactly what's in it and can get your little one in the healthy habit of eating realistic flavors. That way, when it comes time to eat whole veggies later on, your child won't associate them with that nasty stuff.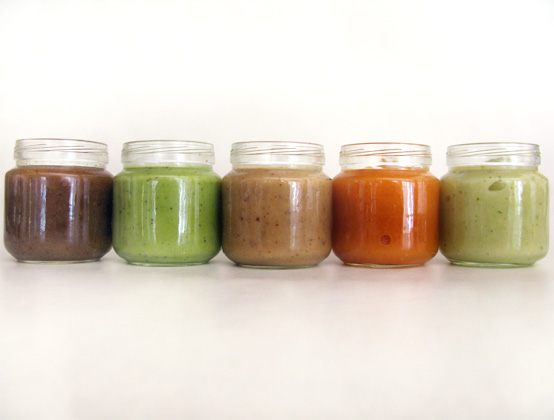 After doing some research on which fruits and veggies are best to start babies on, I came up with these yummy pairings, which mama Cole agreed upon.
Baked cinnamon apple and prune
Baked cinnamon apple, prune and yogurt (everybody's favorite)
Zucchini and potato
Peas with mint
Baked apple with carrot
Sweet potato
We let Tessa taste the concoctions as we made them and were pretty entertained by all the perplexed faces she made at each new flavor. She was super into the adventure though, clinging to the spoon like her new favorite toy all the while.
We made 6 varieties, which we calculate to be more than a month's worth of baby food, in less than three hours. We stored some of it in empty baby food jars that were soaked first to remove the labels. Cole froze the leftovers in ice cube trays and muffin tins (and covered them in foil) so she can easily pop out each serving size when needed. So smart!
The process is rather simple. You basically just cook the veggies, add a tiny bit of salt and herbs and puré it all up with a little water or veggie broth.
There are a lot of easy recipes for baby specific veggie broths out there. Most of them involve cooking carrots, celery, onion, salt and herbs with water and then staining.

The broth is used to cut the veggies so they blend smoother, but you can substitute with water if you prefer. We used water for fruit based ones and broth for veggie based.
Step-by-step recipes for the zucchini potato and baked cinnamon apple prune are in my Recipe Box, but here's your visual reference.
1.) Baked cinnamon apple (with yogurt and without)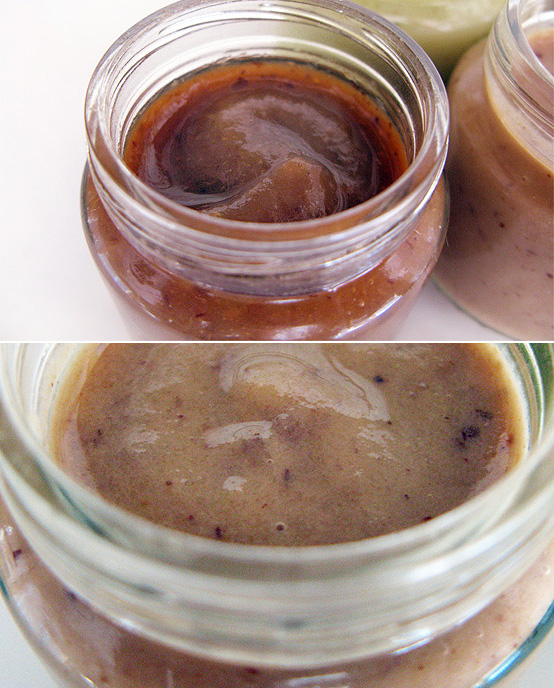 Stuff apples with prunes. Sprinkle with cinnamon. Cover and bake. Blend. Done.

2.) Zucchini potato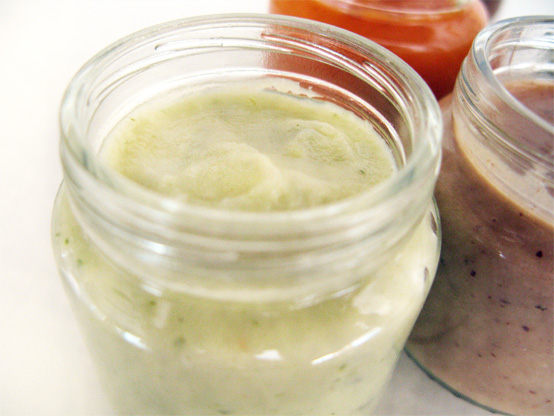 Boil potatoes. Sauté zucchini. Blend. Done.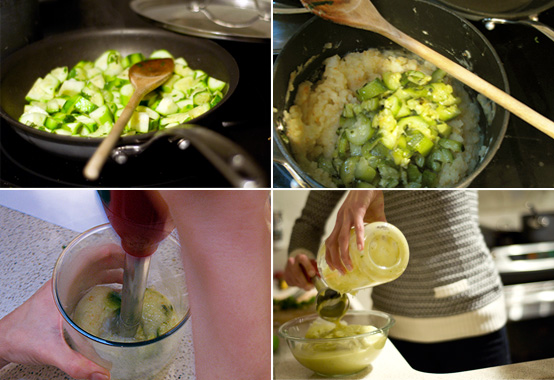 You seriously don't have to be good in the kitchen to do this. And once you realize how easy it is to make homemade baby food and how much money you'll save doing it, I'm sure you'll be way into it. One thing I will highly recommend is getting yourself a handheld immersion blender. They are so much faster and easier to deal with and exponentially easier to clean.
We had so much fun with this and are now definitely looking forward to the day we can make baby Tessa some food she can actually chomp down on. I'm sure that day will be here before we know it…
Print Recipe
Back to Top
Recipe
Stays fresh in refrigerator for up to 5 days. Freeze in ice cube trays or muffin trays and defrost when needed.
You need:
Prune Cinnamon Apple:
3 Red or blush apples
9 Prunes
Cinnamon
Yogurt (optional)
Zucchini Potato Baby Food:
1 ½ cup cubed zucchini
1 ½ cup cubed potato
Salt
Parsley
Directions
1.) Prune Cinnamon Apple:
Wash and core 3 apples. If you don't have an apple corer (which most of us don't) just use a knife to cut out the center, starting at the stem and working your way down as best possible. Sprinkle with a little cinnamon inside cored area and over skin. Stuff 3 prunes inside each apple. Cover with aluminum foil and bake at 350° for about 30-40 minutes or until apples are very soft. Remove from oven and cut apples in half. Place prunes and apples (with about half skins still on) in blender with 1/3 cup water. Blend until smooth.
* Optional: add ¼ cup plain yogurt to mixture and blend for the creamy delicious version.
2.) Zucchini Potato Baby Food:
Peel and cube potatoes and put to boil. Partially peel zucchini and cube up. Sauté zucchini in olive oil with a sprinkle of salt and parsley. Cover and cook on medium low until very soft. Puree potatoes and zucchini in blender or food processor with 2/3 cup vegetable broth or water.
HonestFare.com