Some of us are hot sauce people. I hear the other some of us say that it "takes over" and "burns" and all that nonsense. Clearly, I am hot sauce person. It's actually rather disconcerting how much so sometimes. Sriracha on my salads disconcerting. But I know I'm not alone in this. Since starting a couple years ago, I've noticed more than ever how into hot sauce people are. Like freaks about it. We go through a case of 24 large bottles of Sriracha every month. It's mind-boggling! I want stock in that company. Wait, just looked it up – the owner refuses to go public.
Anyway, hot sauce and hot summers go hand-in-hand, right? Spicy food that makes you sweat and cools your body down sounds like a marvelous plan to me! And sure, I realize that it's not quite summer yet, but when you're standing on a food truck (in Florida) at noon, opening and closing an oven set at 450°, with the sun bllllazing through the window, it sure as hell feels like it. Or feels like hell, rather. Either way, Memorial Day is the unofficial kickoff to summer so I'm glad to be getting these homemade hot sauce recipes up just in time for all the grilling and taco eating festivities this weekend and to come.
These are super easy and quick to make so don't worry about having time to do it if you want to make them for this weekend. My goal was to make a couple hot sauces (a mild and a hot) with good flavor. It's easy to make a hot sauce that burns, but it takes a little figuring out to get some nice flavor to shine through in there as well. Accomplished it!
We've got two recipes here:
1. A mild hot sauce comprised of green chili, poblano, serrano and jalepeño peppers for heat and tomatillo and kiwi as nice cooling agents.
2. A spicy hot sauce made from red chili, scotch bonnet and habanero peppers, with carrot and tomato as the nice savory base.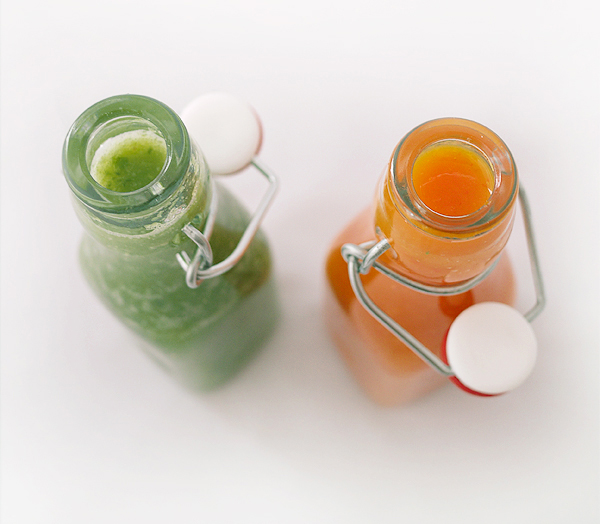 Okay, the seeds of the pepper are the nucleus of the heat so I recommend you remove most or all of them unless you like it ridiculously hot. I like leave in a couple from each pepper, but that's it. Another way to control the heat is to add in the peppers a little at a time during blending. You can blend and taste as you go, adding more as needed.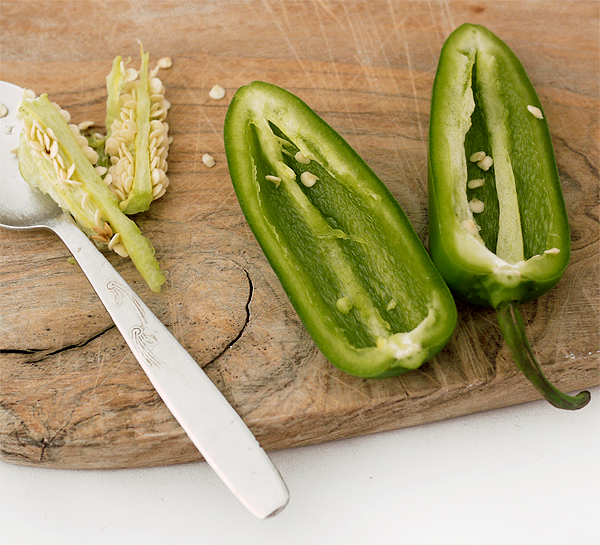 * Disclaimer * The only thing I will warn you about up front, is the importance of safe pepper handling. Wash your hands! Scrub them! Wash your hands and do not touch yourself, your children, your pets or your privates before you do. These are all hot peppers, which means they can burn, not just your mouth, but also any orifice or mucus membrane that comes into contact with their juices. I also wouldn't recommend washing these kinds of peppers in really hot water unless you like coughing fits.
I love both of these sauces, but I have to say that this spicy hot one is my favorite.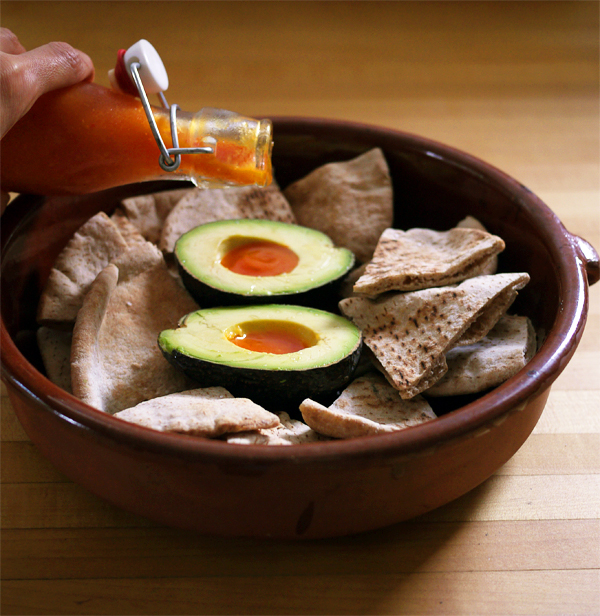 It has such great flavor, is really well balanced and it's one of those hot sauces that goes great on everything from avocados and tacos, to potatoes, eggs and basically any kind of protein.
Peppers for heat:
Red chili, habanero and scotch bonnet (if you like it really hot).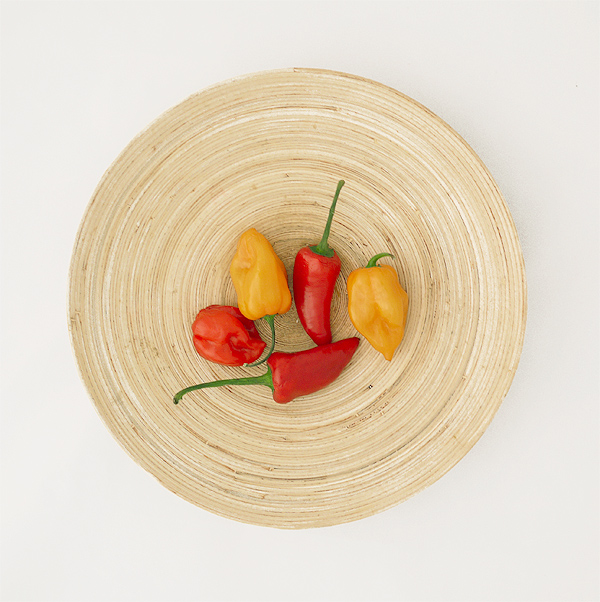 Savory base:
Boiled carrots, garlic cloves and onion. Tomato paste and vinegar.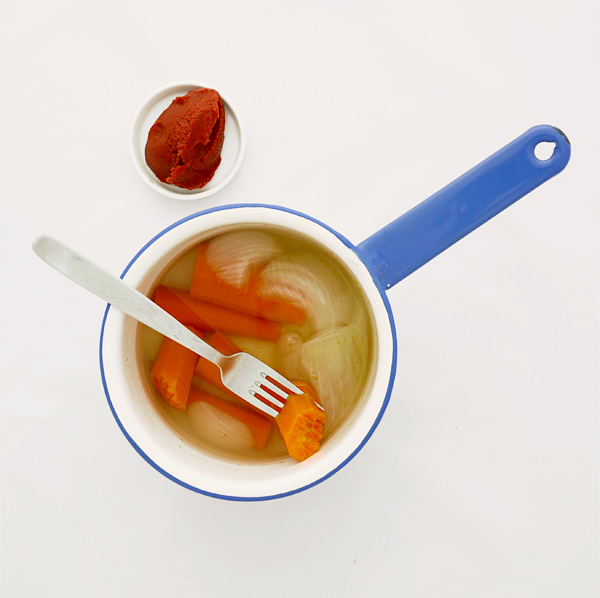 Then it's just a matter of blending everything up in the food processer until it's silky smooth. This will take 5-7 minutes. I know it sounds like a long time, but otherwise there will still be chunks and inconsistent bursts of heat. You can shut off the food processer for a couple minutes half way through to give the motor a break if you like.
Next up is the kiwi tomatillo hot sauce. This one is awesome too. It's got definite kick, but also has a really fresh and light flavor because the heat is balanced out with the coolness of the tomatillo. And the kiwi flavor is such a nice surprise! I think it's best on veggies and seafood. I poured some here over heirloom tomatoes with a pinch of salt and some olive oil.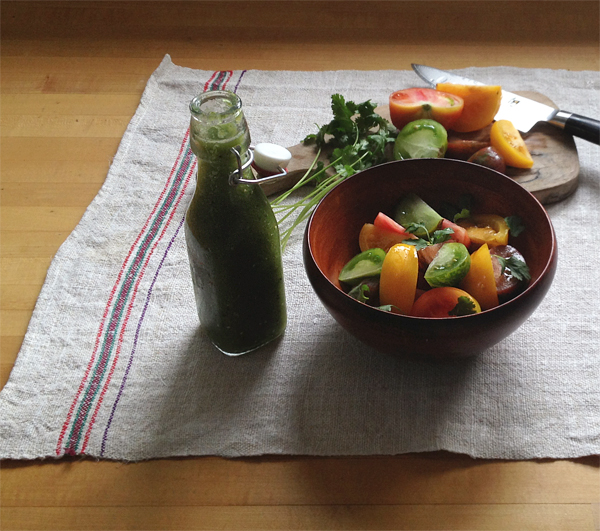 Peppers for heat:
Serrano, long green chili, jalapeño, poblano.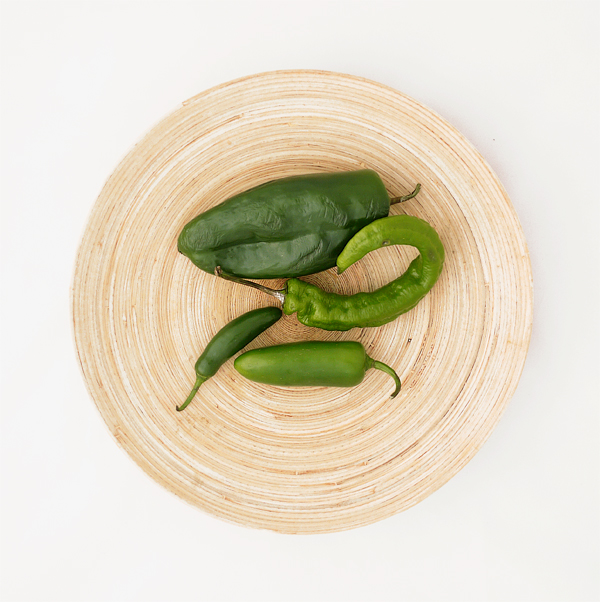 Sweet and cool base:
Green tomatillo, kiwi, honey/agave, lime, vinegar and water.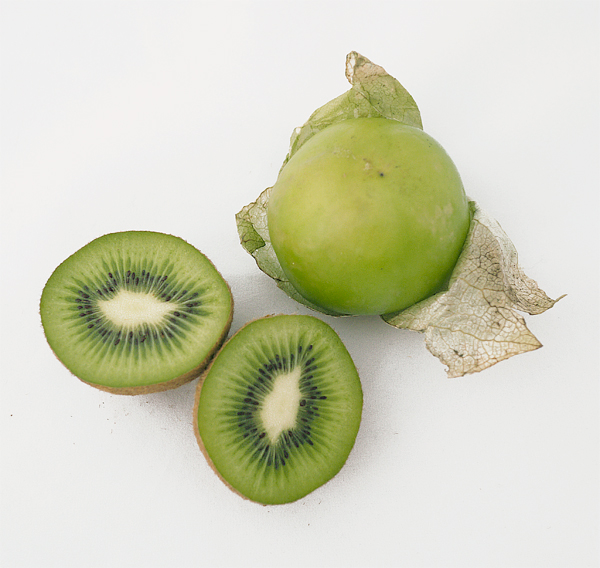 As with the spicy hot sauce, you'll need to blend this one up real good. However, you're not looking for as much of a silky consistency here. It'll have a slightly chunkier texture because of the tomatillo and kiwi seeds.
The recipes I've got here are based on how I like it, but feel free to play with these recipes a little to get the exact heat to flavor ratio you like. Another thing to think about is that peppers can be pretty erratic with their heat levels so you never know what you're going to get. For example, one jalapeño may be really spicy, while another may fall flat. I'd be sure to have an extra pepper on hand in case you get a flat one, and likewise, add the peppers a bit at a time in case you happen to get a flaming hot one!
** Oh yes, before I forget, here are a few of my favorite recipes from the archives (some of which will go nicely with hot sauce!) for Memorial Day weekend and/or the hot the summer months to come…
Creamy Avocado Smoothie
Green Tomato & Corn Tacodillas
Watermelon Avocado Gazpacho
Watermelon Ceviche
Perfectly Grilled Basil Leeks
Kale & Honeydew Summer Salad
Pickled Okra
Chamomile Sorbet
Fresh Mint & Pea Pasta Alla Carbonara
Print Recipe
Back to Top
Recipe
Makes about 12-16 ounces of each hot sauce. Remove most seeds from peppers. Be sure to wash your hands after handling peppers. Scotch bonnet peppers are hotter than habanero so you can use an additional habanero instead or skip the habanero completely if you want a less spicy sauce.
You need:
For Spicy Red Hot Sauce:
1 red chili pepper
1/2 scotch bonnet pepper (optional if you like it really hot)
1 habanero pepper
1 1/2 carrot
1/4 white onino
3 garlic cloves
1/2 tsp salt or to taste
1 1/2 Tbs tomato paste
1/4 cup white vinegar
2 Tbs sugar (or more to taste)
water from boiling carrot (add to desired consistency)
For Mild Green Hot Sauce:
1/3 poblano pepper
1 jalepeno pepper
1/2 serrano pepper
1/3 long green chili
1 tomatillo
1/2 kiwi
1 Tbs honey or agave
1/3 tap salt
juice from 2 limes
2 Tbs white vinegar
splash water
Directions
For Spicy Red Hot Sauce:
Peel carrot and put to boil in heavily salted water with garlic cloves and onion until carrot is very sort and can be broken apart with fork and garlic cloves are soft like butter. Let cool completely in water and don't drain water.
Rinse peppers and remove most seeds, leaving some in if you like it pretty hot. Add all ingredients to food processor and blend for a minute to combine. Taste and add more pepper or seeds to increase spice or more sugar to tone it down. Blend for about 5-7 minutes, adding a little more carrot water and drizzle of vinegar to thin if needed, until you get a very silky, even consistency.
Store in glass jar for up to a month.
For Mild Green Hot Sauce:
Rinse and remove seeds from peppers.
Add all ingredients to food processor and blend for a minute to combine. Taste and add more pepper or seeds to increase spice or more agave or kiwi to tone it down. Blend for about 3 minutes, adding a little more water to thin if needed. Consistency should be even but not totally silky.
Store in glass jar for up to two weeks.
HonestFare.com