I don't know what my deal is with pumpkin. Growing up, I hated it. Then, few years back I had some pumpkin pie and actually enjoyed it. Since then, I've been kind of obsessed. (Something similar happened to me with olives. Maybe it's true that your taste buds change every 7 years?)
Anyway, not only are pumpkins delicious, they're really quite gorgeous. And cooking them whole can make a stunning centerpiece for your Thanksgiving table.
Last year I filled this guy with stuffing and baked him. So handsome!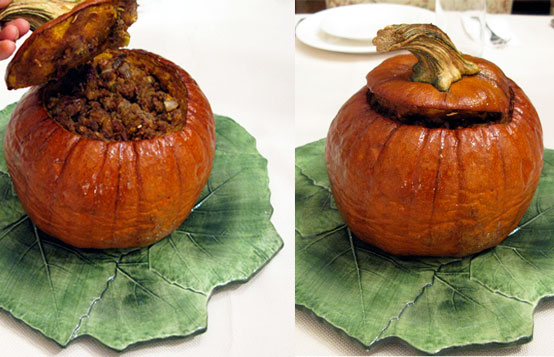 I recently tried stuffing a pumpkin again—this time with a less traditional filling made of herbs, cheese, pumpkin and pieces of a stale French baguette. It was SO incredible. I also used a smaller baking pumpkin and the meat was MUCH sweeter.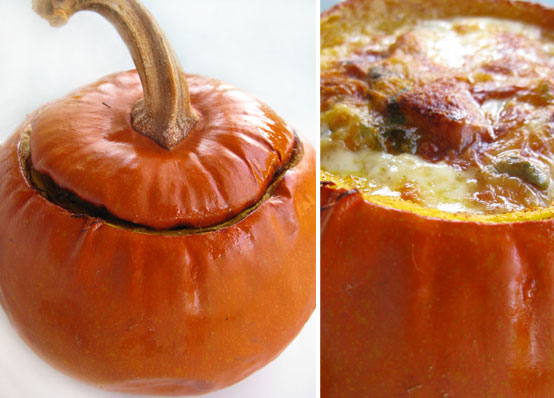 This is fairly easy to do, but there is a little bit of prep work involved.
You have to scoop out the stringy parts of the pumpkin to get the inside pretty smooth. After separating the meat from the seeds, you'll sauté it in olive oil with the bread squares, seasonings/herbs and a good splash of water to moisten and avoid and sticking to the pan. Herb wise I used rosemary, oregano and a lot of sage.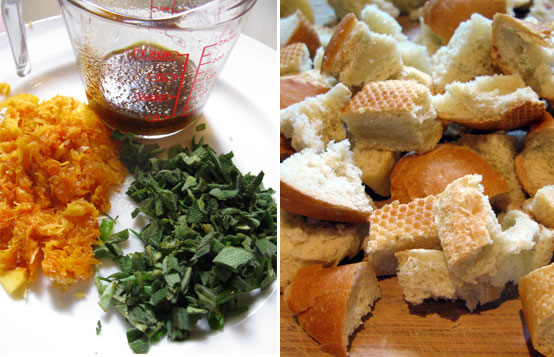 Seasoning the inside of the pumpkin and baking it for about 10 minutes before you stuff it is key. I brushed the inside with a seasoning blend of nutmeg, paprika, clove, garlic, salt, cayenne pepper, agave and olive oil.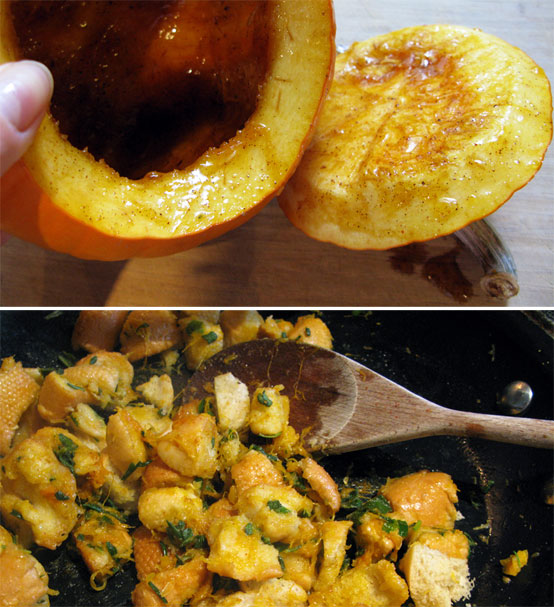 I stuffed my pumpkin in 4 layers of the breading mixture separated by fontina and provolone cheese. You can do as many layers as you like depending on your pumpkin size.
I honestly don't know what was tastier, the filling or the pumpkin itself. The combination is incredible—tender pumpkin meat with the dense texture of a cheesy and savory filling.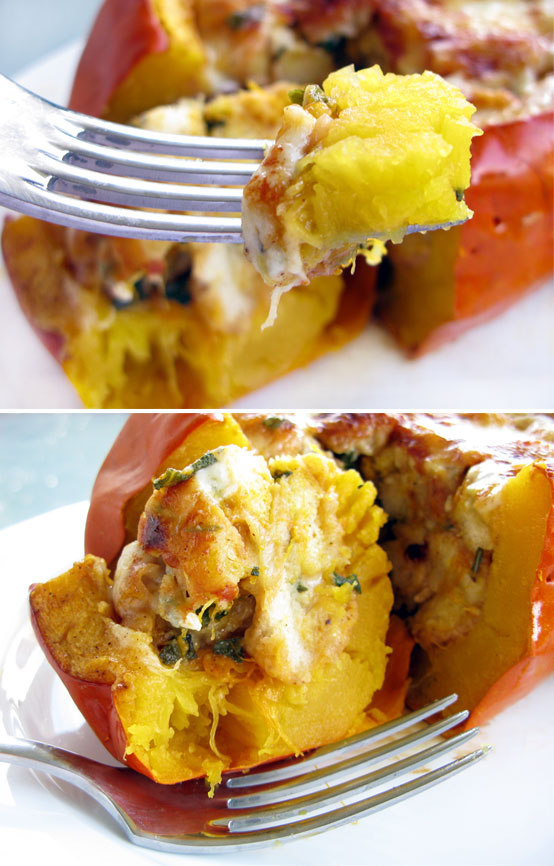 Look at that beautiful cross section!
Print Recipe
Back to Top
Recipe
Measurements/cook times are based on a 3lb baking pumpkin.
Cook/prep time: about 1 hour.
You need:
Olive oil
½ teaspoon cinnamon
½ teaspoon paprika
¼ teaspoon ground clove
¼ teaspoon ground nutmeg
½ teaspoon salt
¼ teaspoon cayenne pepper
1 Tablespoon agave maple syrup
1 baking pumpkin
Fontina cheese (slices or shredded)
1 clove garlic
¼ cup chopped sage
1 Tablespoon chopped oregano
1 Tablespoon chopped rosemary
2 Tablespoons chopped scallions
1½ cup cubed stale baguette
Directions
Preheat oven to 350°
Cut an opening at the top of pumpkin at a 45° angle. Scoop out seeds & stringy guts and scrape inside of the pumpkin clean. Do your best to untangle and separate meat from the seeds. Set meat aside for use.
Pumpkin seasoning: Must be pretty potent to flavor pumpkin meat enough. Combine cinnamon, paprika, clove, nutmeg, salt, cayenne pepper, sweetener and 2 tablespoons of olive oil and 1 tablespoon of water. Mix well. Puncture inside of pumpkin in several places with a fork and then slather inside of pumpkin with the seasoning. Put top on pumpkin and place in oven on baking sheet for about 15 minutes.
The filling: Cut up about ½ a stale baguette into roughly ½ inch squares. Dice herbs and garlic. Chop pumpkin meat to untangle. Sauté pumpkin and garlic on medium heat in olive oil heat for a minute. Add bread and herbs. Toss all together and immediately add ¼ cup water to pan. Sprinkle salt and little black pepper to taste. Remove from heat when everything is evenly on bread and seasoned to your liking.
Stuffing it: Remove partially cooked pumpkin from oven. Fill pumpkin with about 4 layers of bread filling separated by cheese. Compact the bread down so everything fits nice and snug.

Place top back on pumpkin and put back in oven (you may have to remove the top rack or trim off a portion of the stem to make room). Bake for about 35-45 minutes or until pumpkin meat is soft (just remove top to test doneness of pumpkin meat). Bake last 5 minutes with top off to brown the cheese!
HonestFare.com