I've been pretty busy getting everything together for the Hello, from Florida photography show tomorrow night, but I wanted to at least get this recipe for mango bruschetta up on the blog to complete my set of four Florida inspired hors d'oeuvres for ya. Plus, this serves as your reminder to come tomorrow night (May 20 at 6-10 pm) if you're in town.
Mangoes are in season right now so they've been pretty easy to come by, and cheaper than usual. I considered doing a mango jam or something, but I didn't want another sweet offering and thought it necessary to have something with a little kick to it (I used jalepeños in this).
Basically it's a salsa, but chunkier. And really nicely balanced. I used a lot of fresh cilantro and mint to keep it refreshing, jalepeño for heat, onions for crunch and I also incorporated some queso blanco to make it more dynamic and to smooth things out…and also because queso blanco rules!
Soft, salty and won't fall apart or get soggy.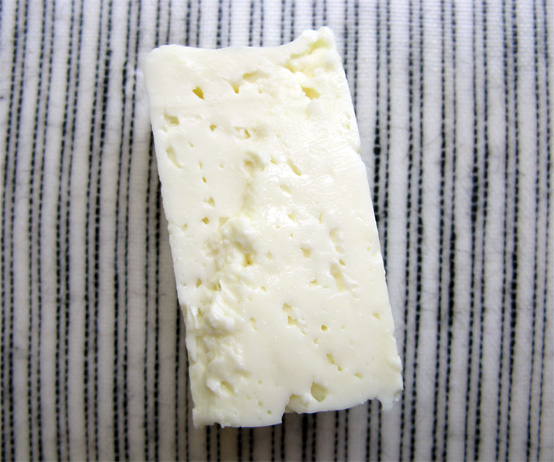 I used fresh tomatoes (green and red) and canned tomatoes. The canned ones, mainly because I just wanted to purée them with some herbs and garlic to create a base and then mix in the fresh tomatoes. The green tomato is a nice textural contrast to the ripe red ones, but it's optional if you can't find one.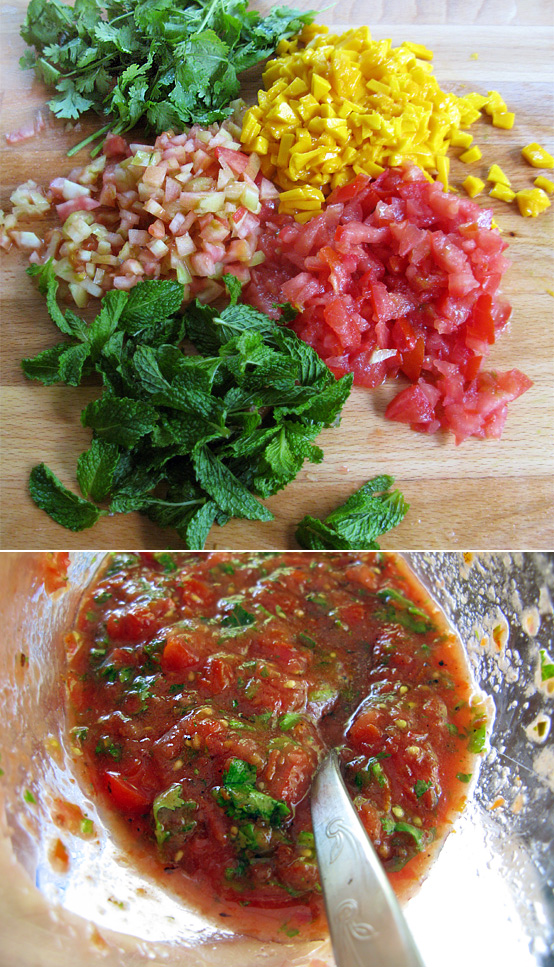 I don't usually like raw onions cause I think they taste like soap and often make my stomach hurt. I stay away from them when possible, but my life was recently changed when I learned this brilliant little trick to making onions less potent.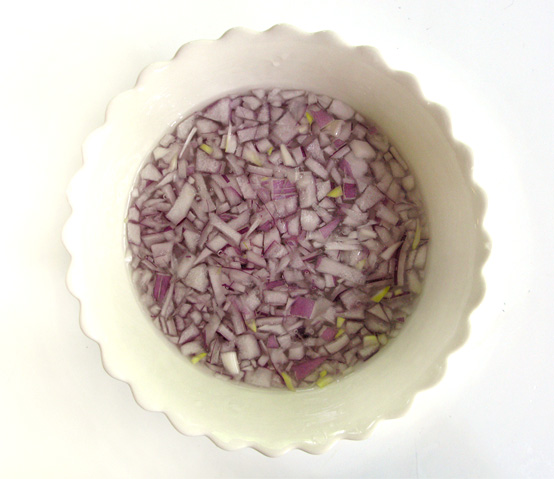 You chop them and rinse them off until less slimy and then soak them in water for an hour (or as long as possible). It's great! You maintain the nice crunch, the flavor becomes less subtle and you don't have to worry about gross onion breath or heartburn. It's perfect for something like salsa…or in this case, bruschetta.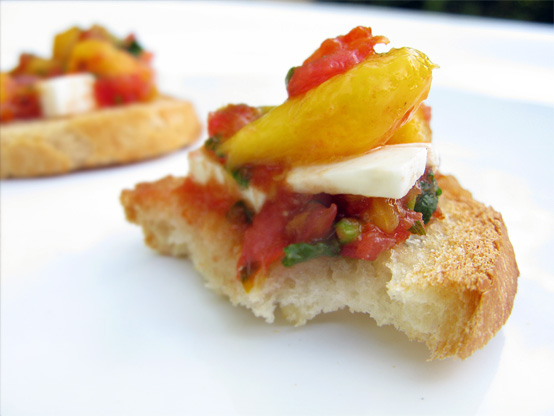 Initially, the idea was to serve this on toasted bread like a bruschetta. I figured I could put out a bowl of the mango/tomato mix and the toasts on the side and that people could just spoon it on the toasts themselves.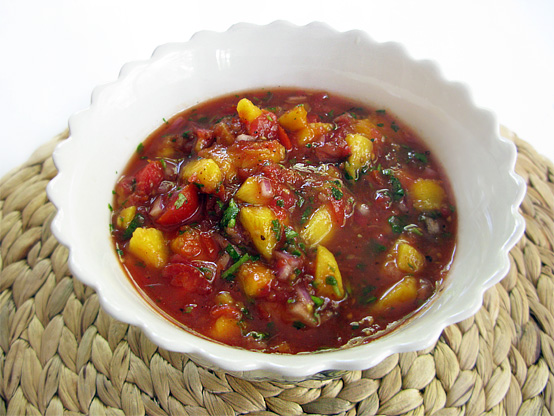 BUT, then it dawned on me (like yesterday) that people would probably end up assuming it was just a salsa and plop a big spoonful on their plates and then grab the toast on the side and be like "WTF?" I imagined myself hovering over the table cringing and trying to graciously tell people how it is intended to be eaten. Like they'd care. The only solution to this would be to preassemble the bruschetta. The problem with that being, I'd have to keep assembling more of them all night and they could get all soggy. I didn't want to just do chips cause that's kind of expected. So I was stuck. Until Jason walked in the room with the perfect solution. (How does he always manage to do that?) Plantain chips! Now, I won't get into how many Latin-American supermarkets I had to go to find the perfect plantain chips (I wanted long strips, not little round chips), but I finally found them and we're set!
If you're making this at home, go with the toasted bread option. I think it's nicer, but if you'll be at the show tomorrow night, you're getting the plantain chips!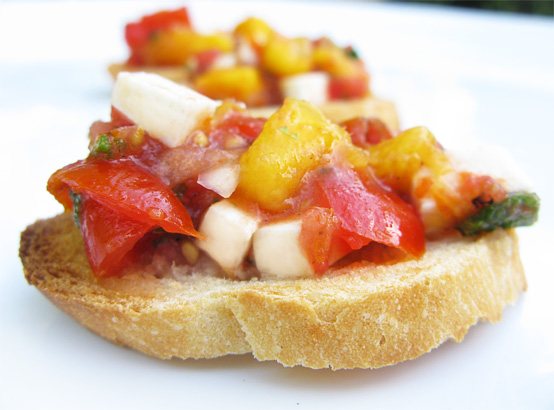 Print Recipe
Back to Top
Recipe
Coop/prep time: about 25 minutes. You can serve this on toasted bread as a bruschetta or with chips like a salsa. If you do it as a salsa, I definitely recommend plantain strips.
You need:
1 ripe mango diced
1 cup fresh diced tomatoes
1/2 cup fresh diced green tomatoes (optional)
6 oz. queso blanco cut into cubes
1/2 cup fire-roasted canned tomatoes puréed
1/4 of a red onion thinly diced
Large handful fresh cilantro roughly chopped
Medium handful fresh mint roughly chopped
1/2 teaspoon garlic powder
1 tablespoon salt
Diced jalepeño pepper to taste
2 tablespoons rice vinegar
Juice from 1/2 – 1 lime
Toasted slices of French bread
Directions
Peel and dice mango. Dice tomatoes. Chop cilantro and mint. Dice (really small) desired amount of jalepeño pepper. Cut queso blanco into cubes. Set aside.
Combine roasted canned tomatoes, jalepeño, garlic powder, salt and half of the cilantro and pulse in blender/food processor until it's almost a smooth purée. Set aside.
Combine fresh tomatoes, mango, remaining cilantro, mint, rice vinegar and toss in a bowl. Pour purée over and toss until combined. Add cheese and lime juice (1/2 lime) and toss until combined. Taste and add more salt or lime juice if necessary.
Slice bread into 1/4 inch thin pieces and toast. Top with mixture and enjoy!
HonestFare.com