Next on the list of regionally inspired hors d'oeuvers for the Hello, from Florida photography show is this yummy Hearts of Palm Salad.
Hearts of palm are quite literally the heart of the tall and graceful Sable Palmetto, which also just so happens to be Florida's state tree! Hearts of palm, or "swamp cabbage" as it was referred to as by native Floridians back in the day, was long regarded as poor people's food. But with time, its sweet, tangy and nutty tenderness became accepted as a delicacy. The plant was eventually rebranded, so to speak, and its lowly misnomer went from "swamp cabbage" to "millionaire's salad." Ew. Thankfully, that didn't last – the state soon enacted a law to protect the plant from gourmets and the more literal name "hearts of palm" was given.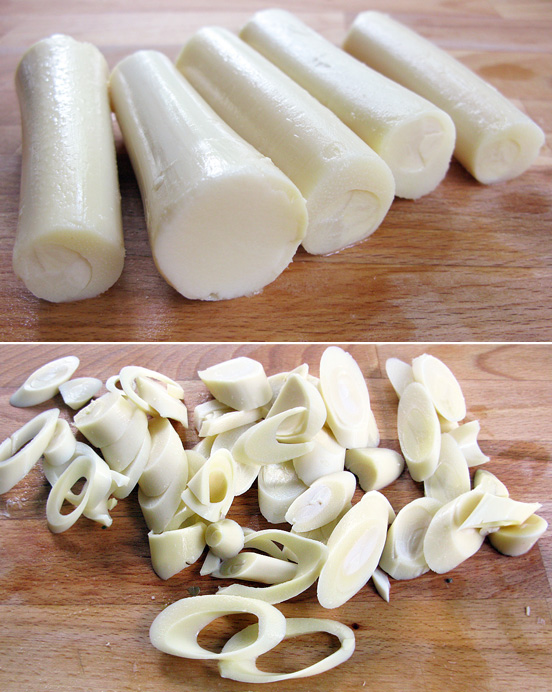 The process of extracting the heart from palm is as labor-intensive as you'd imagine. You have to remove the fronds from the top of the tree, then cut off about 3-4 feet from the top of the trunk and peel away the tough outer layers of the palm trunk until you reach the core, or the heart. There are still plenty of hearts of palm to be foraged in the wild across the state, but nowadays most of us just go to the store and buy it in a can or jar. Which is exactly what I will be doing. Okay, I really hate to break everyone's heart (hee-hee) here but, like most readily available foods, hearts of palm are now commercially farmed. AND a lot of it actually comes from Costa Rica where they harvest it from Peach Palms, which can apparently produce up to 40 hearts per palm. Anyway, can we just pretend these hearts of palm came from Florida?
Hearts of palm are cholesterol-free, low in calories and have excellent fiber content and very little fat, which is great and all, but I love them for their flavor! When I make a salad with hearts of palm, I like for it to be the star ingredient so I limit the other veggies to just one or two.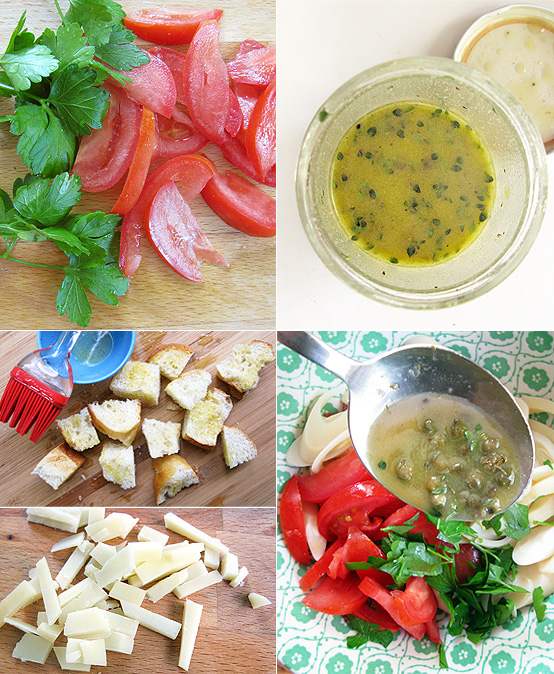 The pairing of tomato and capers here is fantastic. I also added some Gruyere cheese for a nice surprise and to smooth out the acidity a bit. I made some large orange oil croutons (basically butter, seasonings and orange oil brushed on and then toasted) and mixed them in early to soak up some of the dressing. I'm thinking that having everything cut up into large pieces will be good for the show. People can just scoop a small portion and it won't be all messy like a salad with lettuce and lots of small pieces. Well, hopefully not. This is the only thing we'll put out that isn't considered finger-food so we'll see what happens.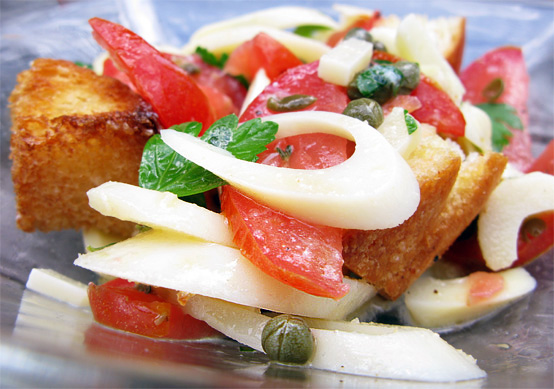 If you can't find orange oil at a specialty store, just use some orange zest. But if you do, get it! It'll be nice to have around and incorporate in baked goods, granola, sauces and dressings down the road.
Additional resources:
Boyajian Pure Orange Oil's site.
Step-by-step on harvesting hearts of palm in the wild and some funny traditional "swamp cabbage" recipes, here.
More info:
Hearts Of Palm
Print Recipe
Back to Top
Recipe
Serves: 2-3 Prep/Cook time: 20 mins (about 10 for salad and 10 for croutons). Orange oil is great to have around but if you can't get your hands on it, substitute with 1/2 teaspoon orange zest.
You need:
1 can or jar of hearts of palm
1 large tomato
Large handful fresh flat-leaf parsley
Little bit of fresh thyme
1 heaping tablespoon capers
1/2 teaspoon dijon mustard (like Grey Poupon)
1 teaspoon agave nectar
Juice from 1/2 a lemon
1 tablespoon red vinegar
2-3 tablespoons water
2 tablespoons olive oil
Cracked black pepper to taste
Sprinkle onion/and or garlic powder
1/2 teaspoon salt
About 3 ounces diced Gruyere cheese
For the croutons:
1 cup stale baguette cut into large cubes
1/4 teaspoon salt
3 tablespoons butter
1/4 teaspoon orange oil or 1/2 teaspoon orange zest
Tiny sprinkle cayenne pepper
1 teaspoon water
Directions
Chop hearts of palm stalks into slivers about 1/4 inch thick. Slice tomato into thin wedges. Roughly chop parsley. Cube up Gruyere cheese into small 1/4 inch squares. Combine all this in a bowl and set aside.
Combine capers, thyme, agave, salt, pepper, onion/garlic powder (if desired), mustard, agave, water, lemon juice, olive oil in lidded container and shake, shake, shake. Or beat with a fork and even macerate capers with fork to release flavor. Pour over veggies and toss to coat salad in dressing evenly.
For the croutons: Cut stale bread into large cubes. Melt butter and combine with orange zest, salt, pepper, water. Brush each cube of bread generously and toast until golden brown.
Add croutons to salad bowl about 5-10 minutes before serving and toss so they can begin to soak up some of the dressing!
HonestFare.com