Little known fact: There are only two states in the U.S. where coconut palms can naturally reproduce and grow fruit without irrigation. Guess where. Hawaii…and Florida! Based on that fact alone, I really feel like I HAVE to incorporate coconut somewhere in my lineup of regionally inspired foods for the Hello, From Florida photography show.
At first I was thinking macaroons, cause I already have a great recipe for those. But I wanted to try something new. Plus, I recently came across the tantalizing, Ming Makes Cupcakes and was reminded of how darling cupcakes are. After gawking at Ming's cupcakes for all too long I felt inspired and decided that if I was going to make cupcakes they should be cute and fun like hers.
So here we have them – Cocoa Coco Cupcakes. A real blast, huh? And it doesn't stop there! I've decided to make them mini cocoa coco cupcakes, cause who can say no to a tiny cupcake that fits right in the palm of your hand?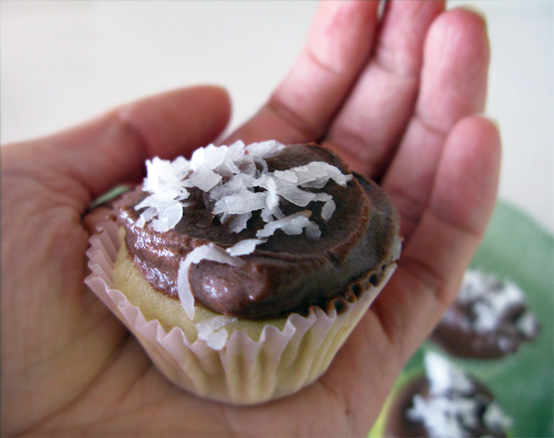 Chocolate and coconut usually work nicely together, and though I've never seen the combo as a cupcake, I had a good feeling about it. Plus, I really like saying cocoa coco cupcake.
I knew right off that it would be a challenge to make the batter coconutty enough to stand up to the cocoa frosting. So in addition to shredded coconut, this batter calls for coconut milk instead of regular milk, which really pumps things up.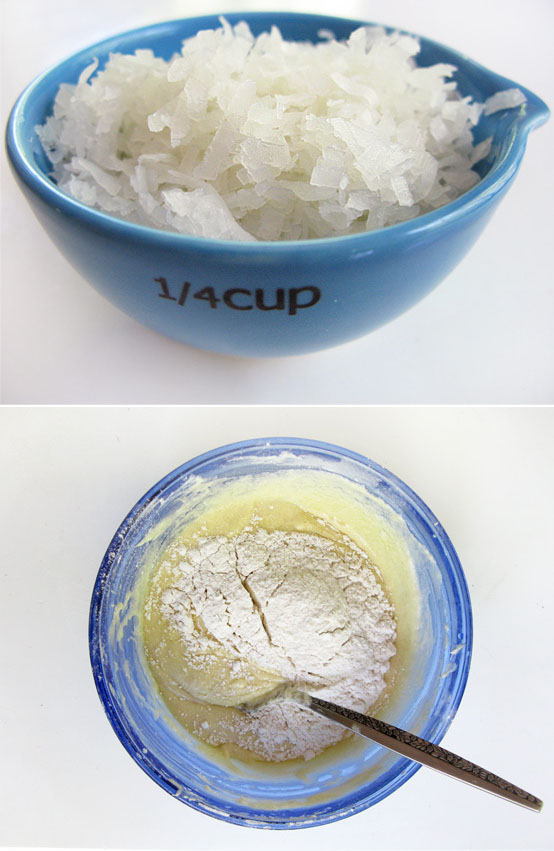 By the way, don't even dare taste the raw batter. It is too good and you won't stop. I don't usually get like that cause I have raw egg phobia, but I found myself making out with the mixing spoon and actually had to say, "stop it you weirdo" out loud.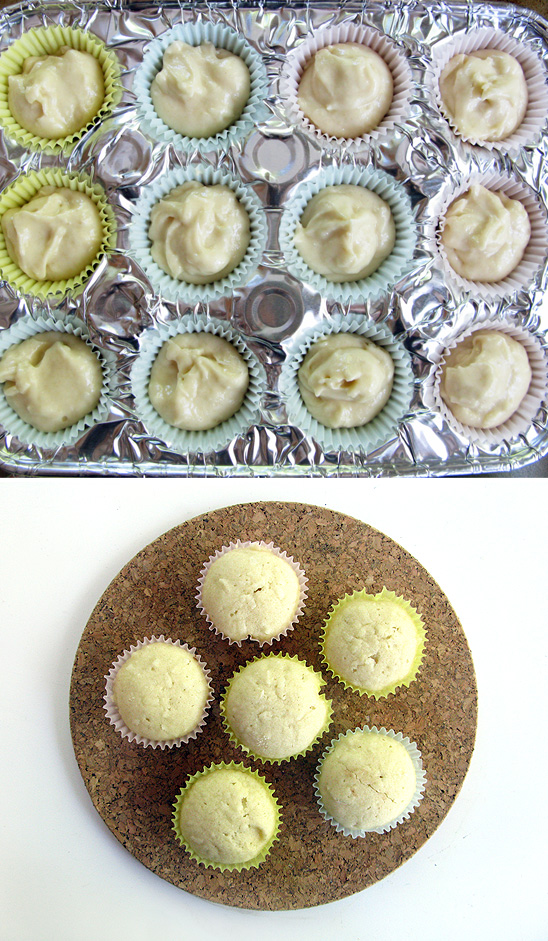 The cupcakes turned out perfect. Fluffy and really coconutty. BUT, and this I a huge but, while the chocolate frosting was delicious and the paring was nice, I think the cocoa overpowered the coco more than I would like. Kind of a shame to do that to such a delicious coconut cake so l'll probably just go with a vanilla cream frosting of some kind so as not to take away from that awesome coconut flavor. Or maybe just a dollop of guava jam?
But would I recommend the cocoa frosting to you? Yeah, totally. I'm just saying for this event I need a stronger coconut presence. I followed a pretty basic chocolate frosting recipe and then folded in some whipped cream to make it creamier and fluffier.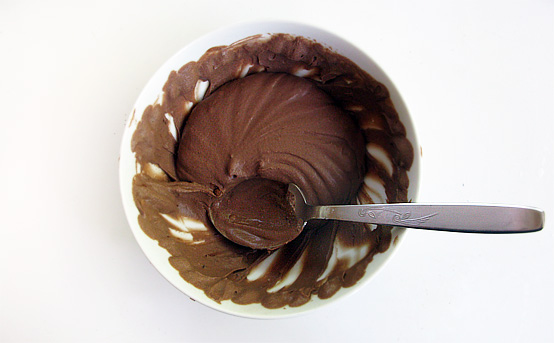 Love the contrast of the shredded coco against the cocoa frosting!

Coconut batter adapted from here.
Print Recipe
Back to Top
Recipe
Be sure to use regular coconut milk, not the light stuff. If you're looking for a really intense coconut flavor, you might want to go with the vanilla coconut frosting option instead of the cocoa one.
You need:
For the cupcakes:
3/4 cup of unsalted butter, room temperature
1 1/4 cup of sugar
3 eggs, room temperature
1 cup of canned coconut milk
1 teaspoon of vanilla extract
2 1/4 cups of flour
1 teaspoon of salt
1 teaspoon of baking powder
3/4 cup of sweetened desiccated coconut
Cocoa coco frosting option:
4 tablespoons unsweetened cocoa powder
5 tablespoons butter
1 cup confectioners sugar
3 tablespoons milk
4 oz. heavy whipping cream
Vanilla coco frosting option (my pick!):
6 oz marscapone cheese
6 oz soft cream cheese
8 oz heavy whip cream
3/4 cup confectioners sugar
1/4 sweetened desiccated coconut
1 teaspoon vanilla extract
Directions
For the cupcakes:
Preheat the oven to 350 F.
In a large bowl, cream the butter until light and fluffy. Add sugar and cream together until light and fluffy again. Scrape sides for even mixing. Add the eggs, one at a time, beating for 30 seconds each to ensure mixing. Scrape down the side
In a second bowl, combine the flour, salt, and baking powder. In third (smaller) bowl, mix 1 cup of a well shaken can of coconut milk and a teaspoon of vanilla.
Add 1/3 of the dry flour ingredients to the bowl of creamed butter/sugar and mix. Then add in 1/2 of the coconut milk/vanilla ingredients and mix. Continue alternating with the wet and dry mixtures, ending with the dry. Stop mixing once the ingredients become incorporated, but don't over beat. Dice up desiccated coconut into shorter pieces and fold coconut into batter.
Scoop batter into cupcake papers three-quarters of the way full. Bake for 18-22 minutes. Check with toothpick for doneness. If the toothpick comes out of the cupcake clean, then they're ready (don't over bake). Allow the cupcakes to cool for a minute or two in the pan, then transfer to a wire rack to cool completely.
For the cocoa coco frosting:
Make sure butter and milk are room temp! Cream butter in mixing bowl. Add cocoa and sugar, alternating with milk and beat until spreadable consistency. In separate vessel, blend/mix whipping cream until thick. Fold desired amount of whipped cream (I did about 2 ounces.) into frosting.
Spread across cupcakes and top with coconut! Place in fridge to cool until easily spreadable
For the coco vanilla frosting:
Beat marscapone cheese and cream cheese together. Add sugar and beat until incorporated. Whip cream and vanilla together until stiff peaks form. Fold half of whipped cream into cheese mixture.
Chop coconut into shorter pieces. Fold coconut and remaining whipped cream in. Place in fridge to cool until easily spreadable.
HonestFare.com