Yes, a tacodilla. Look, I wasn't crazy about calling it that either, but it's the most appropriate thing I could think of for something that's essentially a quesadilla folded up like a taco and filled with stuff. So it's a tacodilla – get the recipe here or just hit up the drive-thru at your nearby Taco Bell.
We eat a lot of tacos around our palace (especially when friends are over). Such a relaxing and fun way to enjoy a meal because there's no fuss. It's all out on the table with a stack of warm tortillas and everyone just goes to town putting together their own crazy combinations. Usually we keep them simple – grilled protein or veggies of some kind with shredded cabbage, radishes, cilantro, tomatoes, cheese, etc. We do love to experiment with different salsas and hot sauces though.
All kinds of awesome hot sauces here: Hot Sauce Planet
Jason and I were at the beach this weekend and tacos sounded perfect. Corn and green tomatoes were looking real good at the market so I got inspired to do a simple corn and green tomato salsa/slaw. The texture of the crunchy acidic green tomatoes and sweetness of the corn were seriously incredible. A great warm weather salsa.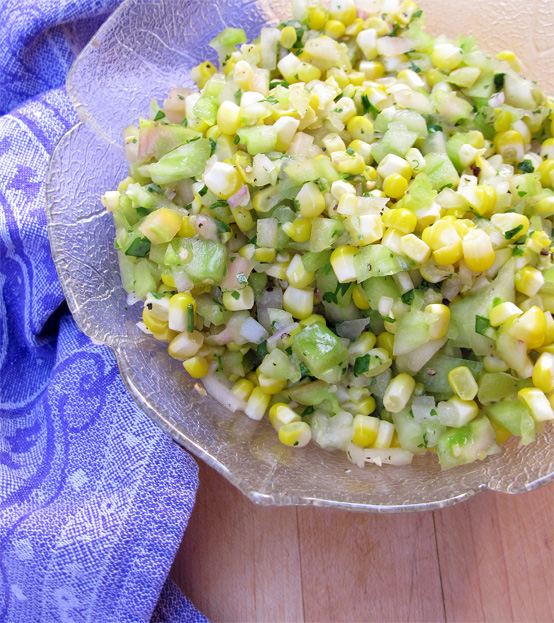 Very simple to throw together too. I blanched the corn before cutting it off the cob, diced up the green tomato and cilantro, sliced the red onion paper-thin and then diced it up. Other than that there was some rice vinegar, lime juice, jalapeño pepper, salt, black pepper, agave and garlic.
We decided to keep these vegetarian. I melted the Monterey jack cheese between two corn tortillas.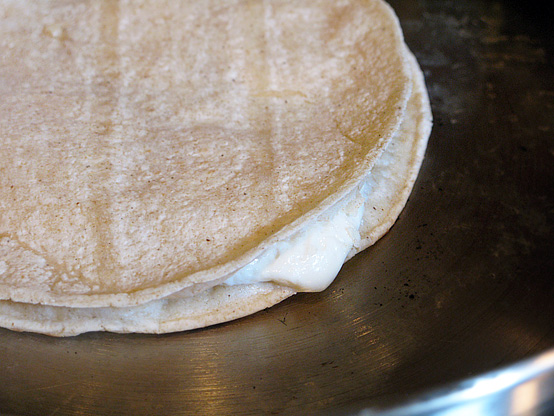 And then topped the quesadillas with some guacamole, sour cream and tomatoes, a big helping of the corn and green tomato slaw and hot sauce, of course. Then folded them up and the tacodilla was born!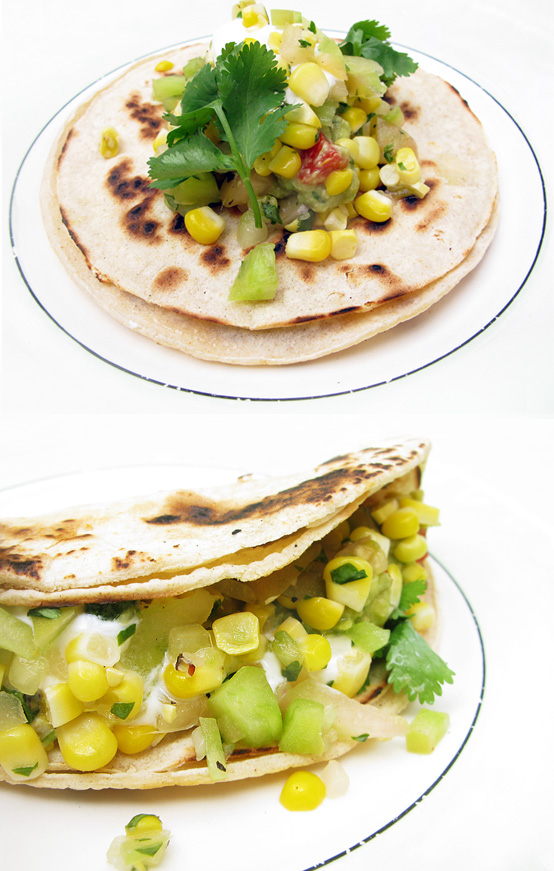 With all the great crunch and flavor and the melted cheese, Jason didn't miss the absence of meat at all (p.s. It always makes me feel really accomplished when that happens). Whether you decide to do the tacodillas or not, this is a great salsa to try (excellent with chips). I made a giant bowl of it and we killed the whole thing between the two of us.
Print Recipe
Back to Top
Recipe
Coop/prep time: 30 minutes. Feel free to do a fish or chicken variation on this recipe or just make the salsa for having with chips.
You need:
For the salsa:
2 ears of corn
One large green tomato or 2 medium
2 tablespoons red onion diced paper-thin
Handful fresh cilantro
1 teaspoon lemon or lime juice
3 tablespoons rice vinegar
drizzle agave nectar
1/2 teaspoon salt (or to taste)
A little cracked black pepper
A little minced garlic (to taste)
A little diced jalepeño pepper (to taste)
For everything else:
Monterey jack cheese (or whatever kind you prefer)
Corn tortillas
Sour cream
1 avocado
2 tablespoons lemon or lime juice
Couple squirts of your favorite hot sauce
Salt and pepper to taste
1 small red tomato for dicing
Hot sauce!
Directions
Cut a small piece off a green jalepeño pepper and mince into very small pieces. Jalepeño strength will vary so taste a tiny bit and decide how much to use. Mince a little garlic into very small pieces. Set aside.
Blanch (steam) corn for just a minute so it becomes less starchy, but not entirely cooked. Set aside to cool. Meanwhile, dice up the green tomato into 1/4 inch pieces. Dice cilantro. Cut a few paper-thin slivers of red onion and then dice up into even smaller pieces. Cut corn kernels off cob once corn is room temp.
Combine corn, green tomatoes, cilantro, onion, rice vinegar, lemon or lime juice, garlic (to taste), salt and pepper, jalepeño (to taste) in a large bowl and toss well. Drizzle a little agave nectar and toss more. Add more salt or jalepeño if necessary. Set aside.
Dice up red tomato. Mash avocado in a bowl with lemon or lime juice, salt and pepper and a little hot sauce. Stir in red tomatoes.
Sandwich desired amount of cheese between two corn or flour tortillas. Place on pan or grill and cook both sides on medium heat until light grill marks appear and cheese melts.
Top quesadillas with a scoop of guacamole, green tomato and corn salsa, dollop of sour cream and extra sprig of cilantro. Fold up into a tacodilla and enjoy!
HonestFare.com