I woke up early this morning. Well, early considering I had no real commitment to attend to and had been working pretty late on a project at a friend's house the night before. Despite all this, I was up. So I went with it and started my day by cleaning the kitty litter (pretty glamorous, I know). It wasn't until I stepped outside to toss the bag of cat turds, that I realized there was a legitimate reason for my waking so early – it's freaking gorgeous out! What a beautiful day! As in, the sun is golden and low in the sky; the breeze is doing acrobatics and every leaf on every tree is at attention; all kinds of things are chirping about and it's actually kind of cool outside! This time of year always reminds me of why I live in Florida.
I was going to post a fantastic French lentil soup for you today, but was feeling something a little more light and crisp…like the weather! So instead, we've got this chilled green bean salad with lavash chips and dried figs, tossed in a sweet tahini dressing. How's that sound?
Lavash is a soft, thin flatbread similar to pita. And like pita, it can be used for dipping and sandwiches – it also happen to be great toasted and broken apart like chips. Most Middle Eastern markets and health food stores sell lavash, but if you can't find it, pita is a fine substitute.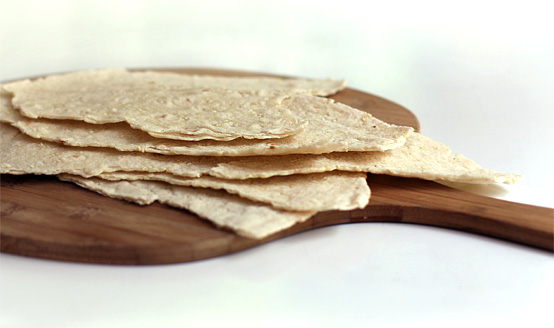 I just lightly steamed the green beans so they'd stay firm and then chilled them in an ice bath to stop the cooking, but you can skip that step if you want them warm or don't mind them softer. I sliced them lengthwise and in half to make them more manageable and to expose their pretty insides.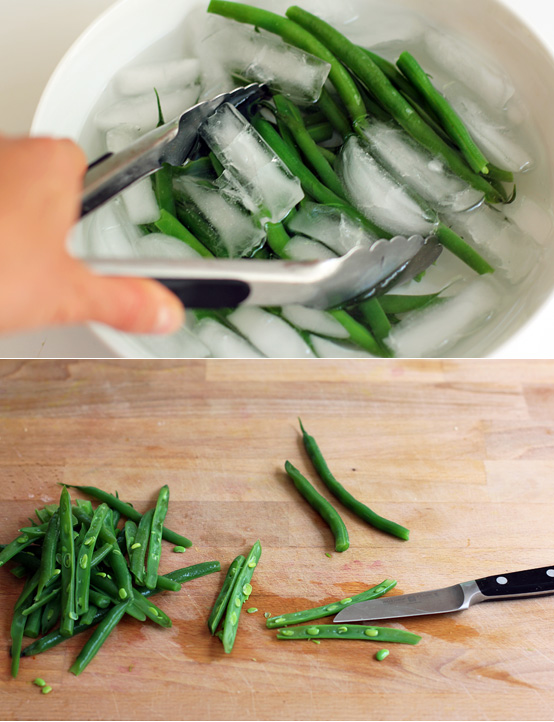 Same with the dried figs.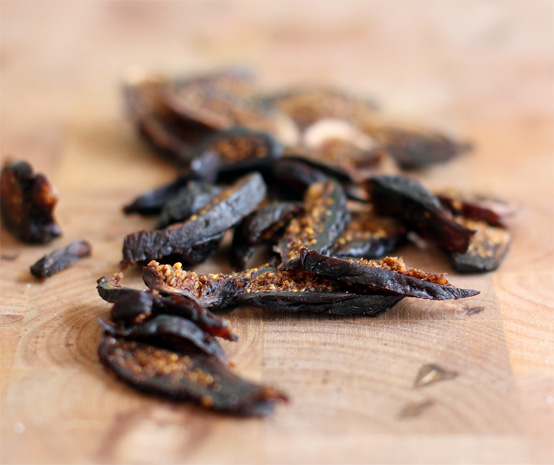 The dressing is simple, simple and seriously good. It actually kind of blew me away. Tahini, honey, water, salt, cracked black pepper, lemon juice and vegetable oil (cause it's milder in flavor than olive oil). Everything gets tossed together with some parsley and the toasted lavash chips.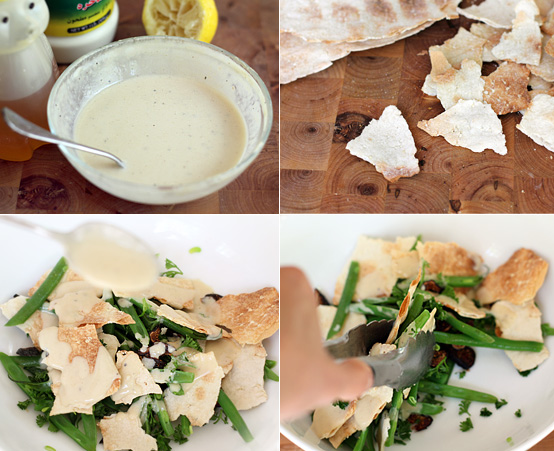 This flavor and textural combination was all around excellent. Sweet, toasty, tangy, crunchy and fresh. And I swear I stated off using a fork, but by the end was stacking up perfect little bites and drizzling them with extra dressing with a freakish grin on my face. Salads that incorporate bread are so much fun to eat.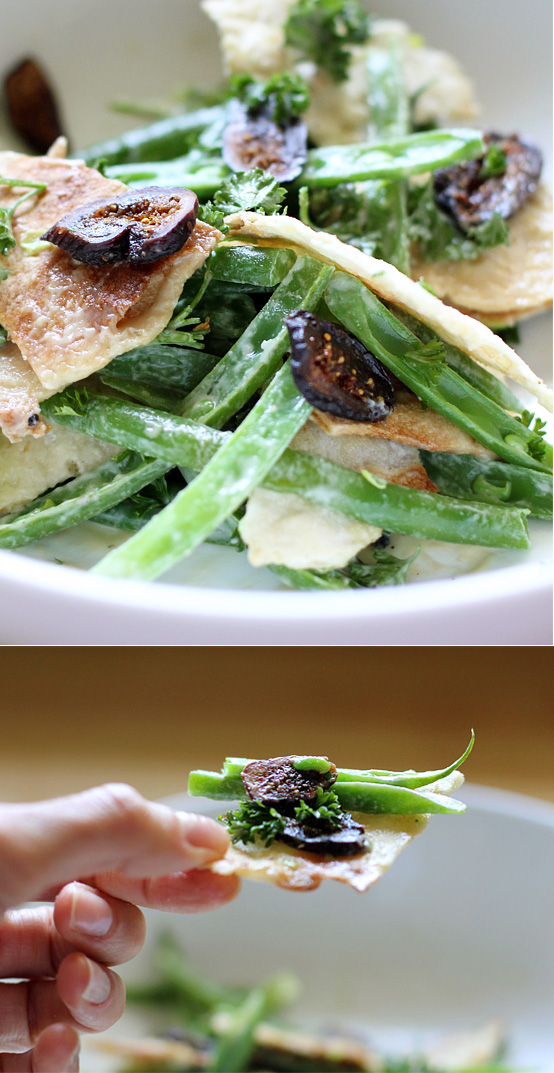 Print Recipe
Back to Top
Recipe
Prep + cook time: 25 mins Serves: 3-4 Note: Most Middle Eastern markets and health food stores sell lavash, but if you can't find it, pita is a fine substitute.
You need:
Lavash or pita bread
About 1/2 lb green beans
About 6 dried figs
Handful of fresh curly parsley
Juice from one lemon
4 tablespoons tahini
Salt
Cracked black pepper
1 teaspoon honey (or a little extra if you like it sweet)
2-3 tablespoons water
1 teaspoon of vegetable oil or preferred light oil (other than olive oil)
Directions
Remove ends from green beans and steam until bright green and still firm. Remove from water and place in prepare ice bath (large bowl of ice and water) to chill and stop from cooking any further. Once sufficiently chilled, remove green beans from ice bath and dry with towel. Slice each green bean lengthwise through the center, exposing the inner pod, and then in half again – so basically each green bean becomes four pieces. Place in bowl and toss lightly with a little salt.
Toast lavash or pita bread and break into chip-sized pieces. Slice figs and chop parsley.
Combine tahini, honey, lemon juice, about 1/4 teaspoon of salt, a good amount of cracked black pepper and oil in a small bowl and mix with a fork. Thin out with some water (add one tablespoon at a time) and toss until well combined.
Add figs, chips, parsley to bowl of green beans and top with a good amount of dressing. Toss and enjoy!
HonestFare.com