I woke up Saturday morning to the sun peeking through the shutters. Also, to the distant sound of my bar-b-que loving Puerto Rican neighbor playing reggaeton music from his backyard. These are good signs. Spring. The landscape is starting to return to us. Not blooming quite yet, but I wore flip-flops outside today so that's a good sign. Pretty soon, tank tops and cut-offs. Baring my skin makes me feel human. I'm a Floridian 100 percent. Jackets and sweaters and pants and layers make me feel trapped.
In honor of springtime, I dug out my hibernating juicer and made a nice tall glass of refreshing green apple cucumber juice with a spritz of lemon and sparkling water. Something green that doesn't taste green—how about that?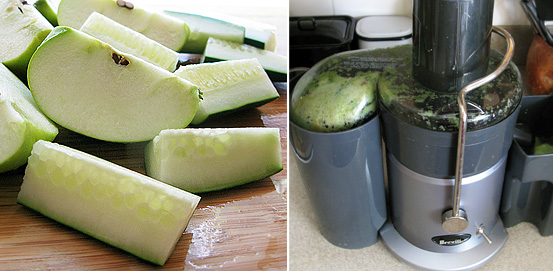 Maya seemed perplexed by the whole thing.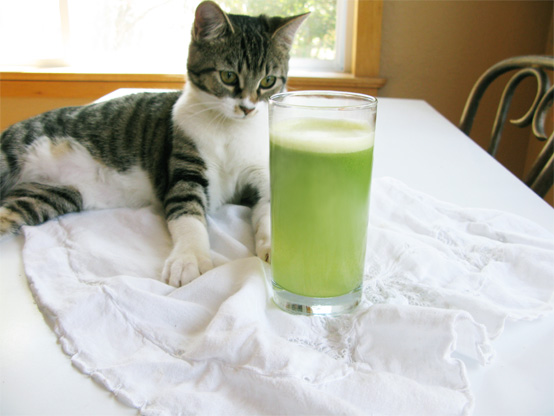 Print Recipe
Back to Top
Recipe
Prep time: 15 minutes. Recipes makes about 3 tall glasses full. It's best if fruit is cold before juicing. Cut juice with either still or sparkling water. Drink that day, while freshest.
You need:
3 granny smith apples
1 large cucumber
Sparkling or still water
1 lemon
Directions
Juice apples (with skin on). Peel cucumber and juice it. Remove foam that collects across the top of vessel (the foam is bitter). Squeeze juice from one lemon into it. Stir well.
Divide juice into 2-4 glasses. Add sparkling or still water to taste and ice if desired.
HonestFare.com