Grape pizza? Well, it's not exactly pizza. And I know it sounds kind of off-putting, but oh man, this is so good. Just take a moment to consider it…
Grapes blistering at their peaks with bursts of sweet and watery juice—the perfect chaser to an herbaceous, crispy crust dressed in toasted pine nuts and Pecorino Romano cheese. Did you get all that?
At the last minute I threw some ham on it and I'm really glad I did. (But just leave it off for the vegetarian option. Still so worth making.)
I can't remember exactly where, but I saw some kind of baked grape thing on thick ciabatta bread that looked amazing. So after a couple weeks of pondering the right combination, I opted for a thin crust flatbread instead, topped with rosemary, red seedless grapes, Pecorino Romano cheese and toasted pine nuts.
Basic pizza assembly…
So after you roll out your favorite store bought or homemade pizza dough, you slather it with olive oil, rosemary, salt & pepper and bake it on a baking sheet until just golden brown underneath and firm enough to handle with confidence.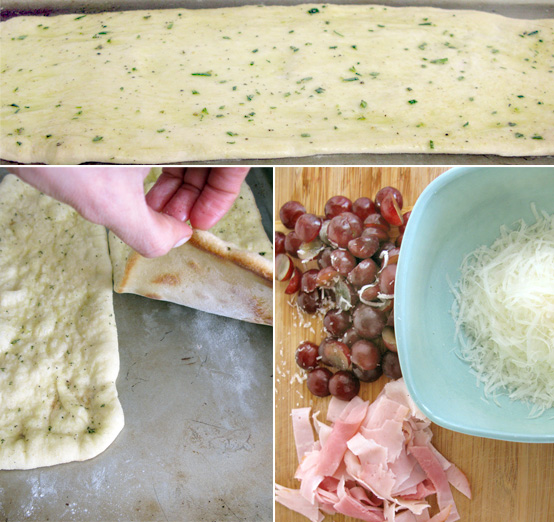 I did a nice layer of cheese. Halved the grapes and placed them cut-side down. Put the ham on and topped it off with another thin drizzle of cheese before putting it back in to bake.
I decided to toast the pine nuts separately on the stovetop and add them on at the end to avoid the possibility of them burning in the oven. I think that's the safe way to go.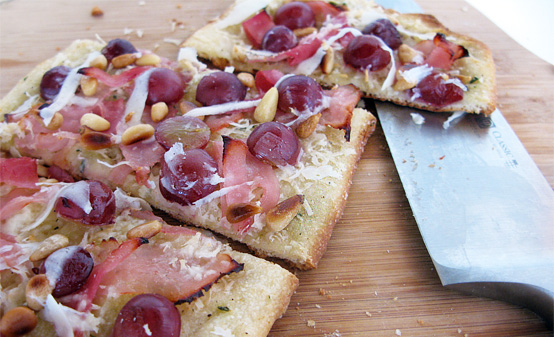 Since this was kind of an out there experiment, we decided to play it safe and make a couple different flatbreads (just in case this one turned out bogus), but it ended up being the favorite. Give it a try!
Print Recipe
Back to Top
Recipe
Makes 1 medium-sized flatbread. Recipe only calls for Romano cheese, but you can add some mozzarella too if you like.
You need:
1 ball pizza dough (store bought or homemade)
2 tablespoons pine nuts
¾ cup red seedless grapes halved
¾ cup grated pecorino romano cheese
2 sprigs diced fresh rosemary
¼ cup olive oil
¼ teaspoon lemon zest
Garlic powder
Salt to taste
Light sprinkle red pepper flakes
Sliced deli ham or prosciutto (optional)
Directions
Preheat oven to 350°
Cut your grapes in half. Grate ½ cup (or more) of romano cheese. Cut or tear slices of ham. Toast pine nuts on a pan on low heat, tossing frequently, until they're toasted golden brown. Set aside.
Roll out your first fist-sized ball of pizza dough as thin as possible without tearing. Place it on a baking sheet that's sprinkled with a little flour or semolina so it doesn't stick. Repeat with remaining dough.
Dice rosemary. Combine olive oil, rosemary and a pinch of salt in a small bowl and beat with a fork. Slater top of dough with it using a brush or back of a spoon. Bake until dough begins to puff up and bottom is toasted golden brown. Remove from oven.
Apply generous layer of cheese(s). Place grapes (cut side down) with about ½ inch space between. Apply ham and sprinkle lemon zest, garlic powder and black pepper. Apply another very thin layer of cheese. Bake until grapes blister and crust become firm and crispy.
Remove from oven and add toasted pine nuts (and optional red pepper flakes) while flatbread is still piping hot.
HonestFare.com