Granola is all my favorite things in one. Dried fruit. Nuts. Oats. Sweetness. Saltiness. Crunchiness. I could eat granola until I'm sick. And I have. Cluster after cluster, I just can't stop. It's a compulsion maybe? Actually had to cut myself off of the hemp seed variety in the bulk section at Whole Foods on the basis of indecent consumption. What's the big deal? It's just granola, you say?
Problem is, that while store bought granola is seemingly nutritious, it's always pretty high in fat and sugar. Therefore I don't buy it. I make it instead.
When you make it at home you can cut out a lot of the oil and sugar, making it healthier.
After several trials to get the recipe perfect, I'm pretty happy with this combination of walnuts, almonds, pumpkin seeds, dried cherries, apricots and figs. I put some flax seed and coconut in there and rely on the natural sweetness of maple syrup and a little brown sugar.
It's a pretty basic process really. Mix together all the stuff. Bake until just oats are just golden (any more than that and the nuts will burn) and then add your dried fruit to the mix.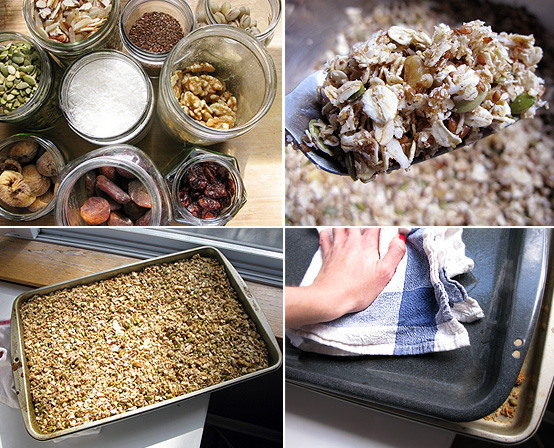 I got some pretty decent clumping action too! And the trick to those nice clumps is not to stir it when you take it out of the oven until it cools completely. I also press firmly upon it with another baking sheet while it's still piping hot to further compact it and help it all stick together.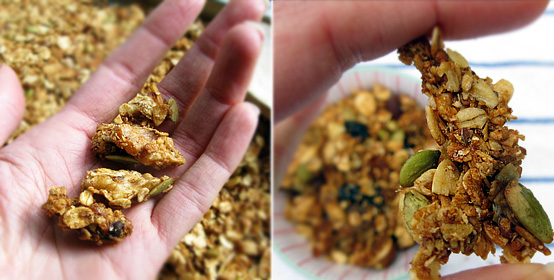 And there it is…so good!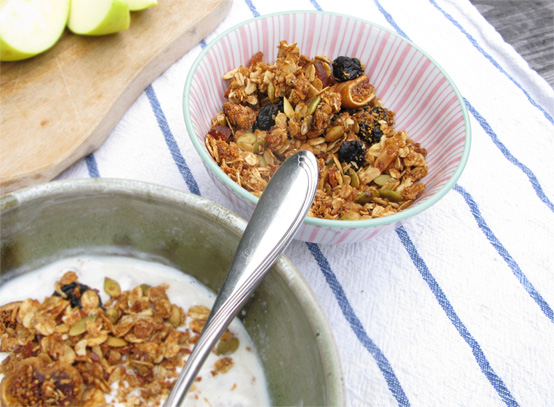 Print Recipe
Back to Top
Recipe
Makes about a pound of granola. Substitute out any of the fruits and nuts if there are others you prefer more. Be really careful because it can burn easily and oven temperatures do vary. Also, because homemade granola loses its crunch in a few days, store it in an airtight container in the freezer to keep it crunchy for months!
You need:
1/3 cup vegetable oil
3 cups old fashion rolled oats
1/3 cup unsweetened baking coconut
3 teaspoons flax seeds
½ cup sliced almonds
½ cup walnuts(roughly chopped)
1/3 cup pepitas(hulled pumpkin seeds)
1/3 cup dried figs chopped
1/3 cup tart, unsweetened dried cherries
1/3 cup dried apricots chopped
tiny pinch of salt
½ teaspoon cinnamon
¼ cup brown sugar
¼ cup maple syrup
Directions
Preheat oven to 325°
Put everything except dried fruit into a large mixing bowl and mix together thoroughly.
Spread mixture evenly across a large, shallow baking tray. Place in middle rack in oven and bake until all oats are JUST golden brown (don't let the oats get dark brown at all because by that point your nuts will have burned). It'll need to bake about 20 minutes total, but check it every 3 minutes after the 12 minute mark to make sure it doesn't burn!
Remove from oven, but don't stir – this will help your clusters stick together. One trick is to firmly press and hold another baking sheet over top of the hot granola for a few seconds to compact it further. Let it cool untouched and then gently stir in dried fruit.
Unfortunately, homemade granola looses its crunch in just a couple days. BUT, you can store it in an airtight container in the freezer to keep it crunchy for months!
HonestFare.com