I love pearls—or the idea of them anyway. A tiny gemstone quietly forming in the fold of an unassuming mollusk. Natural, classical and beautiful…BUT we're not talking about pearl necklaces here, we're talking pasta pearls.
You don't see them much, but pasta pearls are exactly what they sound like they'd be. Small, smooth beads of pasta resembling pearls. So what makes pasta pearls (also referred to as piombi pasta) so special? The texture…oh, the texture. Pearl pastas, like most other pastas, are made from durum wheat. Durum wheat is actually the hardest wheat known to man (sounds so weird to say that) and is what allows the pea sized pearls to hold their round form rather than melting away during boiling. This is also what gives pearl pasta its magnificently dense and chewy texture.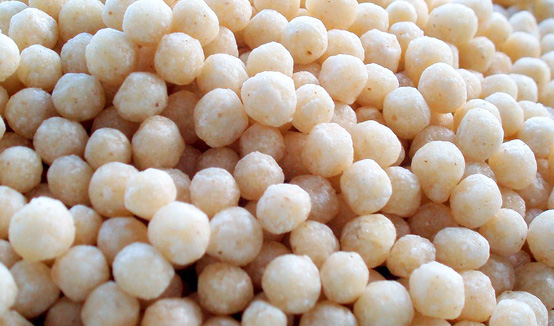 Pasta pearls work kinda like couscous in that you're better to pair them with larger pieces of veggies or dress them up with a light olive oil and fresh herb combination rather that a rich cream or red sauces like you would regular pasta. They also make a great addition to soups and cold salads.
You'll find these little gems in the pasta section of the grocery store. They cook like regular pasta (just follow the directions on the box). But, before boiling, I highly suggest lightly toasting the pearls in a pan on med/low heat with a tablespoon of olive oil. Toss them around the pan until about half your pearls get a nice brown color. This will add some and extra visual dimension and flavor to your dish.
I'd say pasta pearls are as precious as the real thing ;)
Print Recipe
Back to Top
Recipe
Cook+prep time: 35 mins. Serves 4. This is also nice topped with goat cheese.
You need:
3 Yellow beets (with stalks & leaves)
2 Shallots
One large clove of garlic
4-5 Tablespoons olive oil
Sprig fresh rosemary
Cracked black pepper to taste
Salt to taste
Pasta pearls
Directions
Cut the stalks off your beets and wash them thoroughly. Chop them into 1.5 inch pieces. Chop leaves into manageable pieces (remember they'll cook down so not too small). Scrub beets or peel skin and cut them into quarter inch thick disks.
Dice up the shallots, garlic and about half your rosemary. Sautee in olive oil on med heat for just a couple minutes.
Add beets, stalks and leaves to the mixture. Give a couple tosses, cover and let cook for about 5 minutes. Add in remaining rosemary, salt, pepper and toss in pan. Continue cooking covered until beets are tender but still firm.
Combine with 2-3 servings of pasta pearls, cooked per the instructions on the box, and top with additional cracked pepper and a drizzle of olive oil to taste.
HonestFare.com