I never buy preselected apples in a bag. Not that there's anything wrong with it – but it makes it pretty difficult for me to carefully examine every apple candidate before choosing only the perfect ones for me. Which is very necessary.
It's not just about avoiding bruises or scratches either. For example, not all golden delicious apples are the same. Some have more blush patches than others (which means sweeter). Some are brighter green than others (which means crunchier and more tart). So it all depends on what I'm in the mood for. Oh my god, I'm insane.
Life might be easier if I could just go to the market and grab a bag of apples instead of feeling the need to act out this quality control dance every time. But, alas, I am a control freak. So I grab and I rotate and I inspect and I hover and I get to know my apples before I decide which ones I'm meant to eat. It's not a frantic process or anything. In fact, I quite enjoy it. Scary thing is, I do this with all my produce.
Well, the other day, after completing said ritualistic apple selecting process at Clemon's (my neighborhood produce market), I noticed a stack of bagged baby golden delicious apples. They were so little (about a third the size of normal apples) and so cute, and I figured I had nothing to lose in buying them since I already had my larger, hand selected apples. Wow, more insanity.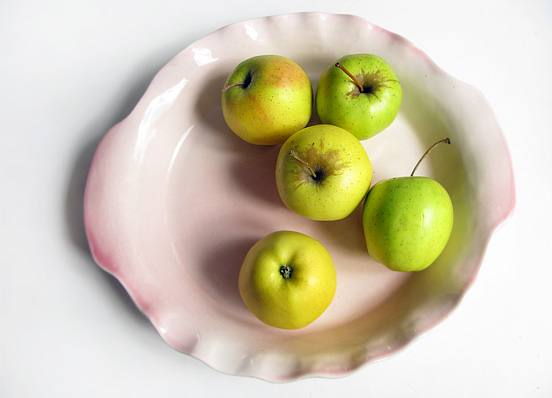 (You can't really tell how small they are in this picture. I probably should have put a regular sized apple in there for scale.)
I ate like 3 in a row when I got them home. So nice and snappy. Then I decided to bake some – cause why not when you've got a whole bag?
For fun, I made a refreshing little ginger glaze (fresh ginger, lemon zest, honey, butter and cinnamon) and baked them in that. Fresh ginger and lemon zest reminds me that I have to tell you about one of my favorite kitchen tools. This Microplane Grater/Zester. It's incredible. You just rub your ginger or whatever across the front and it comes out like a paste on the back. Great for finely grating cheese too.
I pierced an "X" into the top of each apple with a knife before spooning on some of the glaze and baking. I baked them covered for about 25 mins and then uncovered them for another 10 or so minutes. Topped them with some extra glaze when they were all done.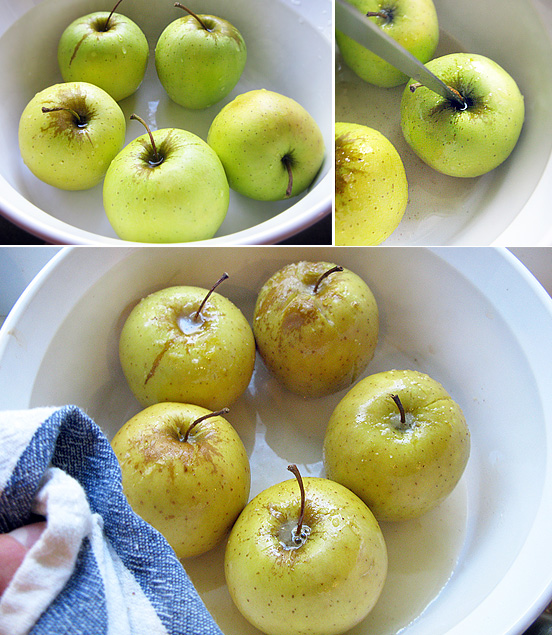 I don't know what I love more about baked apples – how delicious they are or how rustic they look. The ginger honey glaze gives these a great aftertaste. It's nice to make a few so you can have them around to reheat and eat throughout the week.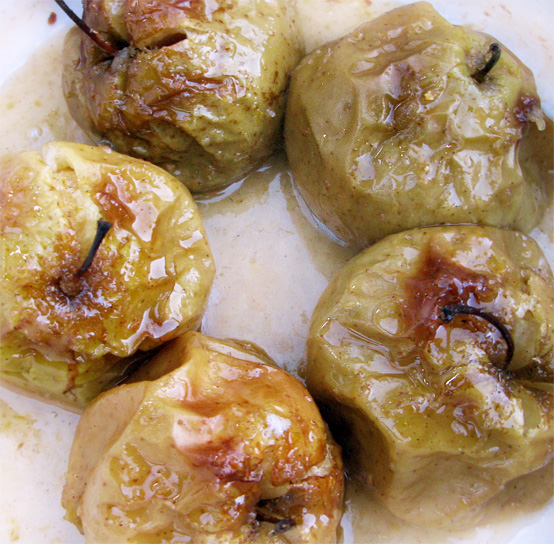 These mini apples were the perfect serving size, but if you can't find them, larger apples work just as well.
Print Recipe
Back to Top
Recipe
Coop/prep time: 45 mins. Mini apples are the perfect serving size, but if you can't find them, larger apples work just as well.
You need:
1 tsp grated fresh ginger
¼ tsp lemon zest
4 Tbs honey
3 Tbs water
2 1/2 Tbs butter
Light sprinkle cinnamon
4-5 baby golden delicious apples
Directions
Preheat the oven to 375 degrees.
For the glaze: Melt butter in a small pot on med-low heat. Add honey, ginger, lemon zest and a little sprinkle of cinnamon. Stir and bring to simmer. Add water and continue stirring with fork or whisk. Bring to simmer again. Remove from heat and cover when you get a nice syrup.
For the apples: Wash apples and don't dry. Pierce an "X" into the top of each apple with a knife before spooning on about a teaspoon of the glaze and placing in oven in a ceramic or glass oven safe dish. Bake covered (tinfoil) for about 20-25 mins, or until they are very soft but still holding their form. Then uncover and continue baking for another 10 or so minutes, or until they start to collapse and crisp up a bit. Top with remaining glaze before serving.
HonestFare.com