I feel like my last recipe for that crustless pie was somewhat involved, so today I'm going to share something simple! Confit. Which I realize sounds kind of fancy, but that's just because it's a French word (from the verb confire meaning preserve). On the contrary, confit is quite simply a generic term for food that has been immersed in a substance like oil for flavor or preservation. For example, you can have fruit confit (candied fruit), which is just fruit infused/preserved with sugar.
Garlic confit is about as simple as it gets. Literally just some oil and peeled garlic cloves roasted for about 40 minutes. You can't screw it up…well, unless you burn the garlic. It's rustic, but absolutely decadent at the same time, with that rich and smoky flavor and sweet finish. It definitely has a way of making you feel like you're treating yourself to something special.
You can throw in some sea salt and cracked peppercorns or red pepper flakes or even some fresh herbs to add some depth to your confit. I did all of the above, as well as some sweet Italian peppers in this particular batch.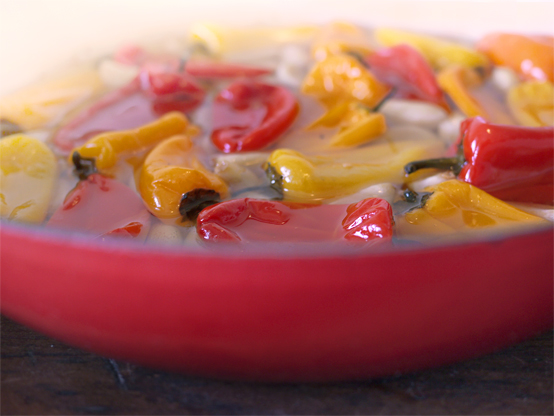 Roast it all in a covered casserole dish until the garlic is soft, but not brown because brown equals bitter. If you decide to add the peppers, make sure you remove the seeds and tops and skin before eating. The skin should peel right off as long as the peppers were cooked enough.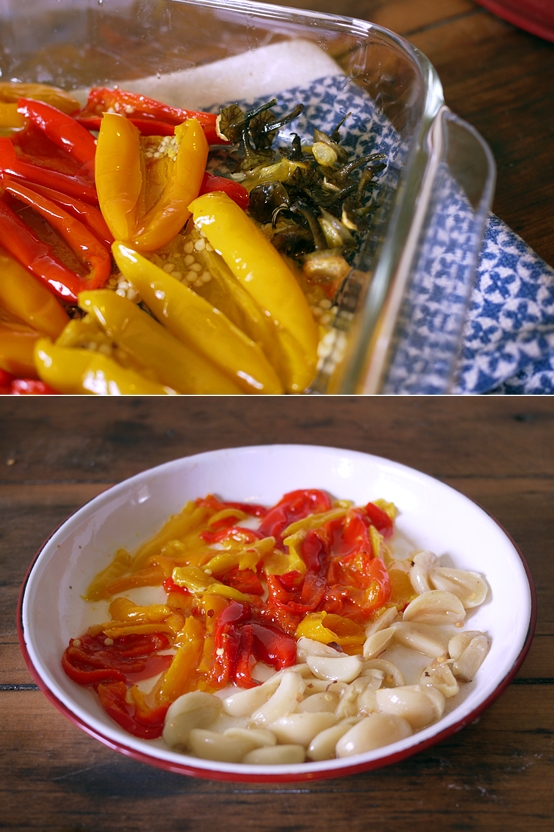 There are so many practical applications for garlic confit in the kitchen, so it's nice to make a big batch to keep in the fridge so you can:
1. Impress your friends with a no-big-deal snack of velvety garlic confit and crackers, like so…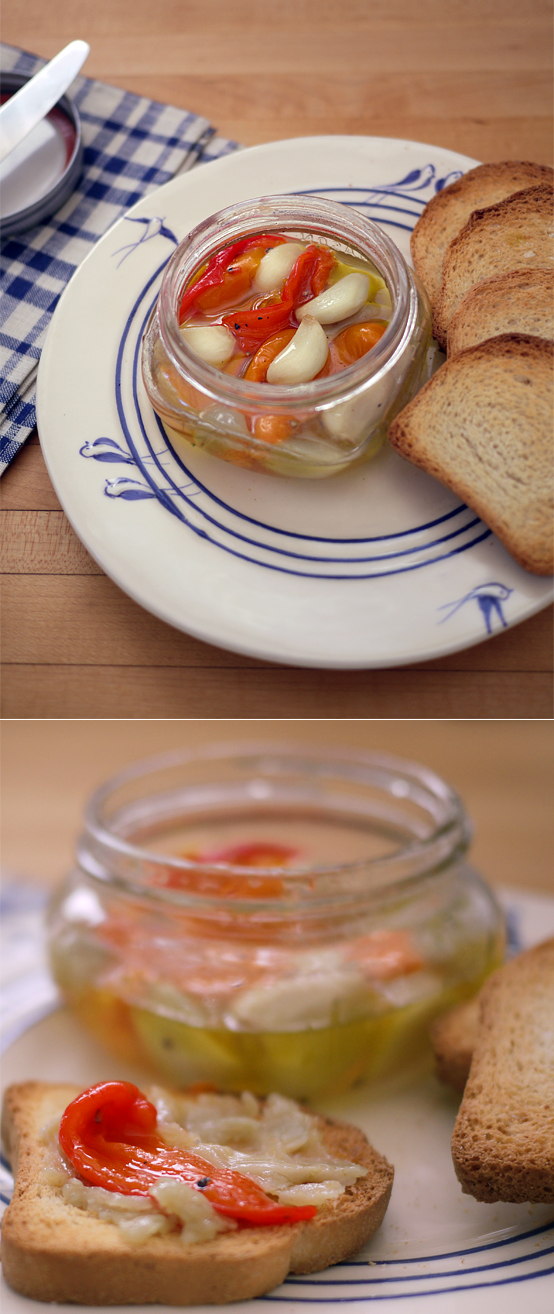 2. Use the flavored oil in your cooking.
3. Whip some confit into a salad dressing or some softened butter.
4. Be cute about it and jar some up as gifts.
5. Or drop a few cloves into a pasta dish or a frittata, like we did here…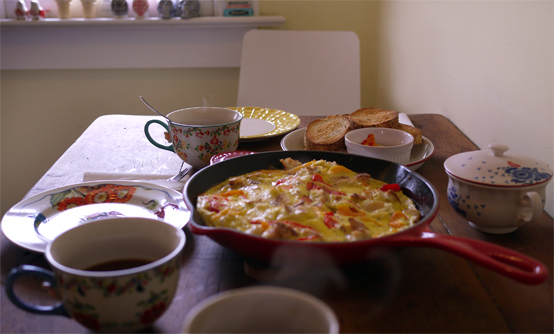 Print Recipe
Back to Top
Recipe
Cook time: 30-40 mins. Double recipe to increase batch size. Keeps in fridge for a month. Adding the Italian sweet peppers is optional. Feel free to experiment by adding fresh herbs like thyme, rosemary or basil or even dried herbs de Provence.
You need:
24 cloves of whole, peeled garlic
1 cup olive oil
Cracked black pepper
Sea salt
Red pepper flakes
Sprig or two of fresh rosemary, stem on
Splash of water
Several sweet Italian peppers
Directions
Preheat oven to 350°
Place garlic cloves, olive oil, splash of water, salt, pepper and herbs (if using) in an oven safe casserole dish. Cover with lid or foil and bake for up to 40 mins or until garlic is nice and soft. You'll want the oil to reach a simmer, but not much more in order to avoid any browning, which will cause bitterness.
Remove from oven and let cool completely before transferring to storage container. Remove stems, seeds and skin from Itailan peppers before serving.
HonestFare.com