I do realize that to some of you, a sauce made out of small salt-water forage fishies has the potential to sound like a total puke fest. Trrrust me though, this is fantastic. Will it help if I tell you that it's not actually dominated by a fishy flavor at all? In fact, when you cook anchovies down in butter and herbs and garlic and other delicious stuff, they become sweet and salty and smoky. And that fishy flavor you're worried about? Well, it becomes more of an underlying essence – and I promise you'll love it. You love Cesar dressing don't you? Well, that's made with anchovies too!
This is a skillet sauce, meaning it comes together rather easily in a pan and doesn't require all the slow simmering most sauces do for their flavors to really develop. It'll be done in like 15 minutes – and you'll be pleasantly surprised at how dynamic the flavor becomes in that amount of time.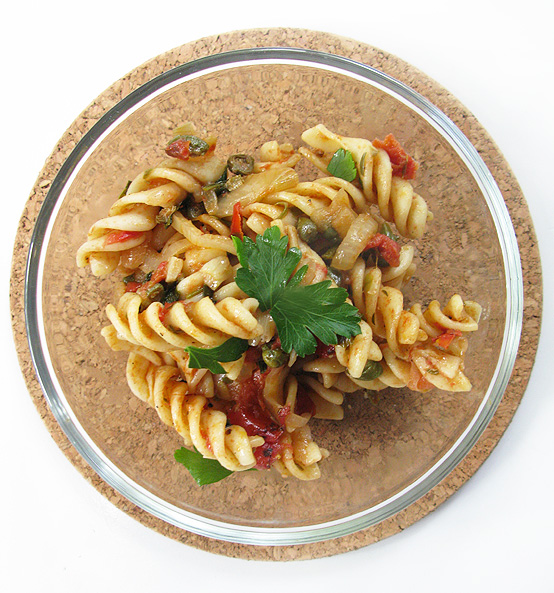 The flavor is strong and sharp. You taste the natural saltiness of the anchovies along with the acidity of the capers in every bite. There's a certain sweetness at work too – I can only assume it's from the anchovies again and the cooked-down onions.
You can choose to use either anchovy paste or canned/jarred anchovies. Anchovy paste, as I'm sure you've guessed, is puréed anchovies in a tube. I happened to have a tube of paste so I used that. I don't really notice a difference between the two so just use the paste if you don't feel like dealing with the fillets. I've included the measurements for both options in the recipe.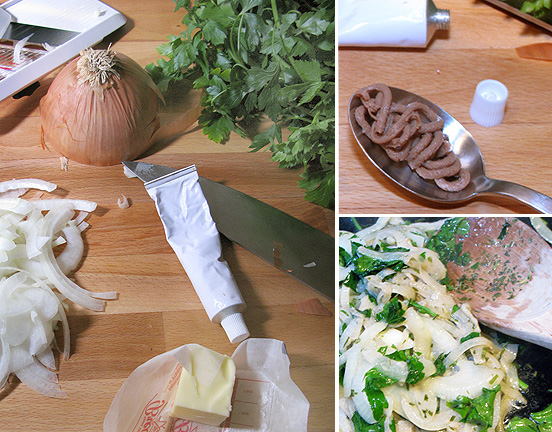 Traditionally, most anchovy sauces just call for olive oil or butter, garlic, salt and pepper and herbs. And that's what I was originally going for here, but then at the last minute I got an uncontrollable urge to throw a few tomatoes in there. Good decision I think. This was the best sauce I've made in a while. As we ate, we kept commenting on how balanced it tasted. I think that was everything rounded out by the smoothness of that butter and onion base. Give it a try and let me know!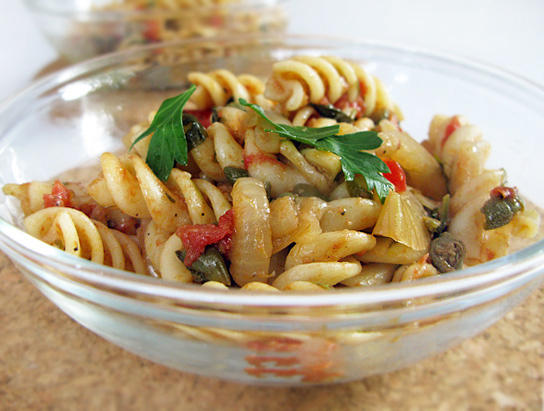 Print Recipe
Back to Top
Recipe
Coop/prep time: 25. Serves 3-4. You can choose to use anchovy fillets or paste depending on what you're more comfortable with.
You need:
3/4 lb of fusilli pasta
3 teaspoons anchovy paste or about 8 fillets
1/3 stick of butter
Olive oil
1/2 yellow onion sliced thin
2 tablespoons capers
1 cup cherry or grape tomatoes cut in half
Juice of 1/2 a lemon
Big, healthy handful of fresh flat leaf parsley
1/2 teaspoon dry tarragon
1 clove garlic
Cracked black pepper and salt to taste
Directions
Thinly slice onion and garlic. Chop parsley. Half cherry or grape tomatoes. Set aside.
Heat pan to medium low. Add a drizzle of olive oil and butter. When butter melts, add onions, garlic, 1/2 the parsley (set aside other 1/2 of it for topping), tarragon and anchovy paste and combine. (If using fillets, add them first and allow them to break apart in the butter before adding onions, garlic and herbs.) Cover and cook until onions become somewhat soft.
Meanwhile, bring a pot of water to boil and cook pasta.
When onions are limp, uncover pan and add capers, tomatoes, a good amount of crushed black pepper (like more than you think necessary) and about 1/2 teaspoon salt and continue cooking uncovered.
The sauce will begin to thicken and reduce and when it does you'll want to squeeze a little lemon juice on it and add a ladle of starchy pasta water from the pot and stir it in.
Remove pasta from water when aldente or to your liking and transfer directly to the pan of sauce. Add a drizzle of olive oil, your remaining parsley and maybe another sprinkle of salt and toss until well combined.
HonestFare.com