It's been a minute since my last pasta dish, but here we are with the perfect one for spring! I just love all that bright green from the fresh peas and mint. And trust me, for a pasta dish, it's every bit as refreshing as it looks.
All that healthy mint does the trick!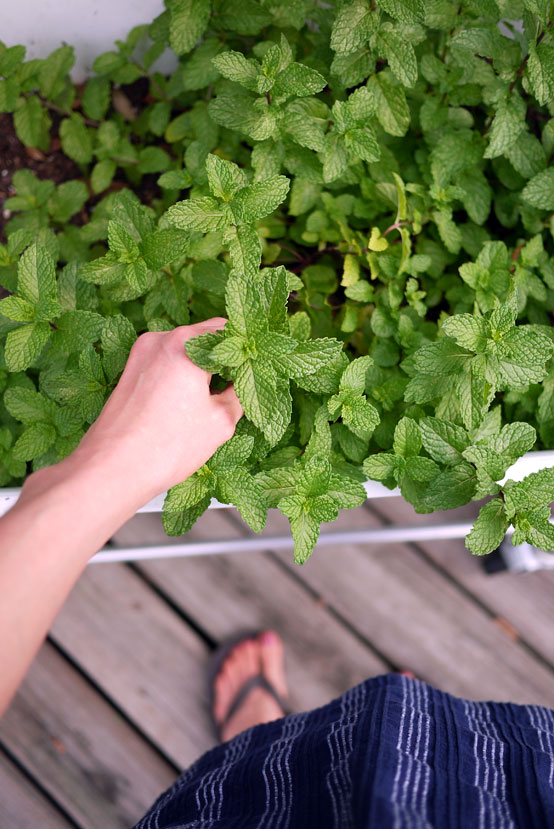 I worked on this recipe with Andy (chef friend and biz partner on the La Empanada Food Truck .) one beautiful Friday evening. We followed it up with a nice dessert of dark chocolate and red wine, and I'm going to go ahead and recommend you do the same! (Today happens to be Friday too, so go for it!)
This dish merges the always-lovely combo of peas and mint with another classic, pasta alla carbonara. Traditionally, pasta alla carbonara uses cheese, olive oil, pasta water and egg yolk to create a nice, creamy sauce that coats the pasta. Of course, you can stir it all together in the pot, but better yet is to present the egg yolk in a nest of piping hot pasta to be stirred in and cooked right there in your bowl for an even creamier version!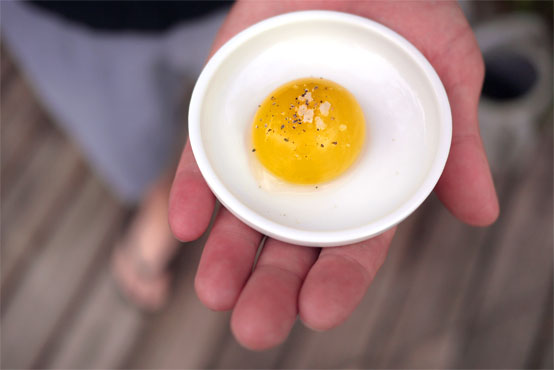 We decided to prep and season the egg yolks in their own little bowls so they would be closer to room temp and ready for adding on top of the pasta just before serving.
Little gems…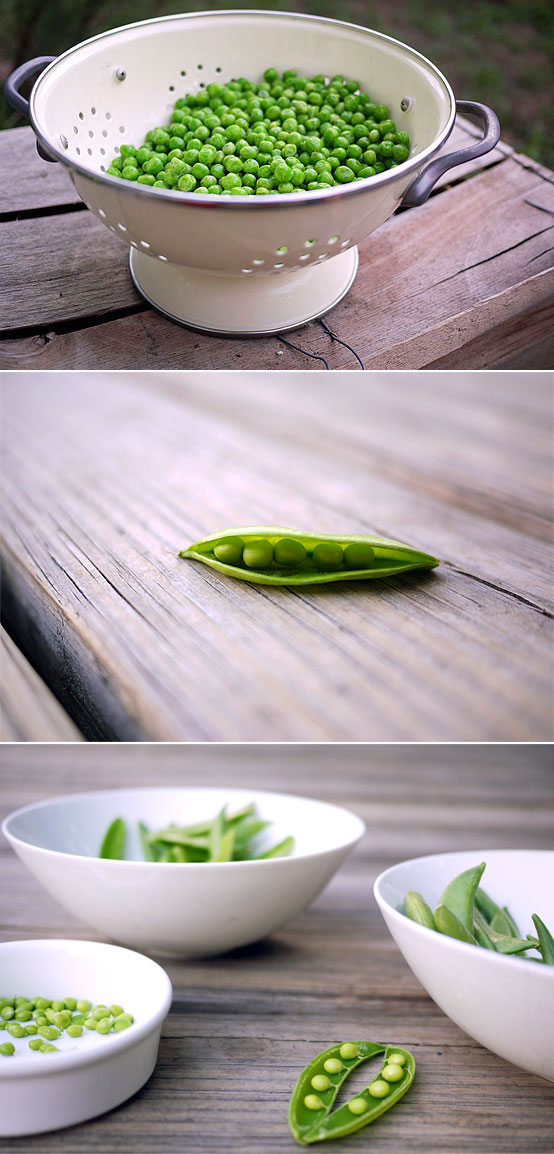 We wanted to go fresh peas all the way but couldn't find large enough snap peas so the compromise was half frozen and half fresh. The frozen peas are sautéed with olive oil, garlic, salt, red pepper flakes and shallots, but the fresh peas are left raw and just stirred in at the very end. The two different pea textures – the crisp, raw snap peas with the more supple and sweet frozen ones – ended up working really nicely together.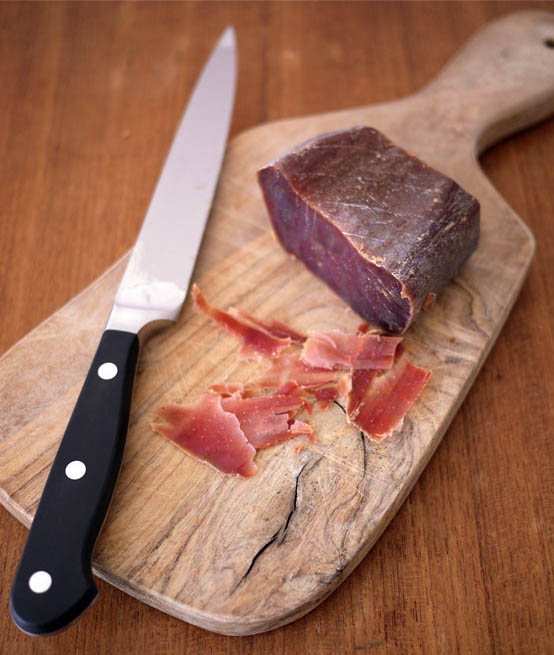 Another little extra touch was the addition of thinly shaved smoked tuna that I brought back from Spain. It resembles cured ham a little in color, but instead has a much saltier and smokier flavor…well, and it obviously tastes like fish, not ham. It's pretty strong so you only need a little. I know there are some specialty food shops that sell it in the states, but I'd suggest substituting with a little prosciutto or even a couple diced anchovies. Or just leave it out all together.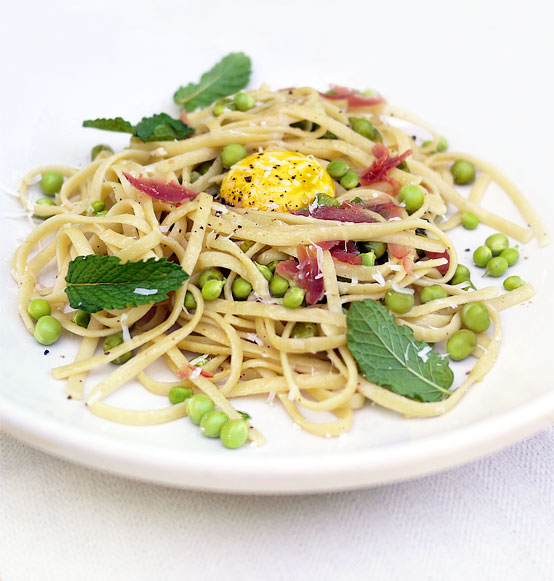 What I enjoy most about this dish is it's many layers, each representing a very different flavor profile, and each complimenting the other, oh so nicely.
1. Our canvas of linguini
2. Two different kinds of peas (one soft and sweet one raw and snappy).
3. Creamy and rich egg yolk
4. Palate cleansing mint
5. Sharp pecorino romano cheese
6. Smokey cured tuna (or prosuttio or even anchovies depending on what you're into)
7. A little heat from red pepper flakes.
Try it out and let me know what you think!
Print Recipe
Back to Top
Recipe
Prep + cook time: About 45 minutes. Serves 2-3 You can cook all the peas together if you prefer, but leaving the fresh sugar snap peas raw really adds to the texture of the dish! Feel free to substitute the smoked tuna slivers with prosciutto or just leave it out altogether.
You need:
1 1/2 cup frozen English peas
1/2 – 3/4 cup fresh sugar snap peas removed from shell
1/4 cup diced shallot
1-2 cloves garlic, thinly sliced
2 big handfuls fresh mint, leaves left whole
1/3 lb. linguini
2-3 egg yolks depending on how many bowls you're serving
2-3 tbs. olive oil
1 tbs. butter
Salt
Cracked black pepper
Red pepper flakes
Grated pecorino romano cheese
Shaved smoked tuna (sub with prosciutto or omit)
Directions
Split open sugar snaps and remove peas from shell. Set aside. Separate yolk(s) from egg whites, place in individual bowls, sprinkle with sea salt and cracked black pepper. Set aside. Grate cheese and set aside. Slice smoked tuna or ham and set aside.
Run frozen peas under water to defrost. Drain excess water. Add olive oil and pinch of butter to pan and sauté shallots, garlic and frozen peas over medium heat and partially covered until shallots are soft. Salt and pepper to taste (go a little heavier on the salt than you think cause once the pasta is added it'll need it).
Meanwhile, bring a large pot of salted water to a boil and add linguini. Cook until al dente. When pasta is done, transfer 1/2 – 1 full ladle of starchy pasta water to the pan of cooked peas. Then, using tongs, transfer half your pasta directly into that same pan. Drizzle with some olive oil, cheese and a pinch of red pepper flakes. Toss until fully incorporated. Taste and add any additional salt of needed. Add in remaining pasta using the same technique and thinning with a little more pasta water and olive oil if it's sticking.
Assembly: You've got to be kind of quick for this part cause you want the pasta steaming hot. Fill each bowl with a nest pasta and plenty of the cooked peas. Place prepped egg yolk in center. Sprinkle pasta with a nice helping of raw sugar snap peas, some cheese and the smoked tuna or ham if you're using it. Mix together at table while still piping hot to cook in that egg yolk!
HonestFare.com