French lentils are the best. These blue and green speckled babies have an exceptionally rich flavor and remain comparatively firm after cooking. In other words, no more mushy lentils! For me, they're difference between eating an over boiled, starchy potato and a perfectly baked one.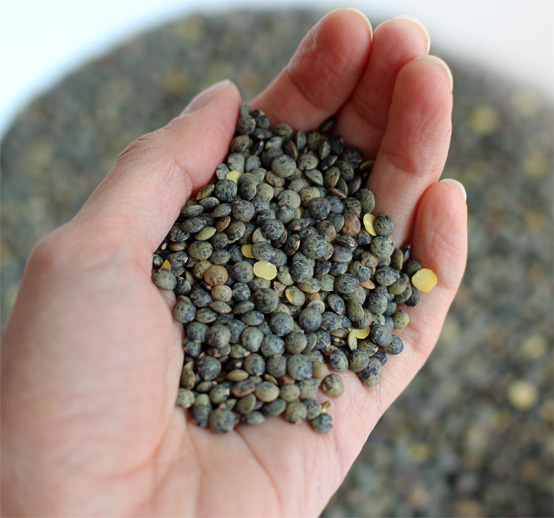 Their firmness makes them unique in the lentil universe and the ideal choice for salads – and in my opinion, soups because they hold their form so nicely. They take a little bit longer to cook, which works out great with soups or stews because your herbs, seasonings and veggies have more time to stew and flavor up a nice broth.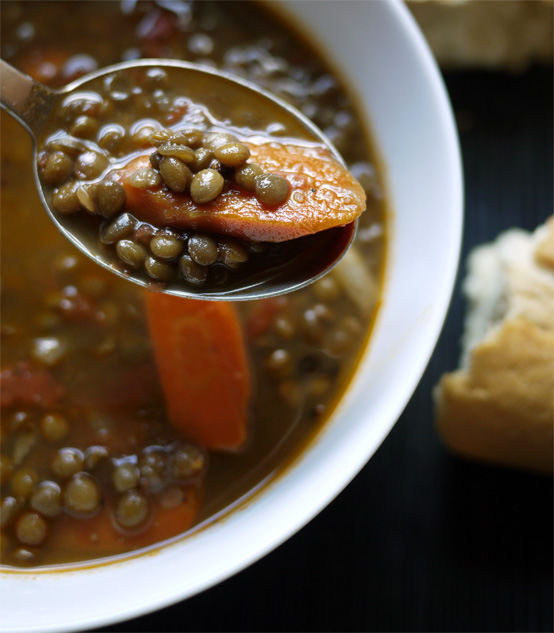 Of course there are a million ways to make lentil soup and I think I might just love them all, but at the moment, this is my new favorite recipe. What makes this soup so great is the broth. It's just so rich! The trick was using a tomato base, and I know it's going to sound weird, but I also added miso paste and Worcestershire sauce to create the kind of smoky flavor that is often hard to achieve in vegetarian soups. I incorporated diced herbs and onions into the soup itself and then also put together a little herb packet for extra flava. So incredible…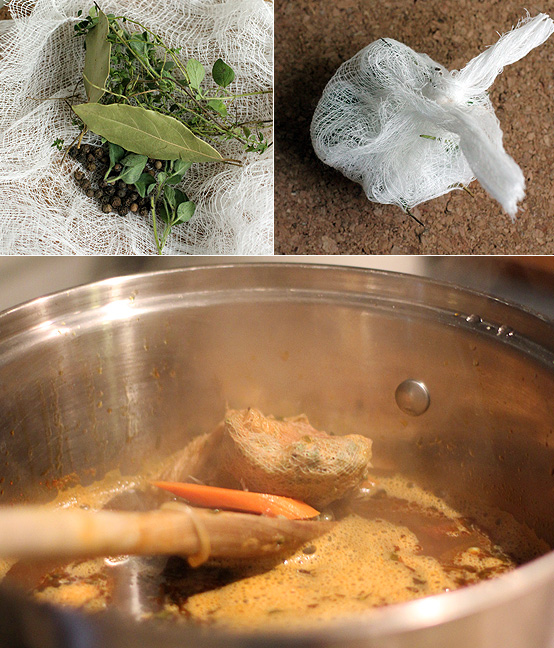 Love the chunky carrots – don't want to skimp on those!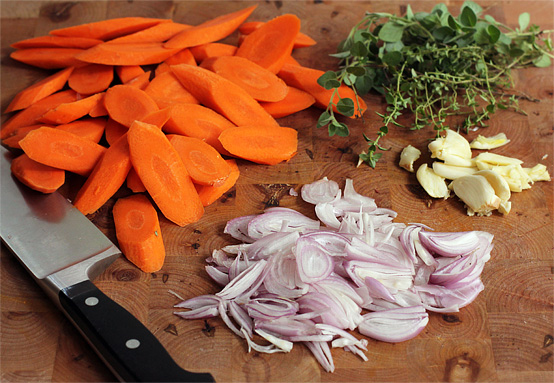 I made a GIANT pot of this soup a couple weeks ago with the full intention of freezing most of it, but in the end, it was just so delicious that I had to feed it to as many people as possible. (Lunch for all the guys at the Makr Studio, and what was left, Jason happily devoured over the course of the week. Lentil soup for breakfast? Hey, do what ya gotta do, honey)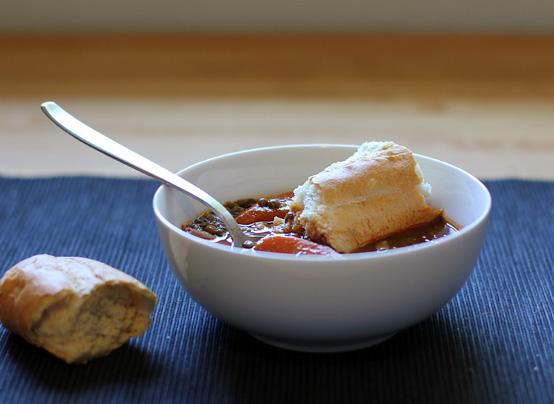 Okay, this post is really making me crave this soup now…Luckily I did manage to put a one small baggie of it in the freezer… so guess what we'll be having for dinner!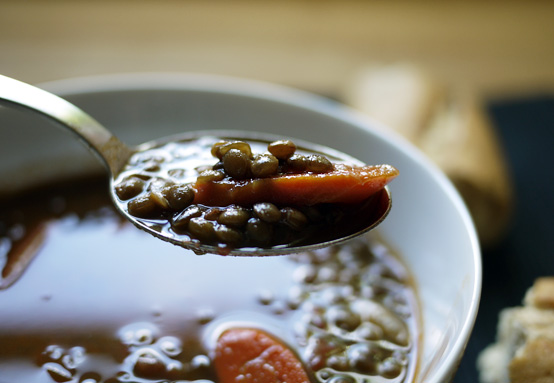 Print Recipe
Back to Top
Recipe
Prep + cook time: 1 hour This recipe includes instructions for an herb/seasoning packet for extra flavor. You can skip that step and just add the herbs directly to the pot, omitting the use of black peppercorn balls. P.S. Like most soups, this one is even better the next day!
You need:
2 cups rinsed and drained French Lentils
3 med sized carrots
1 cup tomatoes (stewed in can or fresh)
1/2 a yellow onion
2 cloves garlic, minced
6 cups water
2 Tablespoons olive oil
1 Tablespoon dried tarragon
Few sprigs of fresh thyme
Few sprigs of fresh oregano
2 bay leaves
1/2 teaspoon cracked black pepper
1 Tablespoon salt
1 teaspoon paprika
2 Tablespoons miso paste dissolved in hot water
2 Tablespoons Worcestershire sauce
1 Tablespoon black peppercorn balls (ONLY if making herb packet, omit otherwise.)
Directions
Peel and cut carrots diagonally about 1/4 inch thick. Peel and mince garlic. Dice 1/2 your fresh herbs (reserve other half for herb packet). Chop onion and tomatoes (if using fresh tomatoes). Add oil to large pot over medium heat. Sauté onions and carrots until they start to brown a little. Add tomatoes, garlic, tarragon, diced herbs, paprika. Stir and cook covered for a few minutes. Then add water, Worcestershire sauce, lentils, salt and pepper. Cover and bring to a boil.
While soup heats to a boil, you can prepare your seasoning packet! Double two layers of cheese cloth large enough to contain herbs (refer to image in post). Place 2 bay leaves, black peppercorn balls and remaining sprigs of fresh herbs in the center of the cloth and tie up like a tight little package.
Once soup is boiling, uncover and reduce heat to a simmer. Ladle a small amount of hot broth into a small bowl or cup and mix/dissolve miso paste into it. Add dissolved miso paste to pot and stir. Add herb packet to pot and cook covered for 45 minutes – 1 hour or until lentils are tender.
If the soup looks too thin, uncover and simmer for a couple more minutes. If it looks too thick, add a touch more water. Serve with good, crusty bread!
HonestFare.com