I'm a neurotic egg eater. Aren't we all though? I love, love, love my eggs. And I especially love them runny. But, I grew up in the 80's, an oh so wise and glorious time when the salmonella buzz forever changed the way we look at eating raw cookie dough. So today I'm paranoid—cross contamination, runny egg whites and cracked eggshells are just not okay with me.
Then there's that whole topic of 'freshness.' Does the date on the container mean the eggs are really fresh? I take it as so—I buy the organic, free-range eggs and hope for the best. The other day I did in fact get the best…
Farm fresh eggs!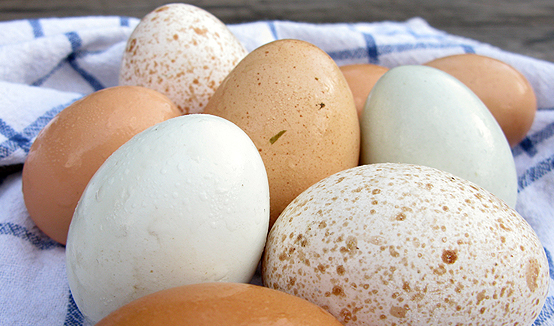 Brown ones, speckled ones and, yes, even green ones (well, they're greenish blueish gray…but you can't really tell in the photo).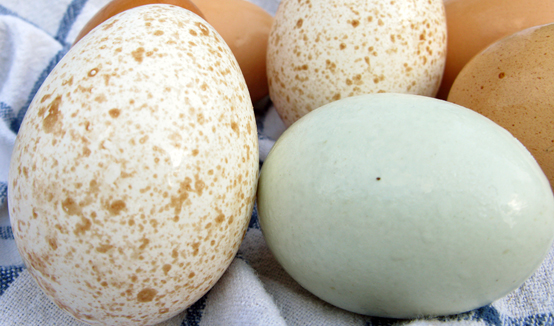 The speckled ones are turkey eggs, which for some reason I've never really considered in my life. We ate those last night. They're like twice the size of regular chicken eggs. And the membrane was a lot more difficult to break trough than I had expected (the shell cracked but it all held together like bulletproof glass). We haven't eaten the greens ones yet (eek).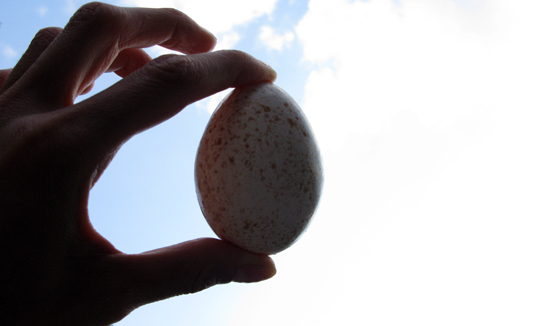 All this egg business is especially exciting for me because I've been wanting to get my hands on some super fresh eggs for a while now. I asked actually asked Jason to get me a couple hens for Valentine's Day. I figured they could live under the 40 foot skateboard ramp I grudgingly agreed to let him build in the backyard…but he denied me. Hm.
So then, how did we end up with all these fresh eggs? Well, we're lucky enough to have some really cool friends that get themselves into really cool situations. One of those friends is Ryan, photographer, and as of last week, professional nest robber. Ryan visited a friend at a local farm where he scored us a beautiful assortment of truly fresh out the hen's hole eggs. He also took some really stunning images while he was there.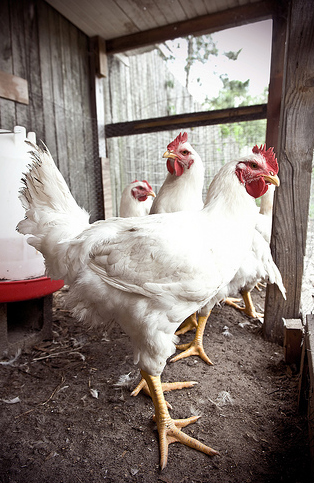 So how did the eggs taste? Great. Like fresh eggs do. They have a more vibrant colored yolk and are much cleaner and buttery tasting in my opinion.
Eating all these fresh eggs lately has made me think even more about the eggs I buy. You know, the ones that sit in the refrigerated section of the store with dates that say they're good for the next month. How the hell can they be fresh after a month? And why is it that when I was living in Spain, I never once found eggs in the refrigerated section and everyone looked at me like I was crazy when I looked at them like they were crazy for keeping the eggs stacked in open crates next to the bread and cereal? Why?!
So I did some digging.
How can you tell if your eggs are fresh?
1. Apparently, a fresh egg should not slosh around inside the shell when shaken.
Any sloshing sound indicates that the air-cell is big and the albumen is watery. The yolk tumbles around in the egg if it is no longer fresh.
2. When cracked onto a plate, a fresh egg has a high domed yolk. If the yolk is flat and albumen runny, the egg has been around for a while and needs to be thoroughly cooked.
3. When plunged into a glass of water, a super fresh egg should sink sideways to the bottom. As the egg gets older the rounded end of the egg will float upwards. Then at 2 weeks the egg will stand entirely upright. After 21 days old, the air-cell is big enough to actually make the egg buoyant.
What does the date stamped on the egg mean?
1. The "best before" date for fresh hen eggs is 28 days after laying. Generally the eggs are packed and transported around day 3 – 6.
2. After 9 days, fresh eggs must be stored in a cool, dark and dry place. After 18 days, eggs must be kept in a refrigerator.
3. From day 22 the eggs must be used quickly and should be thoroughly cooked. At this point they're still good for hard-boiling but can no longer be offered for sale.
Handy diagram…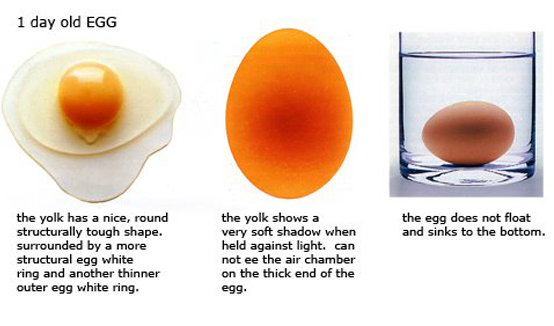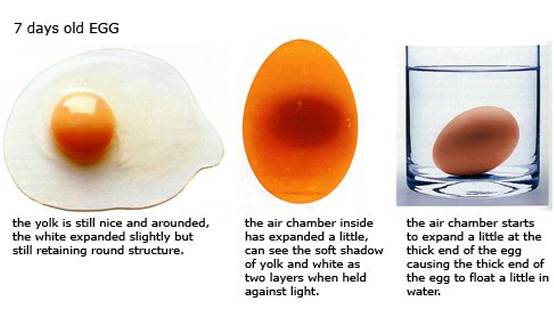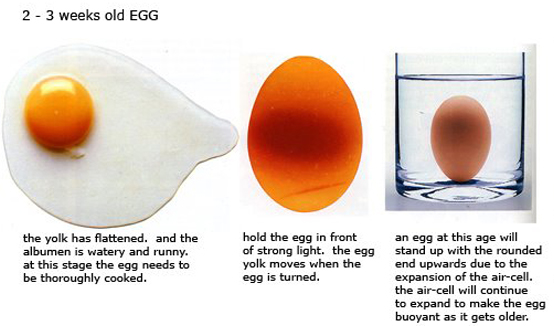 All interesting facts. Good stuff to know and wow people with at the bar or whatever, but I certainly don't plan on running these tests on every egg I eat. However, when they're questionable, you can bet I'll be doing that float test in a glass of water for sure!
Egg facts and photo diagram courtesy of Caper Berry
And Gut Eingekauft
More of Ryan's photos from the farm.