It's citrus season in Florida! I love walking into the produce market and seeing those perfect pyramids of pink and red grapefruits, tangerines, lemons, limes, clementines, oranges, tangelos and pomelos. The other day I was lucky enough to get my hands on a new harvest of Florida heirloom tomatoes and avocados too, and when I got home and unpacked everything I was really inspired by how pretty the green avocados, orange tangelos and reddish-purple-green tomatoes looked together on the counter.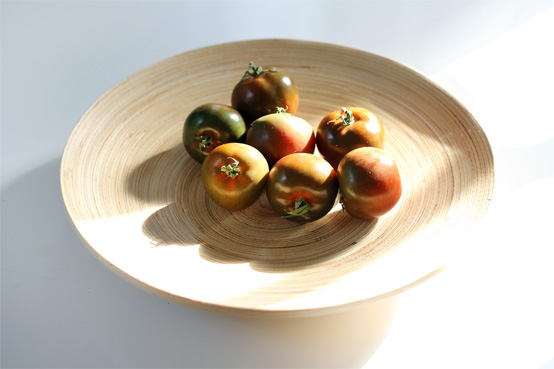 So I put them all together to make this fantastic salad.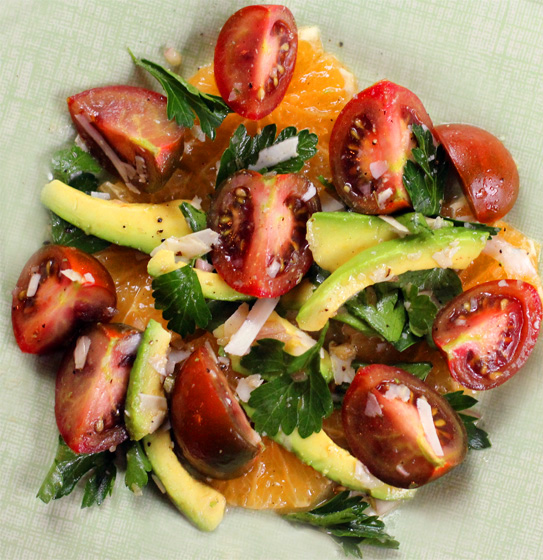 I typically buy haas avocados because I love how creamy they are, but always opt for Florida avocados when/if I can get my hands on some good ones. They're bigger, brighter green and slightly less rich than the haas, which is a nice change. I think they fall somewhere between the large California avocadoes (which tend to be watery and lighter) and the haas.
Okay, so this salad is super easy to throw together.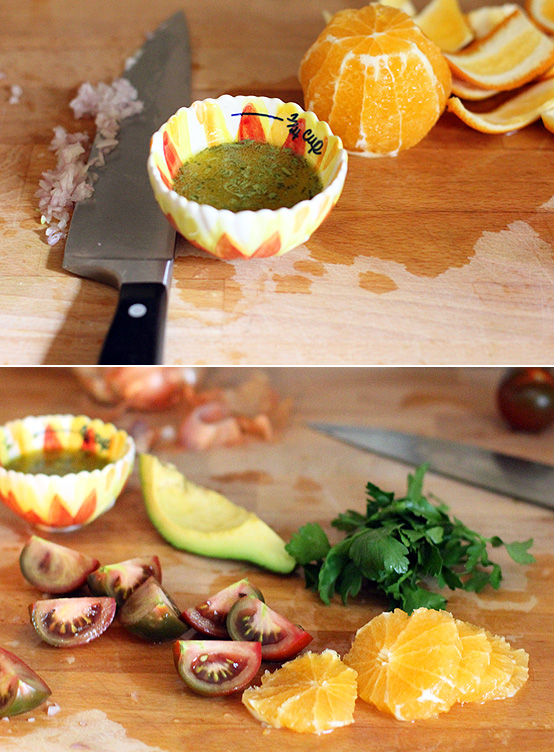 First, I removed the tangelo skin with a knife, getting as much white rind off as possible, and then sliced it into discs. The dressing is made up of lemon juice, apple cider vinegar, shallots, tarragon, olive oil, salt and pepper.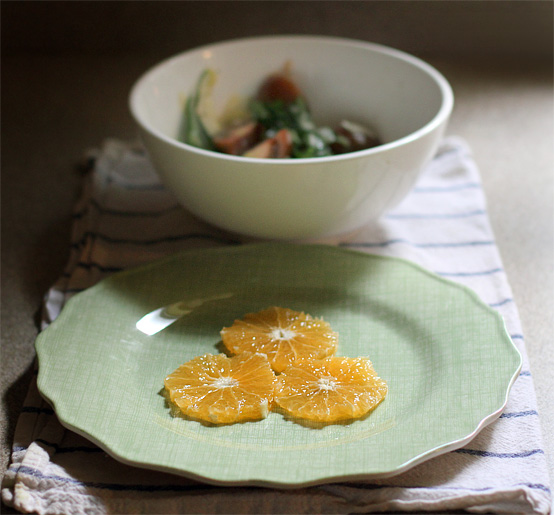 I tossed everything (except the citrus) in the vinaigrette, some Romano cheese and red pepper flakes, and then placed it atop the sliced tangelo.
The combination of the fresh herbs and tangy heirloom tomatoes & citrus with the creamy avocado and vinaigrette is pretty darn extraordinary. Rich, yet refreshing.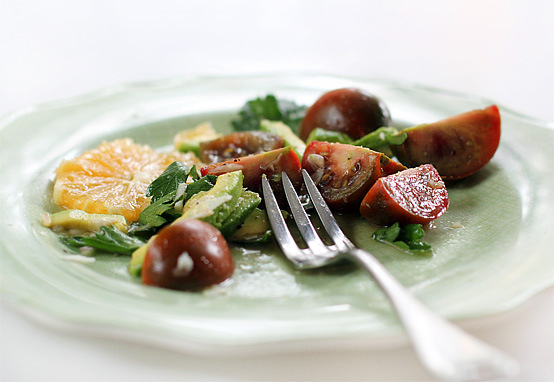 If you can't find tangelos, substitute with oranges…same goes for the avocado – a haas will just fine!
Print Recipe
Back to Top
Recipe
Prep time: 15 minutes. Naval oranges are a good substitute for tangelos (which tend to be waterier and less acidic that oranges). And any other variety of avocado will work fine. Recipe serves two.
You need:
5-6 small (golfball size) heirloom tomatoes, slightly under ripe
2 tangelos
1 avocado
Handful of fresh, flat leaf parsley
Juice from one lemon
Coarse sea salt
Cracked black pepper
3 tablespoons olive oil
2 tablespoons apple cider vinegar
2 tablespoons water
Pinch dried tarragon
Pinch red pepper flakes
Some grated Romano cheese
Directions
Remove tangelo peel with knife, getting as much of orange rind off as possible without damaging fruit. Slice into about 4 discs per fruit. Arrange slices on a plate and set aside.
Chop parsley, slice avocado and cut tomatoes into quarters or halves, depending on size. Place in large mixing bowl and set aside.
Combine olive oil, apple cider vinegar, about 1/4 teaspoon salt, some cracked black pepper, pinch of tarragon, lemon juice and water in a lidded vessel and shake vigorously until well combined. Pour dressing over veggies in bowl; add Romano cheese and a pinch of red pepper flakes and toss until evenly coated.
Pile contents of bowl atop sliced fruit and top with an additional sprinkle of sea salt.
HonestFare.com