You know what we need more of in Orlando? Street food. More specifically, food trucks. We've got one vegan hot dog guy, a crepe guy and bunch of regular hot dog/sausage guys downtown, but that's kind of it. There are a handful of awesome Latin food/lunch trucks (tacos, mofongo, etc.) too, but they're pretty scattered across town and not generally downtown. Most the mobile food vendors I've seen here only come out for sidewalk fairs and other public events and then they disappear again. Not even our farmer's markets offer much as far as food on wheels goes. Visiting other cities always reminds me of this. I mean, New York and Portland – are you kidding me? So many great ones and so beautifully done. Meanwhile, in Orlando we've got nada? I'm thinking….I'm thinking…this has all got me really thinking…
I know everyone's kind of psyched on food trucks at the moment (New York Magazine Cheap Eats: Trucks on a Roll) and there's even that new show on the Food Network, The Great American Food Truck Race. (Haven't seen it cause we don't currently subscribe to cable television, but I do want to eventually check it out.) But, street food vendors are obviously not a new concept and have always played an important role in feeding people, especially in urban areas in the U.S. (How great is this image of lunch carts circa 1910s.)
Pretty much any country you can think of has its variety of curbside specialties. Corn on the cob in Morocco. Puni Puri in India. Jerk Chicken in Jamaica. Arepas in Venezula. Pork buns in China. Crepes in France. Yam Ruam in Thailand. Et cetera, et cetera.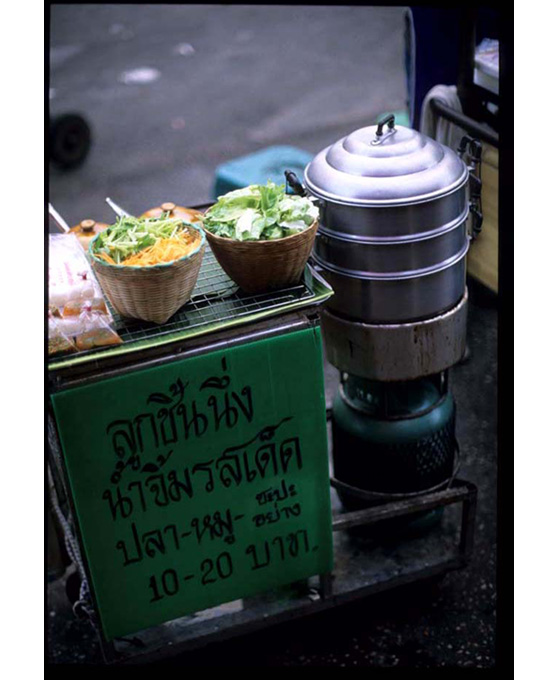 And not to be a huge dork, but according to the Food and Agriculture Organization, 2.5 billion people eat street food every day. Wowie.
Why am I going off about this? Mainly because now that I belong to the elite group of the unemployed by choice, I've got the time on my hands to consider these things. But also because I really do think that taking food to the streets does great things for a community in a quite different way than restaurants can. Where there is food openly, there are people. And where there are people and food in one place, there is socializing and the kind of positive energy that tends to surround a good meal. The smell of it pulls us in and then it becomes something to try out and talk about. I love that. By removing the front door and the hostess and the table and the server and even the 20% tip from the whole equation, food vendors are able to expose people to new kinds of foods and ideas about food that they might not otherwise see or be comfortable trying. It's the whole non-committal aspect at work I guess.
Here are some of the trucks I've been really inspired by lately. Their menus sound exceptional, but sadly, I haven't been to most of them, so if you have, let me know if they're as great as they look!
Miho Gastro Truck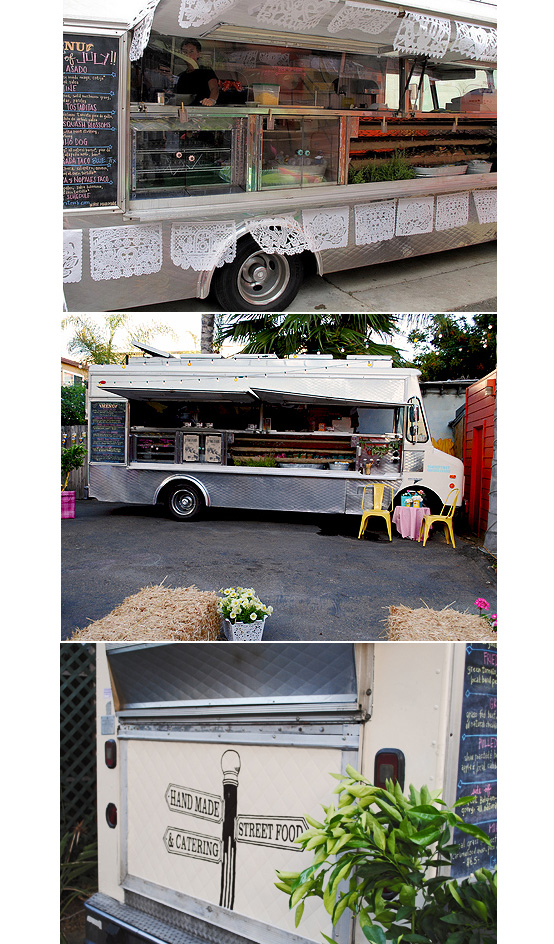 128 Café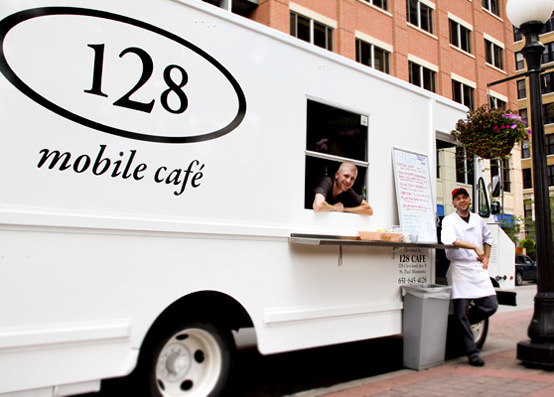 Buttermilk Truck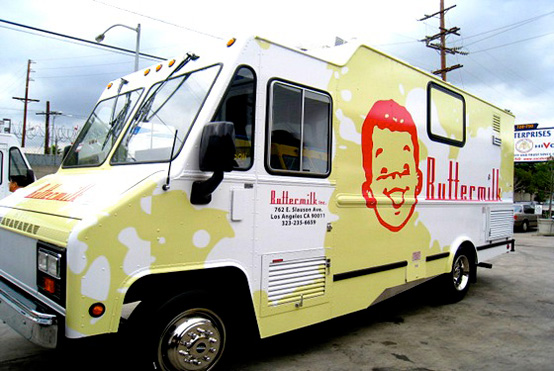 Spencer on the go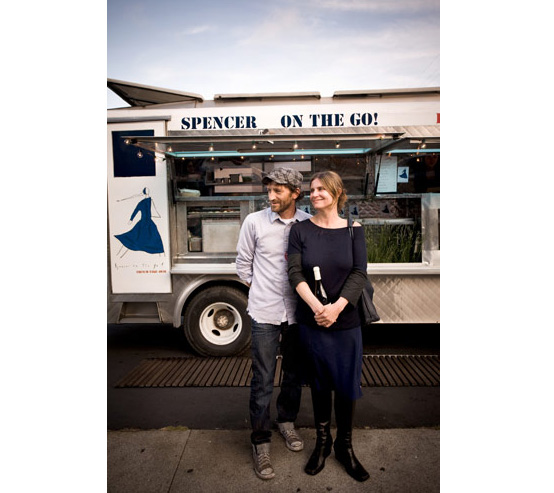 Food Shark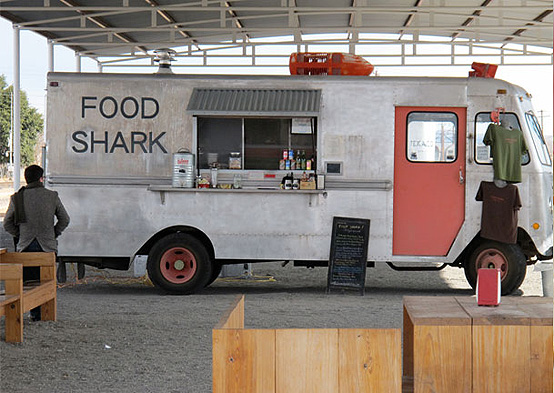 Cravings NYC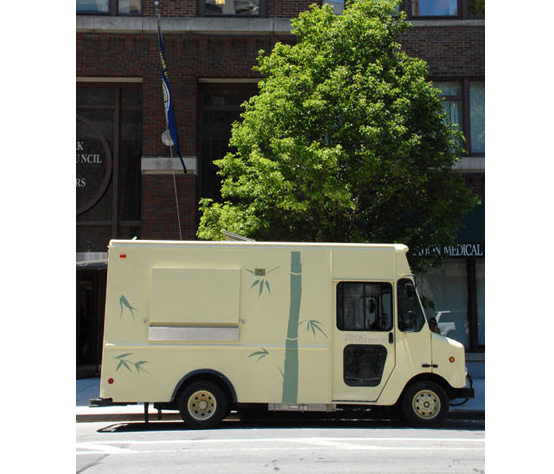 Schnitzel and things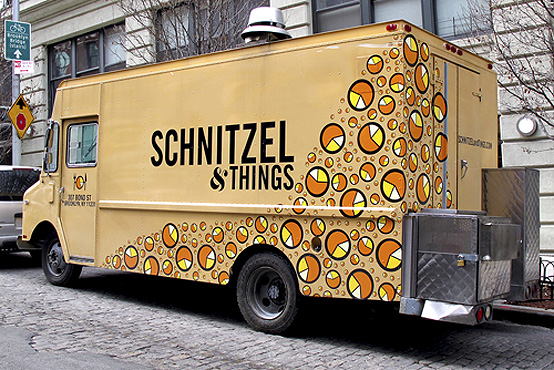 Skillet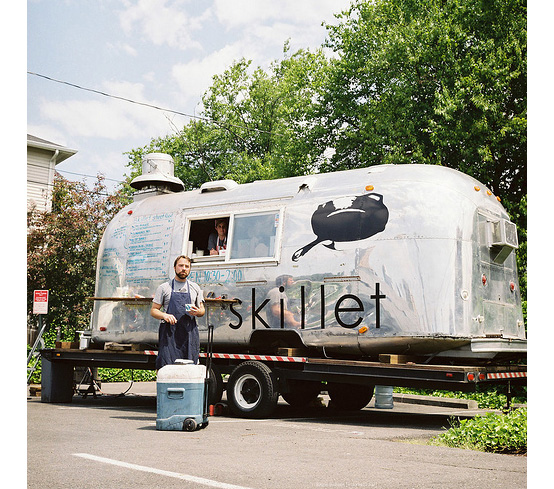 Treats Truck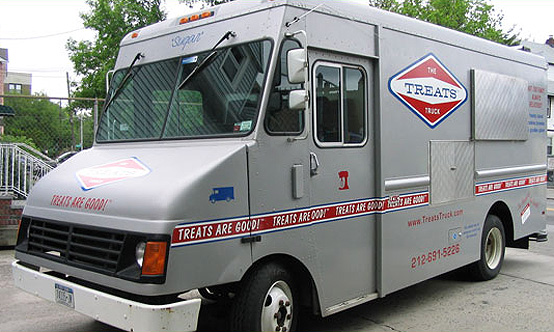 Van Leeuwen Ice Cream

So what do you think – do I have what it takes to drive a giant truck around town and feed people? I think I would love that. If anyone has any advice or good resources, please do share.