What's green and red with white all over? A kale Caesar salad of course! Well, I must be in the holiday spirit because this unintentionally came out to be the most festive looking salad of all time.
Love Caesar salad. Hate the calories though. Here we have a healthy and seriously delicious alternative to those traditional Caesar dressings that are loaded with fat from egg yolks, cheese and lots of oil. This one is made of Greek yogurt (protein!), olive oil, lemon juice, Dijon mustard, a touch of parm cheese, agave, salt and pep. I did add in one anchovy fillet for smoky flavor, but feel free to omit if you have any qualms because it's great either way. I'm very impressed with how fantastic this Caesar-like dressing came out – you won't miss a thing about classic Caesar!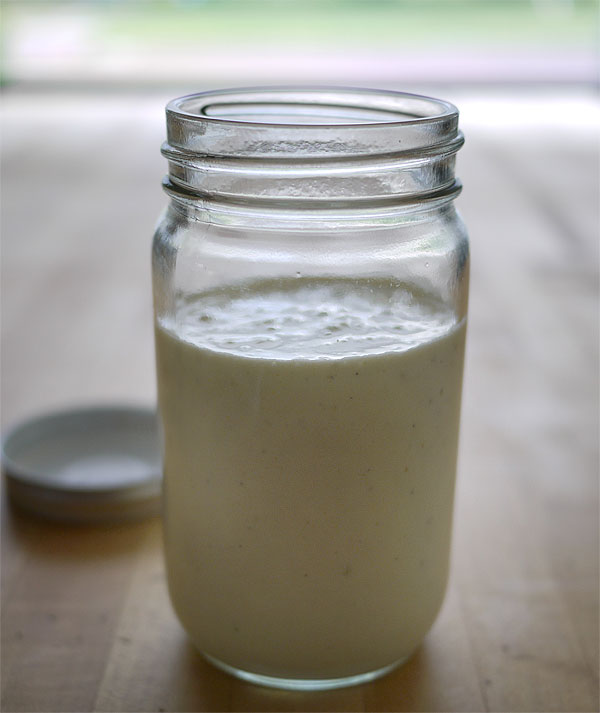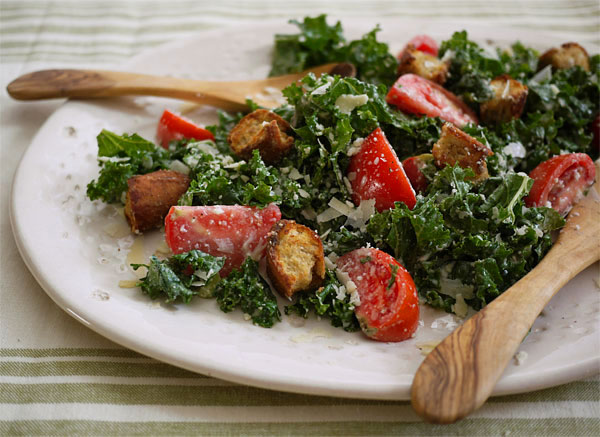 And I know Caesar salads don't generally come with tomatoes, but they don't generally come kale either so what the hell. Festive!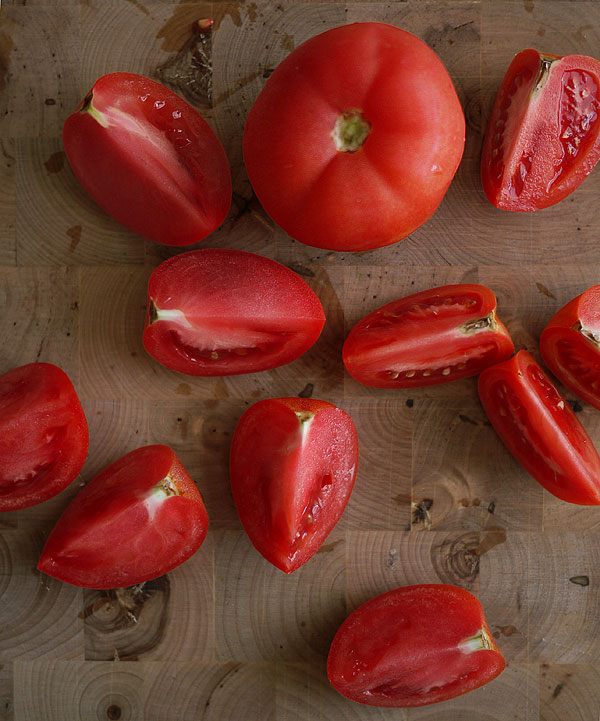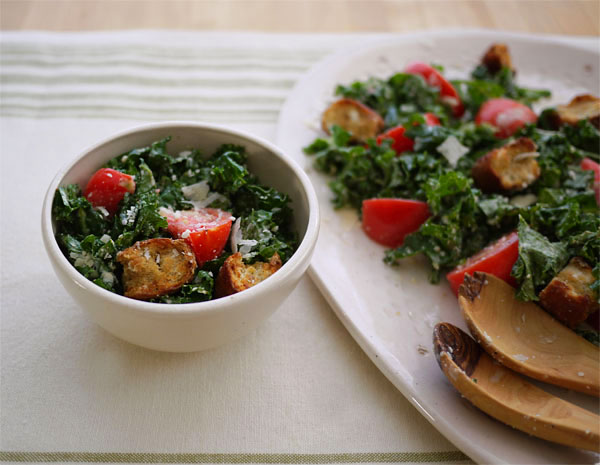 A Caesar salad wouldn't be complete without the croutons. But these aren't just any ole croutons – these bad boys are lightly coated in a smoky anchovy butter sauce and toasted to a crunchy perfection. These don't taste fishy at all. It's just a nice rich and smoky flavor.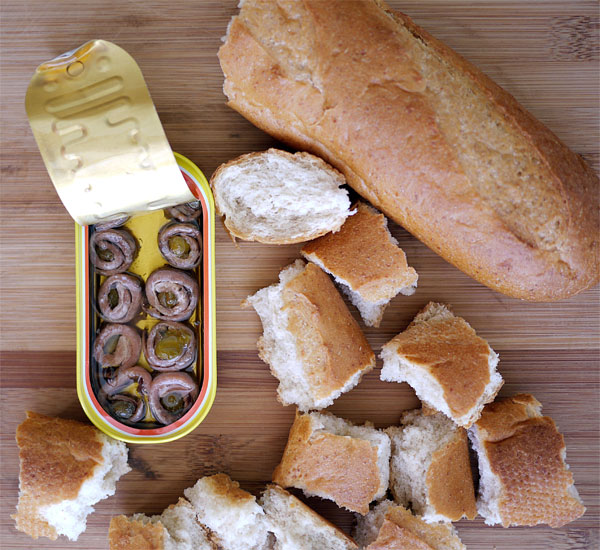 Simple to do…
I sautéed about 5 anchovy fillets in a little butter, olive oil and cracked black pepper until they dissolved into a sauce.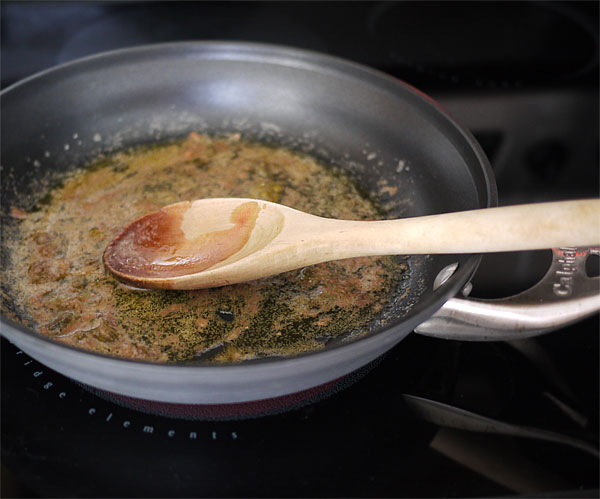 Then I tore a nice whole wheat baguette into one inch squares and tossed them in the anchovy sauce.
I baked them for about 15 minutes at 350° until golden and crispy.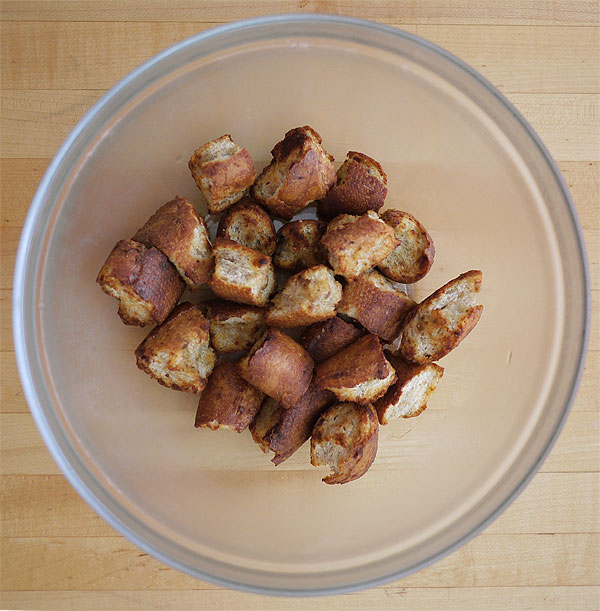 This dressing keeps for 4-5 days and the croutons will keep for a week!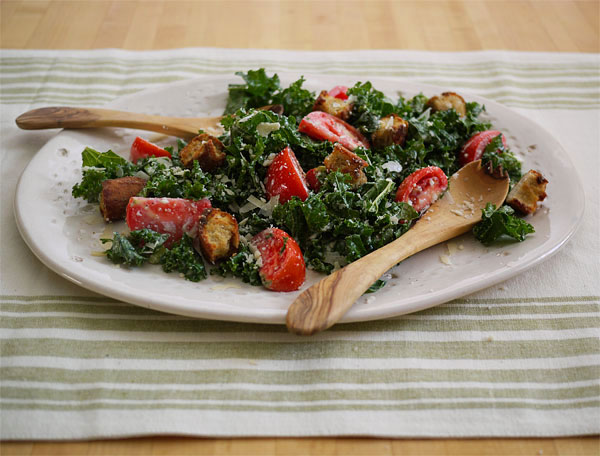 Print Recipe
Back to Top
Recipe
Makes enough dressing for 1 large bunch or bag of kale. Feel free to omit anchovy fillets if veg – they just add a nice smoky flavor, not fishy at all. Dressing keeps 4-5 days in fridge.
You need:
1/4 cup lemon juice
1 Tbs. olive oil
1 Tbs. agave nectar or sugar
1 Tbs. Dijon mustard
6 oz Greek yogurt
2 oz Parm cheese, plus some for sprinkling
kosher salt and cracked black pepper
5 anchovy fillets
1 whole wheat baguette
2 Tbs. butter
4 small tomatoes cut into wedges
1 large bunch of kale chopped
Directions
Place lemon juice, olive oil, Dijon mustard, agave, yogurt, cheese, 1 anchovy fillet and a pinch of salt and pepper to taste in food processor or blender. Pulse until creamy and smooth. Place in fridge to chill.
Place remaining 4 anchovies, butter and a little olive oil from the can or jar they came in on pan and sauté on medium heat until dissolved into a brownish sauce. Tear half a baguette into one inch squares. Place in bowl and toss in anchovy sauce. Place on baking sheet and bake for about 10-15 minutes or until golden brown. Let cool completely.
Wash and chop kale and tomatoes. Toss in dressing. Add croutons and toss. Add remaining cheese and toss. Place on serving dish and top with a little cracked black pepper.
HonestFare.com