A fried egg is one of my favorite things to eat. Nice and runny in the middle and crispy around the edges—ah, so good. If you've never tried adding a fried egg to a rice or pasta dish then it's time you get into it. And this recipe is a great place to start. The yolk really adds so much to the flavor of the red sauce. Think, butter on bread.
So the trick to making sauce that tastes like it's been simmering for hours is to cook it down to a thick pasty texture and then rehydrate it by adding a ladle or two of starchy pasta water to the pan. You should also use tongs to move your pasta from the boiling water directly to the sauce filled pan (none of that strainer business) and immediately toss it around. Why? Cause the extra starchiness/steaming water coming off the pasta helps the sauce coat better.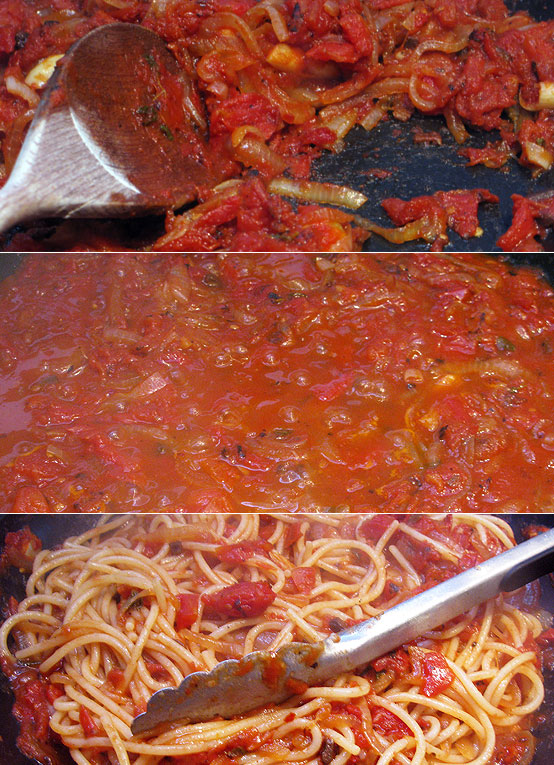 I sautéed the fennel and diced the olives and set them aside until the pasta was all sauced up. Then I fried the egg and assembled the dish.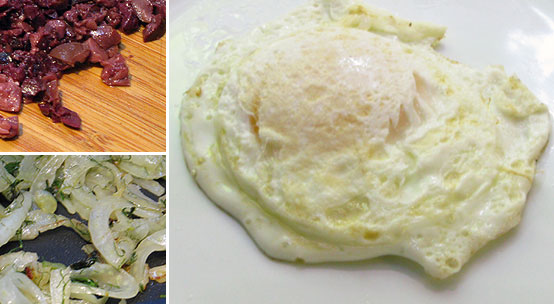 First the egg. Then the pasta. Then the fennel then the olives on top.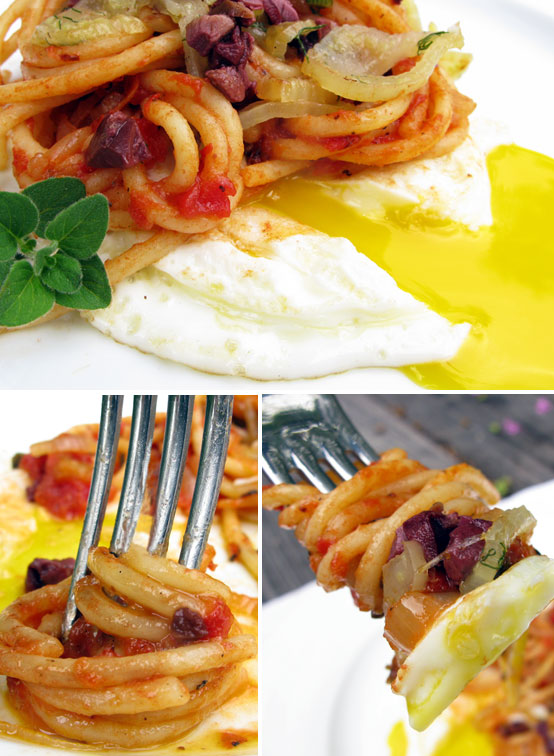 Break open that yolk and swirl your pasta around in it!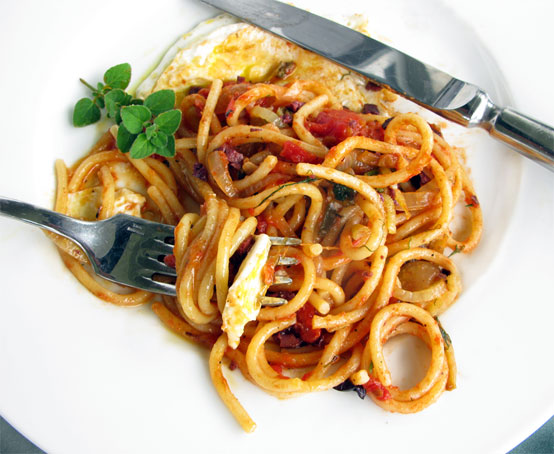 Print Recipe
Back to Top
Recipe
Serves 2. Use your favorite thick pasta noodles. I used bucatini, which are hollowed out like long tubes…perfect for slurping up sauce.
You need:
Handful oregano (preferably fresh)
Black pepper
Salt
1 tablespoon sugar (preferably in the raw)
Olive oil
Half an onion
Red pepper flakes
1/2 fennel bulb + some leaves
1 can crushed, peeled tomatoes
1/2 cup pitted kalamata olives
1/2 box thick pasta noodles
2 eggs
1 garlic clove
Directions
Sliver up your fennel & sauté in olive oil with a dash of salt until tender. Set aside in a bowl. Dice olives and also set aside.
Add some olive oil to a pan and turn up to medium heat. Once hot, add a smashed garlic clove and half a sliced up onion. Sauté until onions are soft. Add can of chopped tomatoes, a 1-½ teaspoon of salt, tablespoon of sugar and 1/4 teaspoon of crushed black pepper, a pinch of red pepper flakes (more if you like heat) and a handful of fresh oregano. Let simmer covered for about 15 minutes on medium low heat. Meanwhile, boil your pasta water.
Uncover saucepan when onions are totally soft and sauce has a nice flavor. Add more salt if need be (I add quite a bit). Turn up to medium and cook uncovered, stirring frequently, until sauce reduces to a thick pasty texture. Takes about 10 minuets, meanwhile, boil pasta.
When the pasta is just about done, steal a ladle of that wonderful starchy water it's in and add it to the sauce to rehydrate it. Stir in water until sauce becomes nice and saucy again. Add more starch water if necessary. Use tongs to move pasta directly over to the saucepan and then immediately start to toss and stir pasta around to coat with sauce. Let pasta hang out in the sauce (uncovered) while you fry up your eggs (over medium).
Place fried egg on plate. Top with pasta. Top pasta with some fennel and olives. Garnish with extra oregano sprig!
HonestFare.com