You know that impossibly sweet grape jelly taste that immediately takes you back to your childhood? Well, that's kind of what roasted grapes taste like. They're the real deal inspiration for Smucker's grape jam and every other grape "flavored" candy or product you've ever had. And the answer is YES, they are awesome on a peanut butter sandwich—get nostalgic and sophisticated at the same time.
They're also great in salads, as an accompaniment to chicken, and on top of vanilla ice cream. Or just serve them as-is for a simple, healthy desert. I decided to go the salad route. And a hearty grain like wheat berry is so nice for fall. Love this salad: crunchy grains and green beans, silky chèvre goat cheese, tangy dressing, and nice pops of savory sweetness from those herb-roasted grapes! It's a delightful balance.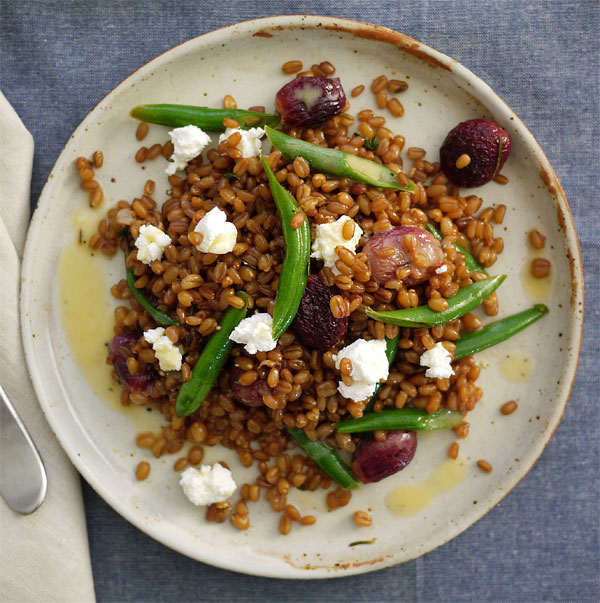 I had an abundance of grapes this week so I decided to roast some up. You can do this with green or red grapes; whichever route you go, I would definitely just recommend using seedless. The red tend to taste sweeter like grape jelly, while the green are a little tangier, but still nice.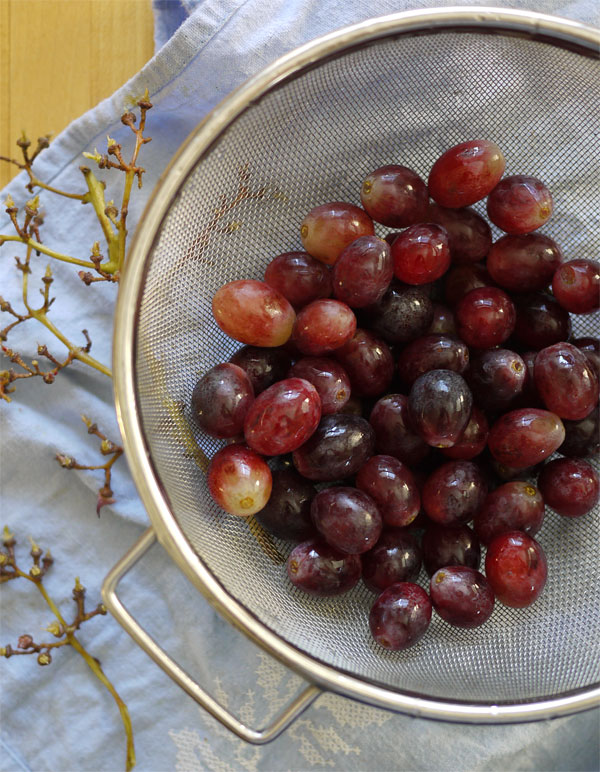 I tossed these seedless red grapes in a touch of olive oil, salt and herbs (rosemary & thyme) and then baked them for about 20 mins. You can omit the herbs and salt if you plan to use them for dessert.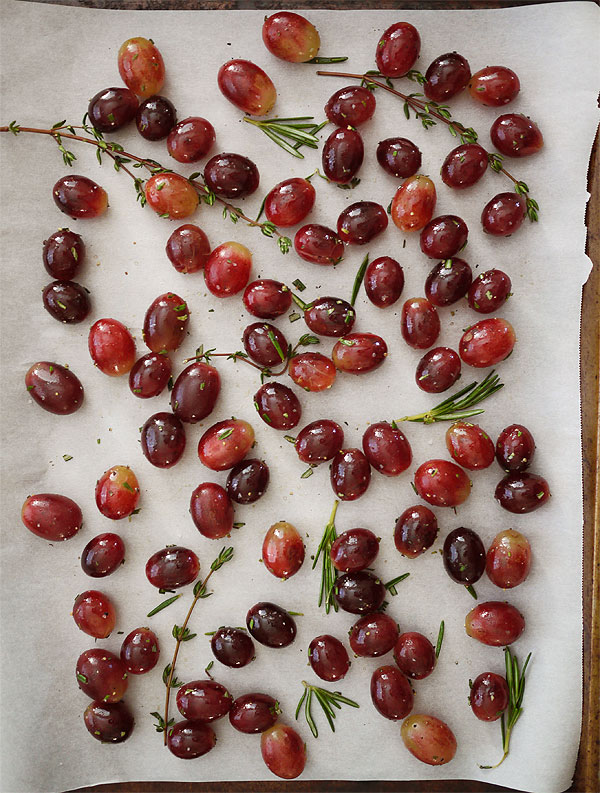 They'll shrivel up a tad during baking, and you'll know they're ready when you see the winkles. They can burn if they start to blister though so I'd recommend keeping an eye on them.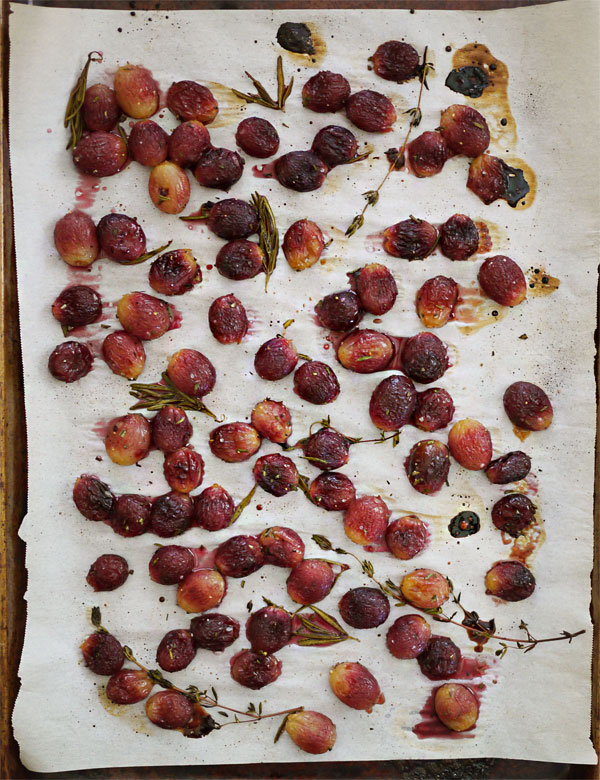 Also, have you ever cooked with wheat berries? I haven't all that much, but I really love them. So tender and chewy! First of all, they aren't berries at all—they're basically the entire wheat kernel (except the hull) from which whole-wheat flour is produced. Wheat berry is great in salads or baked into bread because it provides a crunchy texture (similar to barley or rye) and nutty flavor. It's used a lot in Eastern Europe, especially around the holidays. Wheat berry is comparatively high in protein to other grains (similar to quinoa in that regard) as well as vitamin B, fiber and folic acid. It cooks like most your dense grains do (similar to wild rice) with a 3:1 ratio of water to grain. The process just takes just a few minutes longer (about 35 mins total) and you can expect to drain out some extra water at the end because, unlike softer grains, wheat berries need to be covered in water during the entire cooking process. You can taste after about 30 mins and determine if they need a few more minutes or not…they should be chewy but not hard or tough.
Thank you Pereg Gourmet Natural Foods for sending me the grains used in this recipe! You can buy wheat berries in most supermarkets, but see the Pereg Gourmet website for a wide selection of all-natural, organic and non-GMO verified exotic pantry staples. All kinds of tasty grains, lentils, beans, etc.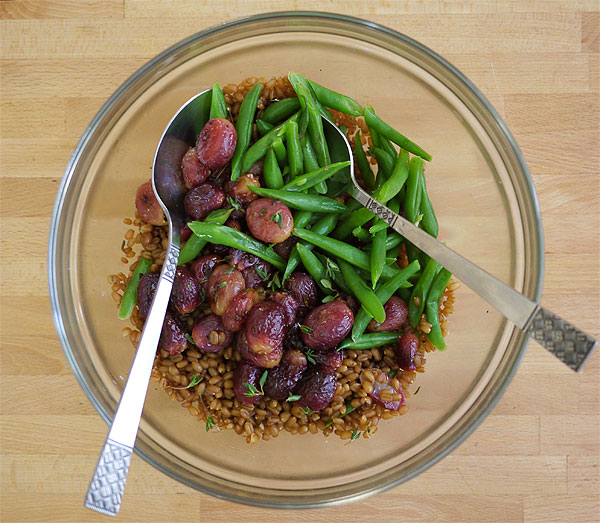 The green beans are just quickly blanched so they're still bright green and firm. After tossing everything together, I felt like the salad still needed a little zing, so I whipped up this super simple Dijon dressing.
Just olive oil, lemon juice, Dijon mustard, salt/pepper, agave, and whisk.
Top it off with some extra dressing and the chèvre (or Parm cheese if you prefer).
Serving suggestion: I recommend serving this one at room temp or chilled straight from the fridge. We loved these flavors alongside roasted chicken!
Ceramic plates made by yours truly: Orange high-fire terracotta clay. Matte white glaze (crawled a little). Cone 10.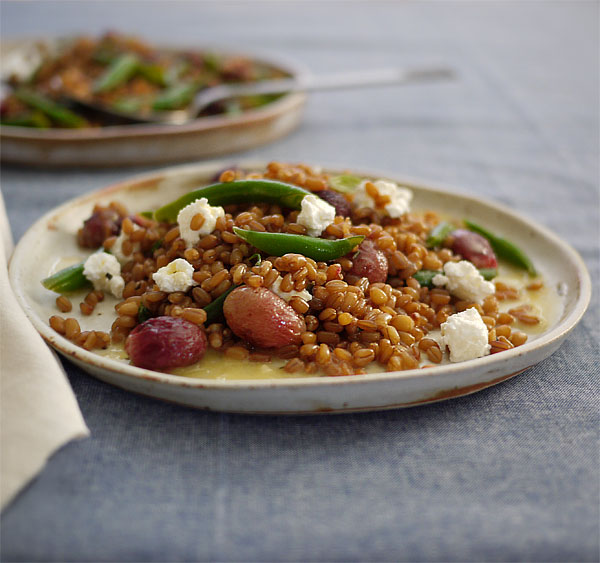 Print Recipe
Back to Top
Recipe
Makes approximately 4 servings.
You need:
3 cups ripe, red, seedless grapes
1 cup dry wheat berry
1.5 cups fresh green beans cut on bias
2 sprigs fresh rosemary
3-4 sprigs fresh thyme
olive oil
kosher sea salt
cracked black pepper
juice from 1 lemon
1 Tbs Dijon mustard
1 Tbs agave syrup
chèvre goat cheese
Directions
Preheat the oven to 400°.
Bring 3 cups water + salt to a boil on stovetop. Rinse wheat berries in a strainer and add to boiling water. Allow so simmer on high for a couple minutes before reducing heat to low and covering. Cook covered for 25 -30 mins. Taste and continue cooking for another 5-10 mins if needed. They should be chewy, but not hard when done. Strain excess water and add wheat berries to a large mixing bowl.
While wheat berries cook, you can roast the grapes. Wash and dry grapes. Toss in a little olive oil, salt, pepper. Chop rosemary and thyme. Sprinkle on ½ the amount of herbs, reserving rest for later. Place grapes on a lined baking sheet and bake for about 20 mins, or until grapes are wrinkled and starting to blister.
Chop green beans at an angle, into about 1 inch pieces. Add 2 cups water + salt to a pot and bring to a simmer. Cook green beans for 2 minutes. They should be firm and bright green. Strain and rinse under cold water. Set aside.
Add Dijon mustard, pinch of salt, pepper, good drizzle of olive oil, 1 Tbs of water, lemon juice and agave to a small bowl. Whisk until creamy.
Toss green beans, wheat berries and grapes together in a large mixing bowl. Add remaining herbs, pinch of salt and pepper, ½ the dressing, and toss again. Top each serving with chèvre and a little extra dressing.
HonestFare.com