Again with the strawberries? I know, I know. Guess that's what happens when you fall for the ole 4 for $5 deal at the market. Strawberries are so in season right now and they're just too gorgeous to resist. (P.S. Check the Favorites in my sidebar when you're done here for more recipes using strawberries.)
Now, as for the rhubarb, I contemplated it for a while. Rhubarb is totally alien to me. I've been intrigued by it for some time now, but I've never actually cooked with it. With all the strawberries in my future though, I figured it might be a good time to try for a classic strawberry and rhubarb pairing.
The plan was to make a strawberry-rhubarb pie so I could finally use this pie plate I made a few months ago. But then the thought of rolling out a crust really turned me off…so I thought crumble?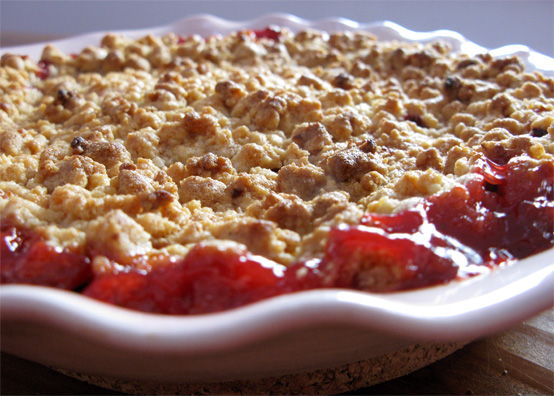 One great thing about a fruit crumble, in contrast to a pie, is that you can scale it up or down depending on how much you feel like making – tiny, single serving crumbles or giant deep dish ones.
This crumble/topping comes together really easily and can be refridgerated until needed so you can go nuts and make fresh crumble for days if you wanted. A healthy amount of lemon zest combined with a little vanilla extract really set off the flavor. And please, don't fight the butter factor. It's necessary and it's good. Just pretend you didn't see it go in.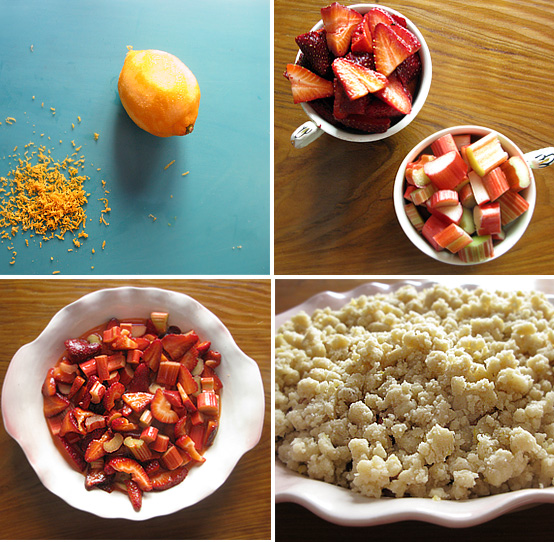 The rhubarb turned out perfectly. Tangy and so nice with the strawberries. I'm officially a fan. Next time, I think I'll try for a savory use of it.
Oh yeah, and in case you're wondering what uncooked rhubarb tastes like – it's disgusting. Like unswallowable disgusting. (What? I was curious.)
Cooked rhubarb & strawberry crumble on the other hand, is incredible.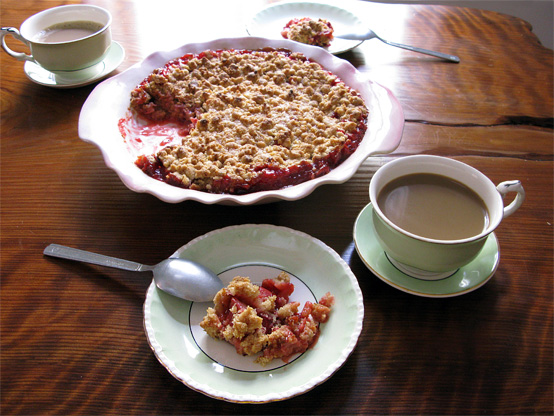 Recipe adapted from Smitten Kitchen.
Print Recipe
Back to Top
Recipe
Coop/prep time: 50 mins. Serves 6-8 This recipe will work nicely with all kinds of fruits (peaches, cherries, apple, etc.) Enjoy warm out of the oven or at room temp. Stores great in the fridge and is equally tasty cold!
You need:
For the topping:
1 1/3 cup flour
1 teaspoon baking powder
3 tablespoons sugar
3 tablespoons sugar in the raw
Zest of one lemon
1 stick (4 oz) unsalted butter, melted
½ teaspoon vanilla extract
¼ teaspoon cinnamon powder
For the filling:
1 1/2 cups rhubarb, chopped (1-inch pieces)
1 quart strawberries, hulled and quartered
Juice of one lemon
1/2 cup sugar
3 tablespoons cornstarch
Pinch of salt
Directions
Preheat the oven to 375 F.
Heat oven to 375°F. Prepare topping: In a mixing bowl, combine flour, baking powder, sugars and lemon zest and add the melted butter. Mix until small and large clumps form. Refrigerate until needed.
2. Prepare filling: Toss rhubarb, strawberries, lemon juice, sugar, cornstarch and a pinch of salt in a 9-inch deep-dish pie plate.
Remove topping from refrigerator. If it has settled into one giant mound, rough it up a bit with your hands to create the crumbles again. Cover fruit thickly and evenly with crumble (and don't forget to get the edges good).
Place pie plate on a baking sheet in the middle rack of the oven and bake until crumble topping is golden brown in places and fruit is bubbling beneath, about 40 to 50 minutes. If your crumble starts to get too brown, but the fruit isn't quite bubbling yet, cover it with aluminum foil and continue baking until it does.
HonestFare.com