Okay, how cute are these little fellas? If it were possible to have a crush on a food item, empanadas would be mine. I find these pockets of goodness so captivating. Crisp and golden on the outside and filled with something delicious (the question is what!) on the inside. Is it just me, or are you crushing now too?
I topped each mini empanada with thin slice of tomato before baking to give you a little something extra to feast your eyes on. You can bake on a thin slice of veggie, fruit or even some fresh herbs to go with whatever they're filled with.
My dear friends and biz partners, Andy and Janelle of, black bean deli, taught me everything I need to know about the art of making empanadas. Together we've been dreaming up all kinds of fillings and testing them on our friends and at caterings. Mainly we've been pumping them out in such high numbers for catering gigs, but also to test recipes for a new food venture we're developing (wink,wink…tell ya later). We've been making empanadas like mad lately, and as a result, have probably eaten more of them in the last few months than a 10-year-old eats bowls of cereal in a year. And we're still not sick of them!
SO, the cool thing about empanadas is that they're the kind of thing you can eat anytime of the day. Stuff them with a tofu or egg and cheese scramble for breakfast. Maybe spicy BBQ chicken or grilled veggies and cheese for lunch or dinner. You can even do all kinds of dessert empanadas — spiced pear, chocolate peanut butter crunch, pumpkin pie…and on and on. All the possibilities are what make them so much fun to play around with. I've found that an empanada with a salad or some soup is a perfect little meal.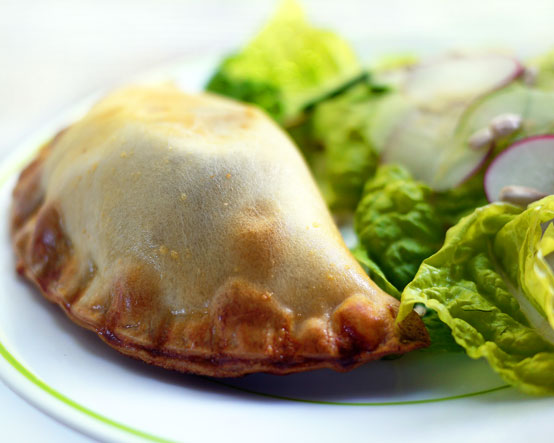 Empanadas first appeared in a Catalan cookbook back in the 1500s and it's believed that they originated in Spain and Portugal, and like the Italian calzone, it's thought that empanadas were derived from Arabic meat-filled pies (samosas). Traditionally, empanadas were filled with meat (pork loin or chorizo) or fish (cod, tuna or sardines) in a tomato garlic type sauce and became popular in those medieval days because they made such great portable meals for working people and travelers. The proliferation of empanadas eventually spread to Latin America, where each country has a regionally specific take on them – different dough recipes (made with flour, corn or yuca) and various traditional fillings.
But, the fillings we've been working on are all but traditional. Cured ham, cheese and melon. Crab and green tomato salad. Vegetarian sausage and peppers. Roasted beets and goat cheese. Pumpkin pie. S'mores. Truffle mac and cheese! Pretty much anything across the sweet to savory spectrum goes so you can really get creative.
Like here, we did peanut butter and jelly! Scoop of peanut butter, spoonful of strawberry preserves and little pile of sliced grapes. Each one is topped each with a sliced strawberry for ultimate cuteness.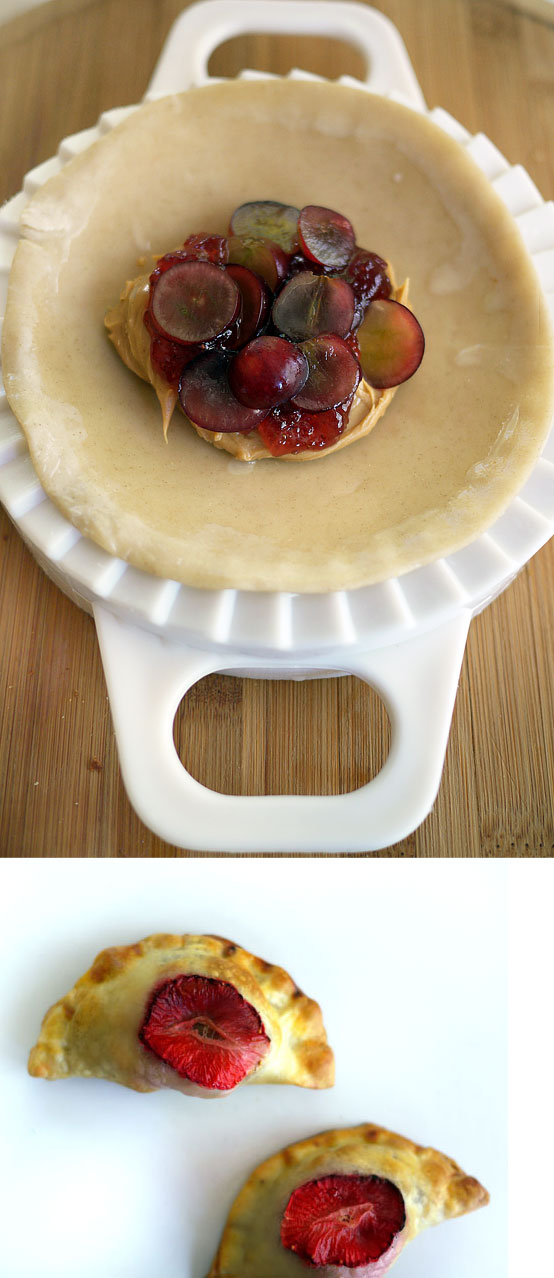 One tip I will give you, is to make sure the fillings you choose aren't runny by nature (like certain sauces) and don't sweat too much during cooking (like raw veggies…or certain cheeses). This is because the filling will start to seep out and mush up the dough during baking. So if you're using cheese, just don't go too heavy on it. And of course, when it comes to meats and such, you need to pre-cook and season them! Think of it like toppings on a pizza – certain ones will work when placed raw (like herbs and cheese) and some would be retchid (like, uh, raw chicken). Also, fillings you can scoop with a spoon tend to work best. And you want your filling to be room temperature so it holds a form when scooped and placed in the center of the dough. Oh yea, and try not to overfill or you'll end up with a mess no matter what.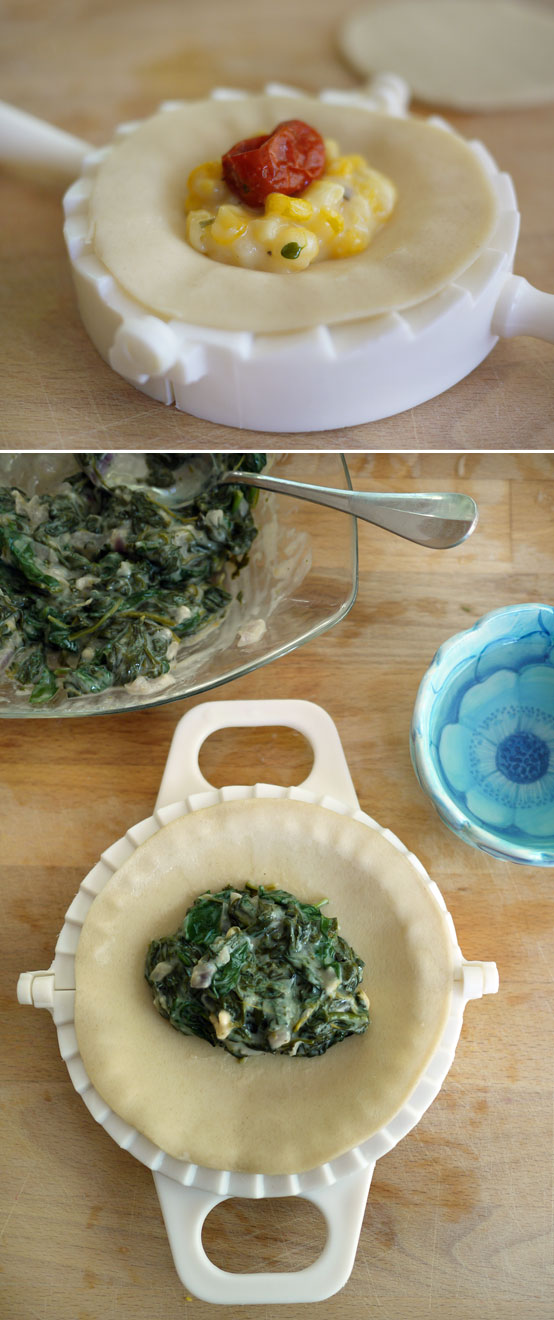 See, here I did creamed corn and roasted cherry tomatoes as mini empanadas and spinach & feta full-size ones. The creamed corn is seasoned with thyme and thickened with flour during cooking. Then it's cooled to room temp to reach its thickest state. The spinach was cooked with red onion and seasoned with some garlic, salt/pepper, red pepper flakes, nutmeg and lemon juice. I added some feta and cottage cheese and let some of the moisture cook out before adding an egg white to help hold it all together. Also cooled to room temp, and excess moisture poured out before adding to dough.
Of course, there are all kinds of dough recipes out there too so if you're gluten free or want whole wheat you can definitely make it work. We haven't come upon a recipe that we like (or that reacts) better than the dough we get from a Cuban bakery we work with out of Miami, so for now we're sticking with that…though we do plan to experiment with some whole wheat recipes in the future. Empanada dough is similar to most savory pastry doughs, and you can find a million recipes for it online. The pre-made and cut empanada dough is actually pretty good and authentic and can be found in the frozen section of most grocery stores and all Latin American supermarkets. Choose a brand with a short ingredient list (La Cubanita and Goya make good ones without all the preservatives and junk). Just check the labels to make sure you're not getting a dough with lard in it if you're vegetarian. Some use lard, some palm oil.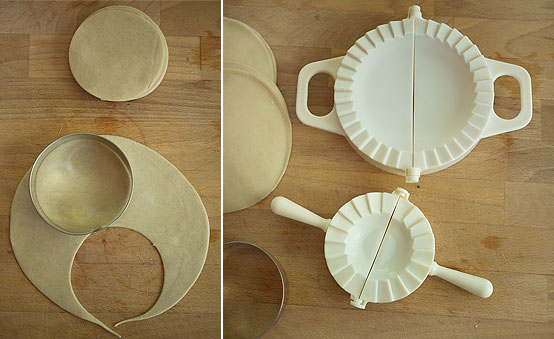 Now, you can totally just place you filling in the middle and seal the edges of the dough using a fork (that's how most people do it at home). But, you can also find these handy little presses at Latin supermarkets and restaurant supply stores. The press we use for the mini empanadas is actually just a dumpling press, which you should be able to get at your local Asian market. The presses make the job a ton easier when you're doing large numbers, but you won't miss out not using one if you're just making a few at home. You'll want your dough close to room temp before placing the fillings and should wet the rim of the dough before closing to help seal.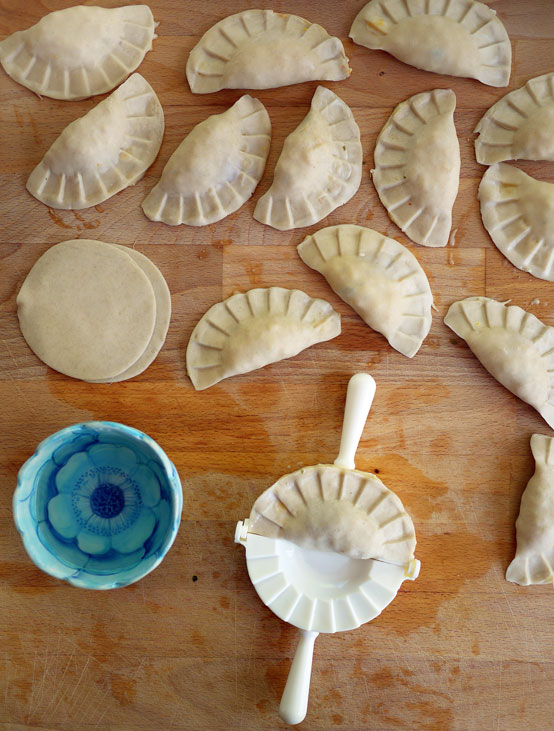 Once you've got all your guys filled, you can lightly grease a pan and apply and even egg wash to each empanada (back and front).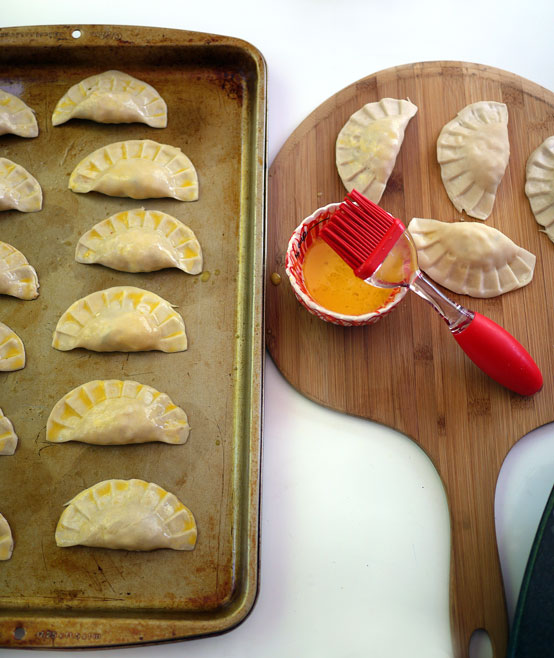 Then just bake them until they're golden and crispy along the edges.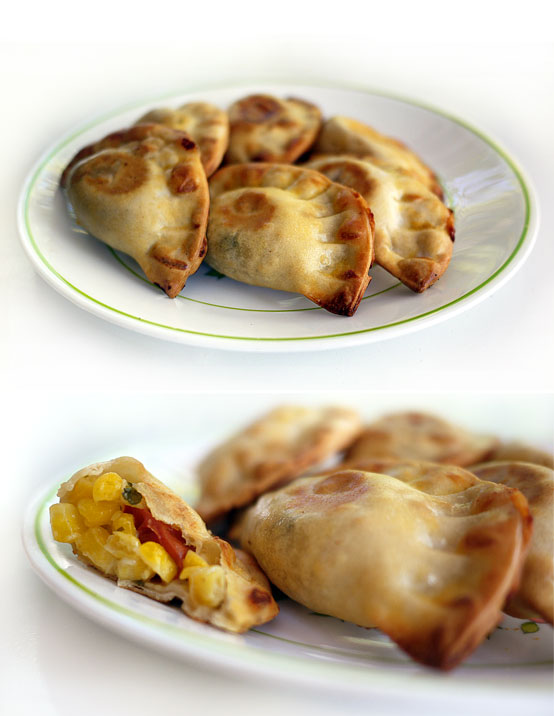 I'm giving you the recipe for the spinach ones because they're by far the household favorite!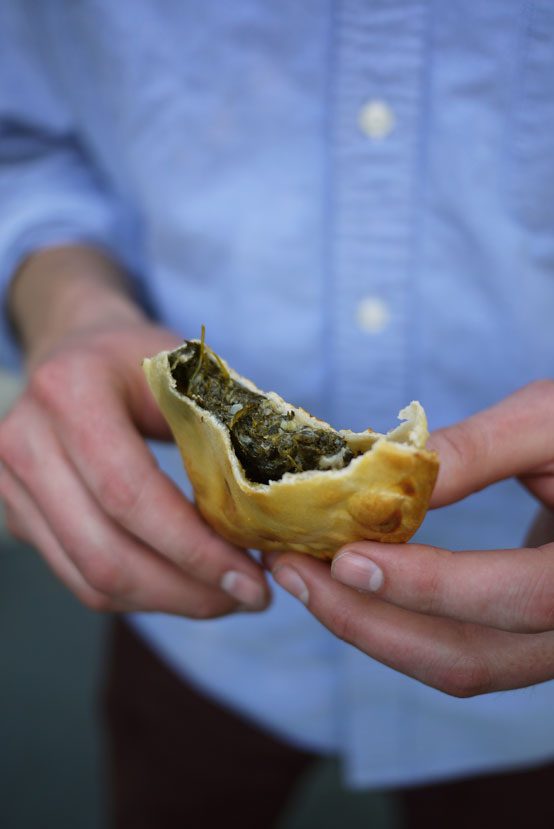 Print Recipe
Back to Top
Recipe
Cook time: About 15 minutes for the spinach (plus time to let it cool) Empanadas only need about 12-14 minutes in the oven. Makes enough spinach for 4 regular sized empanadas or about 15 mini ones. If you want it pretty cheesy, add additional feta. Empanada press is not necessary – the edges of dough can be sealed using a fork just as well.
You need:
1 bag pre washed spinach or equivalant
1/2 red onion thinly sliced
1 clone garlic
3 oz small curd cottage cheese
3 oz feta crumbled
Squirt of lemon juice
1/6 teaspoon lemon zest
Light sprinkle of nutmeg
Pinch red pepper flakes
Salt to taste
Drizzle olive oil + tad butter
1 egg white (for spinach mixture)
1 egg (for pastry egg wash)
Directions
Preheat oven to 375 degrees
Saute onion and garlic, pinch of salt and black pepper in olive oil + butter over medium heat until onions begin to wilt. Squeeze some lemon juice add as much of your spinach to the pan as will fit and cover so spinach can wilt. Keep adding remaining spinach to the pan in batches as more room becomes available. Uncover once spinach is wilted but still bright green. Pour out any excess water from pan.
Add cottage cheese, nutmeg, lemon zest, touch more salt, red pepper flakes and toss in pan to release steam. Add feta crumbles and remove from heat. Transfer to bowl and fold in egg white while still hot. Toss in bowl to incorporate evenly (the egg white will cook from the heat of the spinach). Set aside and let mixture cool to room temp to thicken.
If store bought, make sure your dough is a cool room temp before working with. Pour out any additional moisture that has formed around spinach and add about 2 tablespoons of mixture to center of a dough disk. Moisten rim of dough with water using fingertips. Fold over and seal by pressing prong end of fork all along the edges, creating even imprints. Skip the fork step if using empanada press.
Prepare egg wash in a little bowl. Lightly grease a baking sheet. Give each empanada a brush of egg wash on both sides. Space evenly on baking sheet and bake until golden crispy! (about 15 minutes for full-size and 6 for mini ones)
HonestFare.com