Remember those funny, flat sponge creatures you'd play with as a kid that would grow like 10 times their size when they'd hit water? They came in all different shapes and characters and colors, and no matter how many times you dropped one in water, you'd always stare in amazement as it grew bigger and bigger. Dutch babies are like the edible equivalent of those.
It's essentially just some egg and flour, milk and butter on a pan. No big deal. But once in the oven, they start to puff up, and up and up, right before your eyes, until they're peaking and spilling out of your pan. It's insane. And so pretty!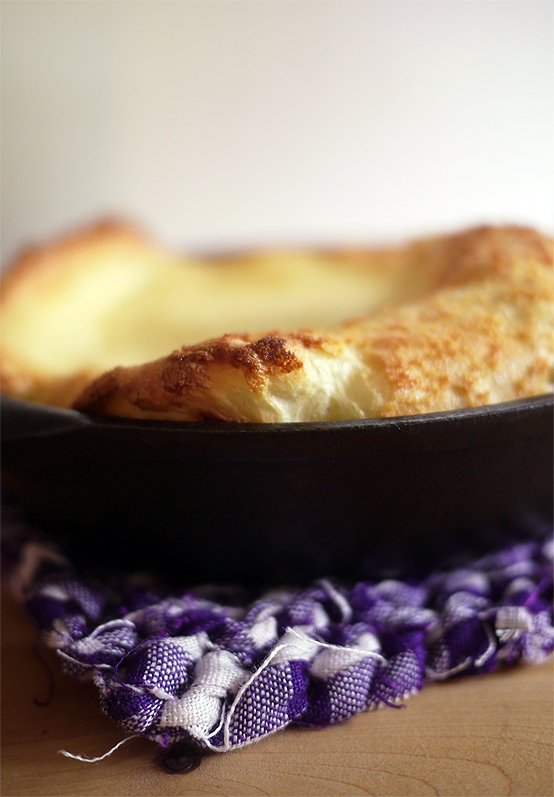 I used a miniature cast iron pan so the ones you see here didn't puff up as much as ones made in larger dishes can.
Exhibit A: this guy.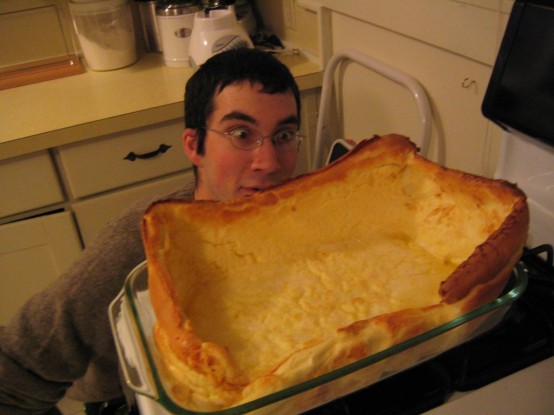 Don't worry, they do actually deflate and settle once removed from the oven, which is kind of fun to watch too.
To help with rising:
1. Use room temp/warm eggs and milk.
2. Beat the eggs a lot before adding the rest of the components.
3. Get the pan immediately back into the oven once you pour the batter in.
Flavor wise, they're kind of like a pancake, but not as cakey. Lighter and spongier. So maybe more like a soufflé. But…less delicate and eggy. In a way, they also kind of remind me of a crepe. Okay, forget it. You get the point. They are delicious.
The question is, where have these babies been hiding all my life? I've never seen them on a menu. Never heard any talk of them. Never even seen photos of such a thing. My mom recently introduced me to Dutch babies, sometimes referred to as German pancakes, after she had them at a bed and breakfast somewhere in Oregon. (Oops, can't remember where right now.) She's been all about them ever since, topping them with fruit and yogurt and syrup. I've made them several times now and see exactly why she's so into them.
Traditionally, Dutch babies are finished off with a little lemon juice (which sounds weird) and powdered sugar. I'm not crazy about powered sugar so I messed around with a few other toppings. I did one with pumpkin puree, cinnamon and maple syrup. That was awesome. But, even better was the simple pairing of raspberries, sliced almonds and maple syrup.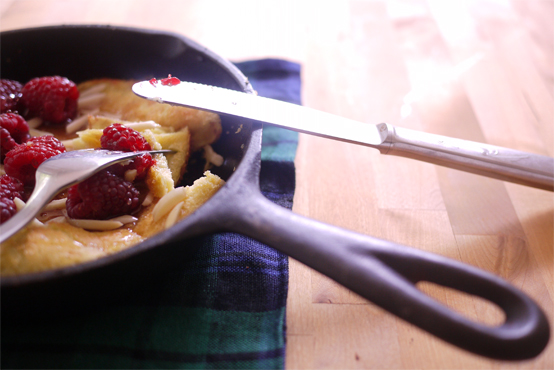 Not sure what it was about this mix, but it was fantastic.
I was also really pleased with this savory one of sautéed mushrooms, tomatoes and arugula, topped with Romano cheese. Looks like a cute little deep-dish pizza!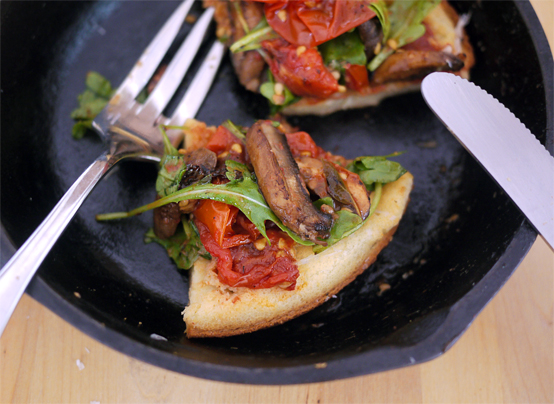 They cool thing about Dutch babies is that you can play around with them. Just serve them up and let people have fun with the toppings. You can make large ones for people to share, or smaller individually sized ones like the ones I made here. They're usually eaten for breakfast, but I think they're good any time of the day depending on what you top them with.
Recipe
Prep + cook time: 20 minutes Serves 1 I used a six inch cast iron pan for a single serving. Double the recipe for larger servings and/or to accommodate larger pans. Using room temp eggs and milk is preferred. Omit vanilla extract if doing savory toppings.
You need:
1 egg
1/4 cup milk
1/4 cup flour
2 pads butter
1/2 teaspoon vanilla extract (omit if doing savory toppings)
1/8 teaspoon salt
Directions
Slightly warm milk and let eggs reach room temp by either soaking in warm water or letting sit out. Preheat oven to 350º and place small (about 6″) oven safe pan, cast iron skillet or baking dish in oven to heat.
Measure out 1/4 cup flour and milk and set aside. Whisk egg for a couple minutes until nice and fluffy. Add flour, milk, salt and vanilla to egg and beat for one minute. Remove pan from oven and add 1-2 pads of butter to it. Then add batter to pan and immediately place back in oven to bake for about 7 minutes.
Remove when just golden and enjoy!
HonestFare.com