Ever since we got La Empanada Food Truck up and running last month (More on that soon – I promise!), I've been experimenting A LOT with salads. This because we want to keep the menu on the truck pretty fresh, which means regularly coming up with new seasonal salads to accompany our gourmet empanadas. It's been somewhat challenging though because these salads need to be unique AND practical. In other words, quick and easy to portion and serve out of a window. And in addition to that, they need to work alongside our wide variety of empanadas, flavor wise. We tried doing tossed green leafy salads, but those don't seem like the way to go in such tight quarters with all the heat from the oven and fryer going. Plus, they were kind of difficult for people to eat while standing. So for now, we're sticking with pre-dressed salads that fit nicely into a 6 oz cup – so, like a slaw, but not a slaw.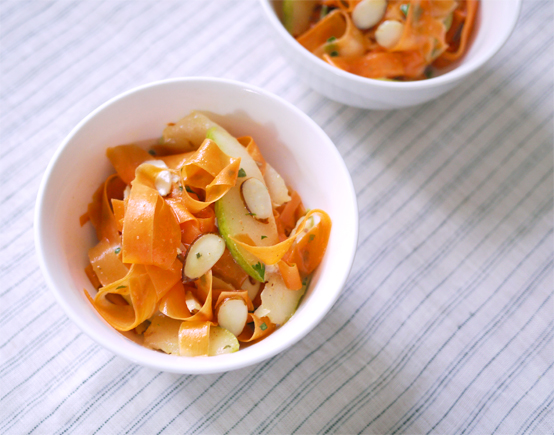 And unlike most salads, this one gets better as the dressing soaks in, which is definitely a plus when you're pre dressing a salad to be served later. The dressing is simple to whip up. Just olive oil, lemon juice, curry powder, paprika, maple syrup, salt, cayenne pepper, fresh parsley and a spoon of mayo. Mayo??? Yea, trust me. So good you can drink it….and I kinda did.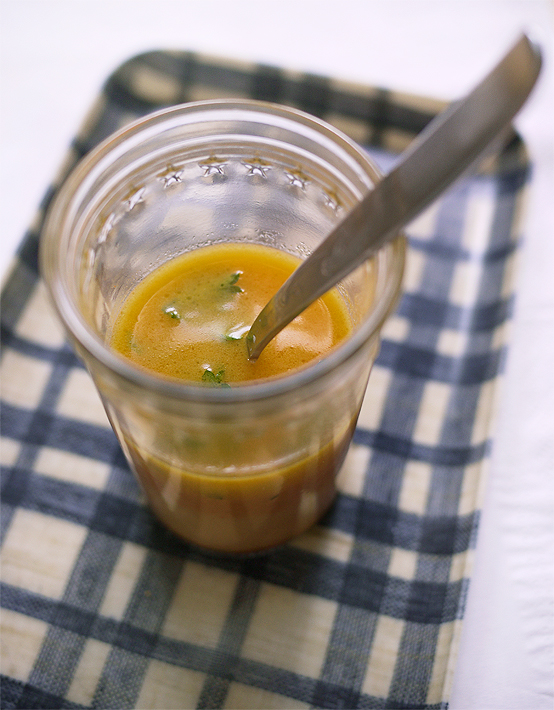 I used a veggie peeler to make the long slices of carrot. The fatter the carrot you use the better. I find that rotating the carrot as you go works best to keep the strips consistent. It doesn't actually take that long to do and it's worth it!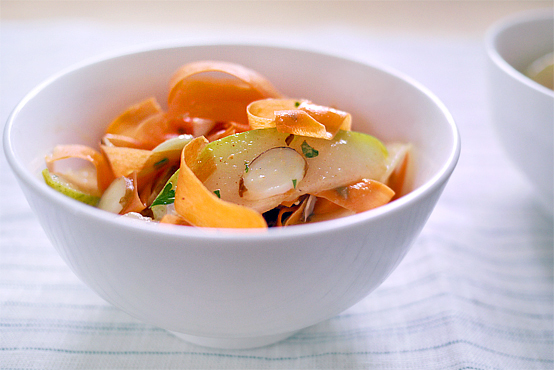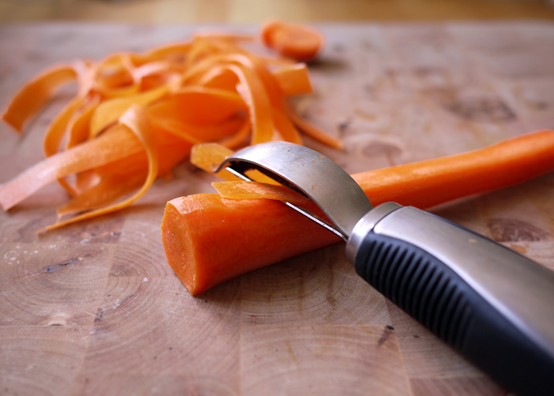 Graceful carrot ribbons with pear wedges and shaved almonds, tossed in a well-balanced curry vinaigrette. Oh yes. Crunchy carrots with the suppleness of ripe pears is divine. And those carrot ribbons are so much fun to spin around your fork like spaghetti!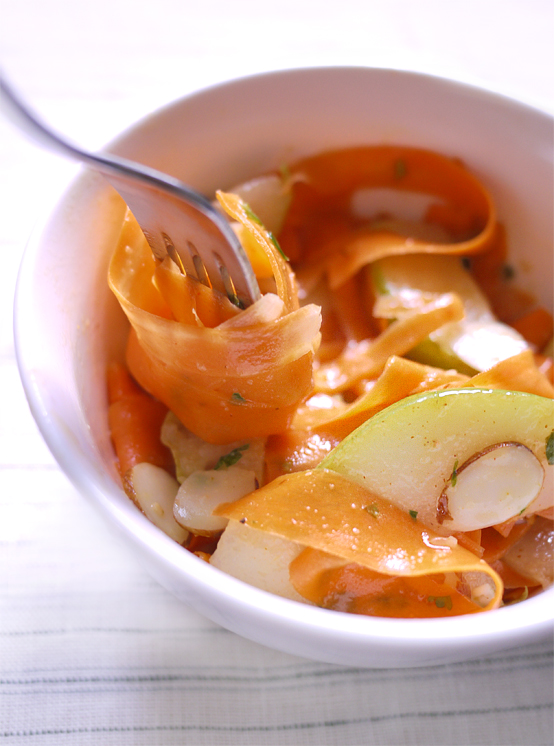 Table linen and tray by: Fog Linen Work. Fog Linen produces a line of daily use linen products for home and clothing. Beautiful stuff, and I'm thrilled to have them as a new partner here on Honest Fare.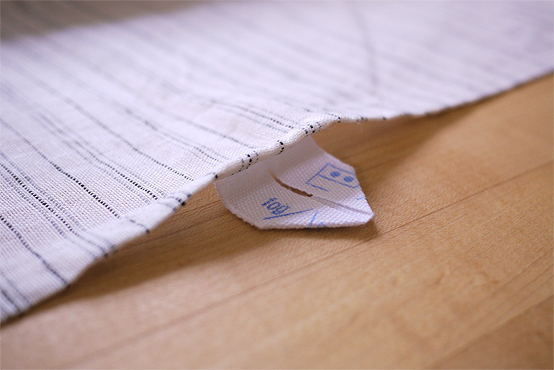 Peruse the Fog Linen Work online store and see what I mean…
Print Recipe
Back to Top
Recipe
Prep time: 20 minutes Serves 4. This is a great salad to make in advance. Let it chill in the fridge until you're ready for it (up to 24 hours!) and the dressing will soak in nice without making the carrots too soft or anything. Feel free to leave out the mayo if vegan, it just helps the dressing stick.
You need:
8 large carrots
1/3 cup shaved almonds
2 ripe anjou pears
Handful fresh curly parsley
1/4 cup olive oil
1-2 Tablespoons of water
3/4 teaspoon salt
Juice from 2 lemons
2 tablespoons maple syrup
Cayenne pepper to taste
1/4 teaspoon paprika
1/2 teaspoon curry powder
1 tablespoon mayo
Directions
Combine olive oil, lemon juice, paprika, curry powder, maple syrup, pepper, mayo and half of your parsley (diced). Place in jar and shake until very well combined. Set in fridge to chill. thinn with water if necessary.
Wash and remove first layer of skin on carrots using veg peeler. Cut off ends. Work the veg peeler from top to bottom, rotating the carrot every few peels to keep the strips consistent and get the best yield from the carrots.
Wash and cut pears into wedges, removing seeds and rough heart from center. Add pears to carrots and toss. Roughly chop remaining parsley and toss in with carrots and pears. Add almonds and toss salad again with your hands. Now add in dressing and toss very well again.
Let chill and serve very cold!
HonestFare.com