I like to snack on crunchy stuff. Nuts and pretzels…stuff like that. Surely I'm not the only one who gets such great satisfaction out of crunching? Lately I've gotten into those dried/roasted soy nuts or edamame. The toasted chickpeas I made today kind of remind me of those. But they're crunchier, therefore more addictive…I might have to start keeping these in my pocket.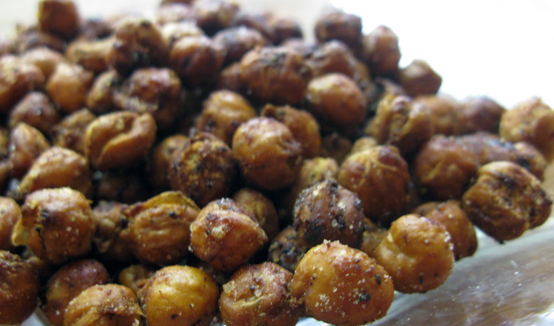 These are super easy to make. You can kind of experiment with your seasoning if you want, but I used a combo of paprika, cayenne pepper, powdered garlic and a little salt and rosemary (also sprinkled some sugar at the end).

Anyway you just toss it together with a tablespoon of olive oil and then spread them on a baking sheet.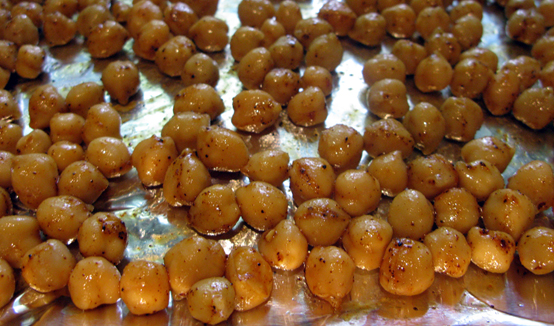 Also:
* These are good with curry powder too (instead of chili powder) but I wansn't in the mood to deal with that smell in the house for the next 3 days.
* The longer you bake them the crunchier they get.
* Oh yeah, I used canned chickpeas.
* Oh yeah, great beer food.
Print Recipe
Back to Top
Recipe
Coop/prep time: 30 mins.
You need:
1 can chickpeas
1/2 teaspoon paprika
1/2 teaspoon garlic powder
1/4 teaspoon cayenne pepper
1/2 teaspoon red chili powder
1/4 teaspoon salt
1 tablespoon olive oil
1 teaspoon sugar
Directions
Preheat to 350°F.
Drain chickpeas but do not dry.
Toss chickpeas in all your seasonings (not the sugar though!) and olive oil. They should be generously covered on all sides.
Place on baking sheet and bake for about 30-35 minutes. Make sure you flip them around every 10 minutes so they toast evenly. The longer they bake the crunchier they'll be. Careful though, they will start to burn after 35 minutes.
(Optional) When they're done and still warm, sprinkle the sugar over top and toss.
Best eaten fresh but do store fine. Just make sure that you let them cool completely before you put them in a container or baggy—if they are still warm they'll sweat and get mushy and gross.
HonestFare.com