I love potatoes. Aside from sweet potatoes, these baby Yukon golds are definitely my potato of choice. Just look at them – so tempting with their golden hue. Simply roasted in the oven and topped with a little salt, pepper and olive oil is my favorite way to eat them. There's just something so soothing about the texture of a warm and tender potato. And is there anything better than a nice crispy potato skin?
A rustic preparation like this is the best because it's full of flavor, easy to make and impossible to screw up. I oven roasted these little Yukon's whole with the skin on until nice and crispy and then smashed each one open by gently pressing with the back of a wooden spoon. It was actually quite fun and satisfying to feel each one pop, revealing a pleasantly sweet and creamy inside. They're topped off with roasted green onions and a red pepper parmesan sauce that I had to hide from myself to keep from eating with a spoon. It's that good.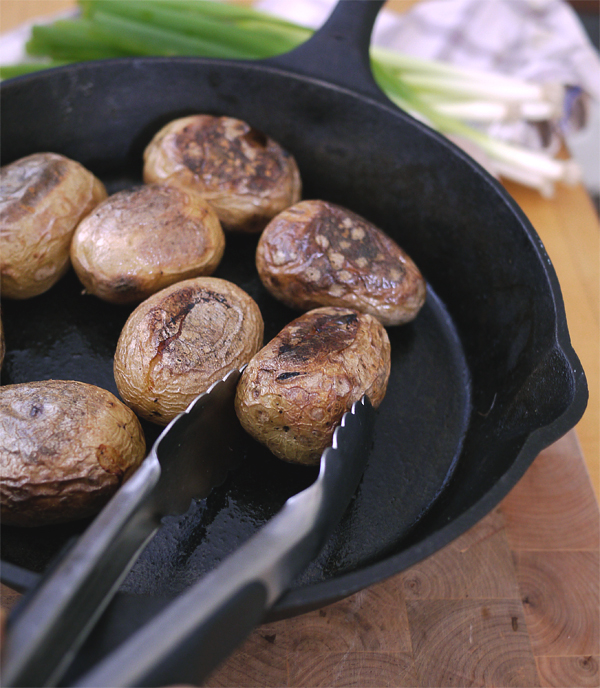 Just a little olive oil on the pan or your cooking tray of choice is all you need cause you don't want these greasy. Make sure you cook the potatoes until crispy and then flip them over to crisp the other sides evenly. Let them cool a little …then smash away! One firm press and they'll pop right open. I threw the green onions right into the same pan and put them in the oven as well, tossed with a little sea salt and cracked lack pepper. It took under five minutes for them to wilt and brown just right.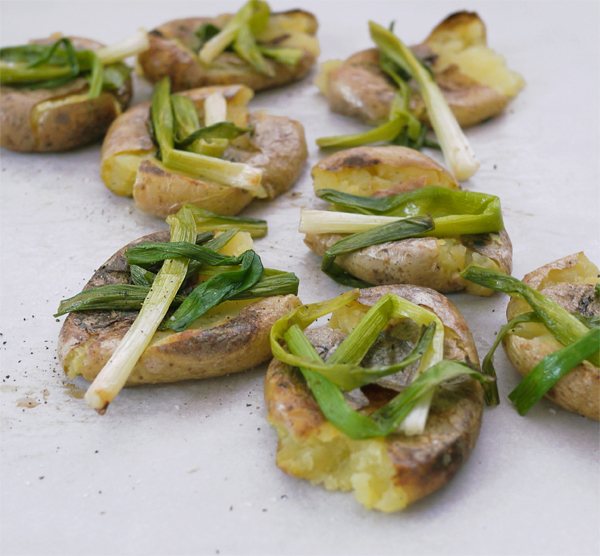 We have to talk about this sauce. It's so good. Too good actually, considering how lazy I was about it. Originally, I imagined a traditional Catalan Romesco sauce going perfectly with the potatoes and green onions, but I just wasn't up for preparing it and didn't know that you would be either. So I made this Romesco style sauce and really cheated even further by using jarred roasted red peppers.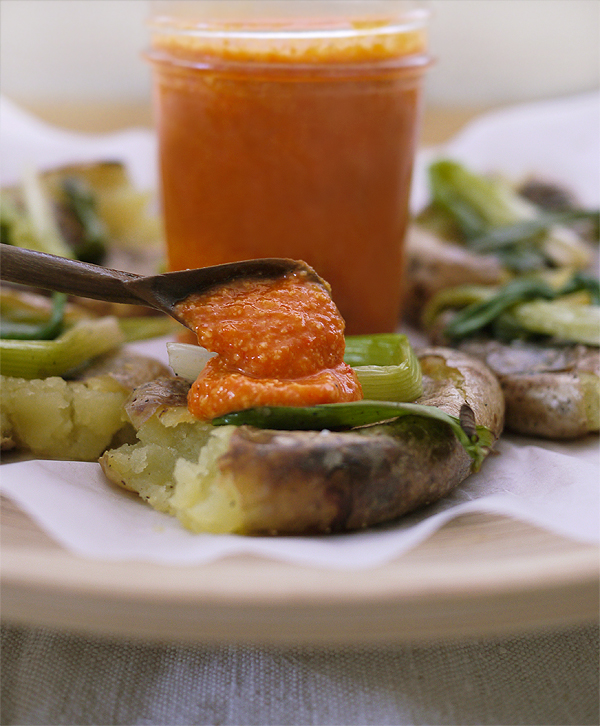 I just cooked some whole garlic cloves in olive oil until supple and blended the flavored oil and cloves with the red peppers, parm cheese, red pepper flakes, lemon juice and honey. Mind blown. This sauce is great warm or straight out of the fridge. I tossed the leftover sauce into some pasta and topped with fresh parsley later in the week and it was divine. Also a perfect spread on bread or in a sandwich. If nothing else, please make this sauce.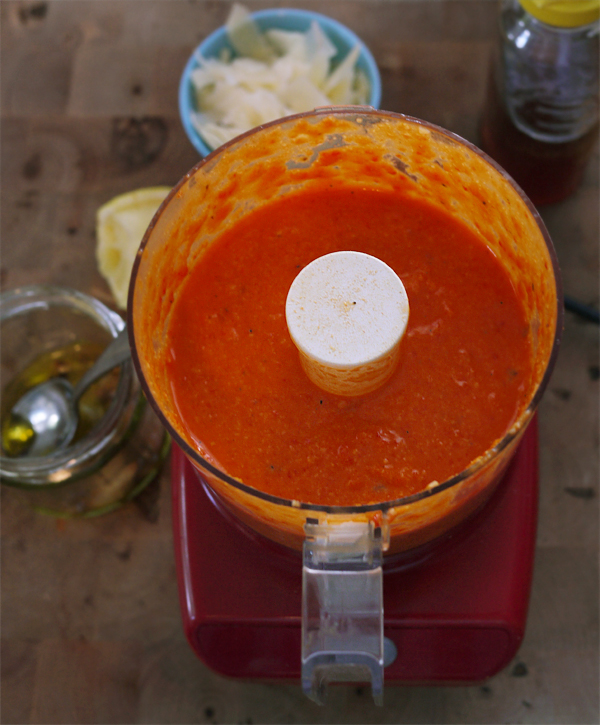 These potatoes are such an easy side to throw together and go great with just about anything. We had them with fried eggs for brunch – so good! And because it's summertime for many of us, I know the backyards grills are going, so you could also cook the potatoes right on the grilltop as long as they're brushed with some olive oil first so they don't dry out. Same with the green onions.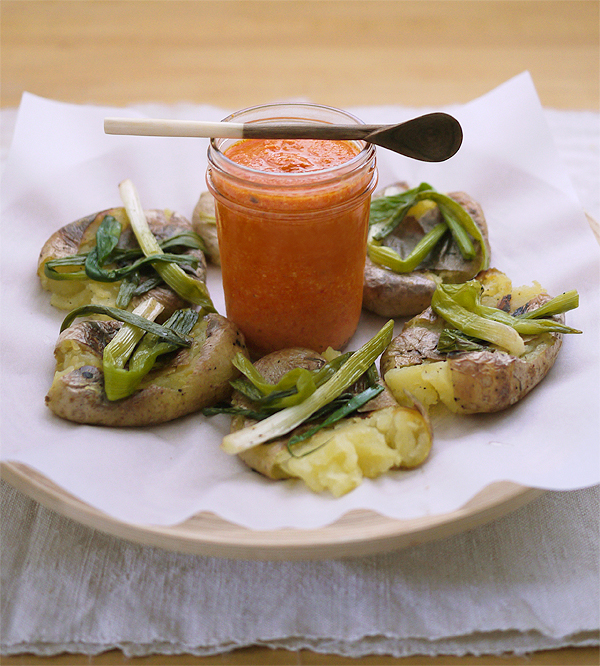 Print Recipe
Back to Top
Recipe
Makes about 14oz sauce, which is enough for 4 people to enjoy with potatoes. Any leftovers are great on pasta or as a spread on bread or a sandwich! You can use just about any small potato, but I happen to prefer these yukon golds for their sweet creamy texture.
You need:
For Roasted Red Pepper Parmesan Sauce:
12oz jar roasted red peppers (Vigo brand is good or your favorite)
1 cup Parmesan cheese
Juice from 1/2 lemon
1 Tbs honey
Red pepper flakes
Cracked black pepper
2 garlic cloves
For Crispy Potatoes:
12 Baby yukon gold potatoes
Olive oil
Kosher sea salt
Cracked black pepper
1 large bunch green onions
Directions
For Sauce:
Peel and cut garlic cloves in half. Place garlic in pan generously coated in olive oil; sprinkle with red pepper flakes and cook on very low heat until soft. Remove from heat or lower heat if they start to burn. Let cool completely.
Drain jar of red peppers and place them in food processor or blender. Add garlic cloves and half the olive oil the garlic was cooked in, lemon juice, cheese, honey, black pepper, red pepper flakes. Blend until creamy smooth.
Store refrigerated in glass jar for up to two weeks.
For Potatoes:
Add a thin coat of olive oil to an oven safe dish or cast iron pan. Place potatoes on pan and cook in oven at 350° until they begin to soften. Flip over to crisp other side. Turn oven to broil for last few minutes to for extra crispy potatoes. Should take about 20 minutes to cook perfectly. Remove from oven and place on flat surface to cool.
Add green onions to same pan and with drizzle olive oil, salt, pepper. Place in oven tossing after a couple minutes. Cook until wilted and slightly browned, about 6 minutes.
Press each potato firmly but gently with the back of a wooden spoon until pops open. Sprinkle with sea salt and cracked black pepper. Top each potato with wilted green onions. Serve with sauce on side.
HonestFare.com