Hi everyone!
Crickets.
Anyone still here?
Has it really been almost a whole year since my last recipe? Typically, I'd be pretty depressed about that after five years of cooking here, but it's actually been a pretty awesome year, so I've just been rolling with the reality that this blog wasn't fitting in with the rest of my life for a little while. So, a home renovation, lots of pottery, and an engagement later, here I am. Just in time for my favorite holiday, with one of my favorite vegetables: sweet potatoes! What a triumphant return.
I love everything about Thanksgiving. Well, except for that offensive sweet potato casserole thing with marshmallows on top. Why do people have to mess with sweet potatoes? They're so perfect already. You want them sweeter? I feel like that's just rude. Tell me I am not alone in this.
This recipe gives you everything you love about the natural goodness of sweet potatoes and everything some people love about that weird marshmallow thing. Those crispy, crunchy edges. Burnt bits of smokey, sugary caramel. And that lovely soft and soothing center.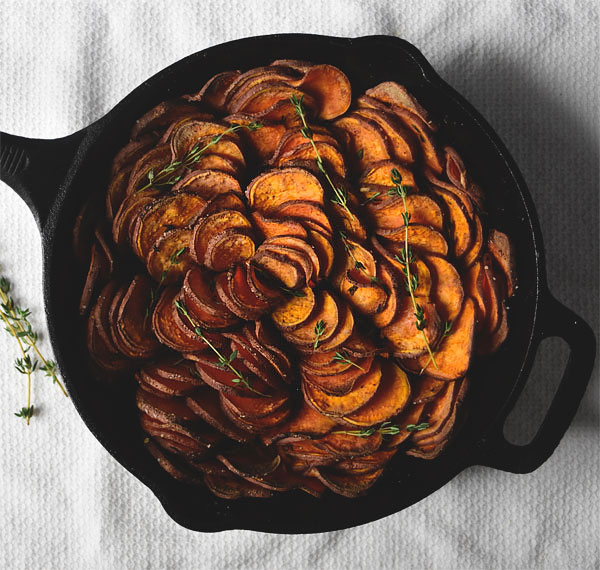 There's not much to this dish. It's basically all about the slicing and assembly. You can use a mandoline or knife to slice the potatoes into eighth of an inch rounds.
And then you'll just start shingling them around the inside of your pan to create a pretty flower petal looking pattern. It works out nicely if you use the bigger pieces for the perimeter and reserve the smaller ones for the center and to pop into any remaining gaps. Like so…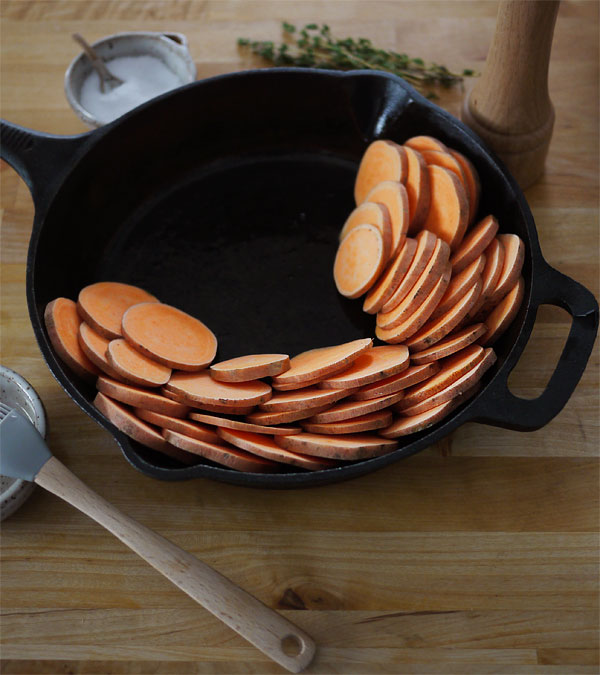 You'll need to coat the bottom of the skillet with either butter or coconut oil before arranging them. Then you'll brush them with a nice dose of butter or oil as well. I did a combination of butter and coconut oil so I wouldn't be using so much butter. A generous sprinkle of kosher salt and pepper and thyme is all they need beyond that. I definitely recommend adding few sprinkles of smoked chipotle powder for extra kick, but it's optional!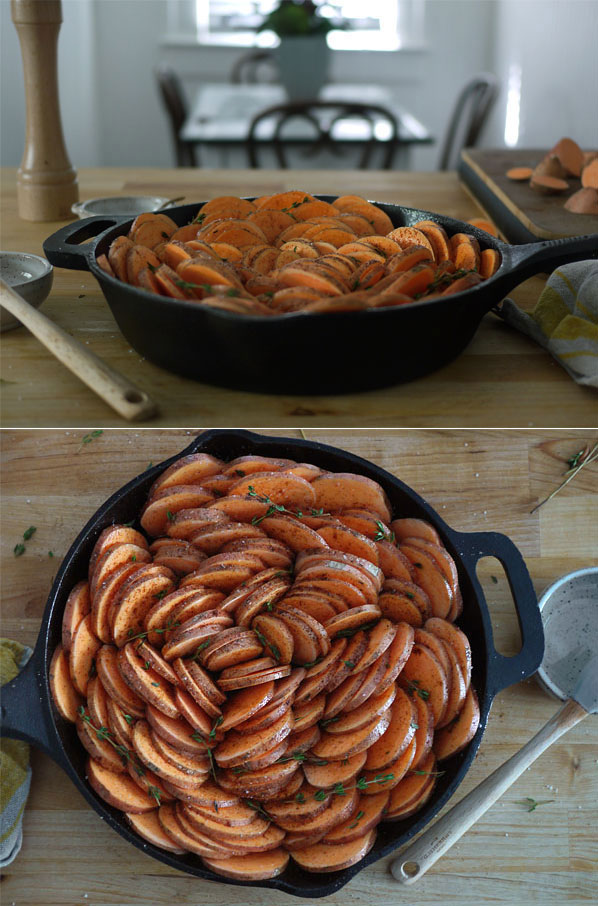 Well, it's Monday. Thanksgiving is Thursday. That means there are three days in between. I'm just going to ask that you consider adding this to your Thanksgiving menu this year. Unless you already have the menu carved in stone, in which case, I'm going to simply ask that you MAKE SWEET POTATOES THIS WAY AT SOME POINT IN YOUR LIFE BECAUSE THEY ARE AWESOME LIKE THIS. Not yelling, just excited.
Hey, thank you for still being here and I hope you have a delicious Thanksgiving.
Print Recipe
Back to Top
Recipe
About 6-8 servings
You need:
3 Tbs unsalted, room temp butter
3 melted coconut oil
5-6 medium-sized sweet potatoes
several sprigs fresh thyme
smoked chipotle powder
kosher salt
cracked black pepper
Directions
Preheat an oven to 375°F (190°C).
Using a sharp knife or a mandoline, thinly slice the potatoes.
Brush the bottom of a large fry pan with 2 Tbs. of the melted coconut oil. Arrange the potato slices vertically but at a slight angle in a circular pattern in the dish, filling it completely. Brush o pour the remaining coconut oil and butter melted butter over the potatoes and sprinkle with the thyme and salt, pepper, chipotle powder.
Roast until the top edges of the potatoes are crispy, about 1 hour.
Let stand for 10 minutes before serving. Serves 6 to 8.
HonestFare.com
Recipe adapted from: Williams & Sonoma