I crave avocados. Pretty much every day. By the way, is craving something so much supposed to indicate something? Like, that your body lacks a nutrient that particular food item provides? Maybe I need more potassium or vitamin E…or more unsaturated fats? Or maybe it just comes down to that creamy, nutty, buttery flavor, and it's my taste buds that are really in control here. Whatever it is, I can't really go more than a day or two without my avocado fix. Which is not exactly a bad thing, considering how good they are for you!
Being that they're so rich in mono and polyunsaturated fats (the good kind of fat), avocados are a great substitute for foods rich in saturated fats, like cheese, butter and other dairy – and the perfect healthy solution for making rich and creamy shakes/smoothies!
Avocado smoothies are one of my favorite treats when the weather is warm and since it's been about 8 months since my last Green Smoothie post, well, here you go…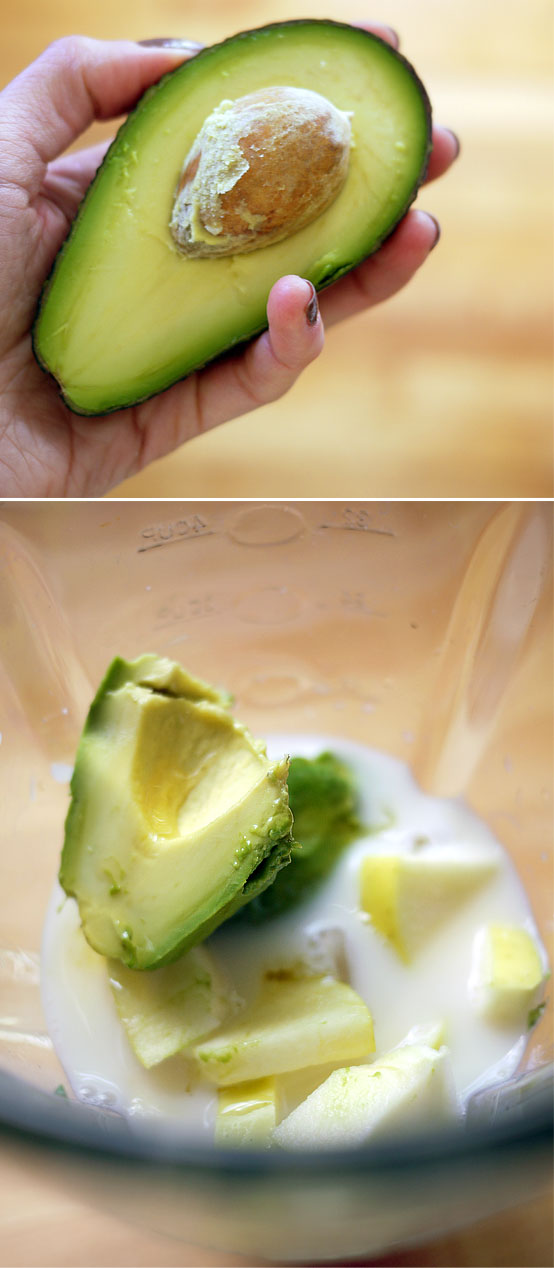 Half a ripe haas avocado. Half an apple. Milk of your choice (soy, almond, rice or regular). Agave syrup to taste. Splash of water and ice. Blend!
I definitely get the ew face pretty frequently when tell people about my avocado smoothies, so if you're skeptic too, maybe it'll make you feel better to know that avocados are technically a fruit. Nickname: butter pear.
An extra swirly of agave is a nice way to top it off!
P.S. Avocados are considered a "nutrient booster" because they help the body more easily absorb fat-soluble nutrients like alpha and beta-carotene. So drink up!
Print Recipe
Back to Top
Recipe
Prep time: 5 minutes. Makes 1 smoothie. Use any kind of milk you like (soy, rice, almond, or regular dairy) Sweeten to taste with agave or sugar, but I don't recommend honey because the flavor overpowers.
You need:
Half a ripe haas avocado
Half an apple, partially peeled
1/3 cup milk of choice
Splash water
1 cup ice
Agave nectar or sugar to taste
Directions
Place all ingredients in blender and blend until smooth! Top with an extra swirl of agave nectar.
HonestFare.com