So today is my birthday. Yay?!?! Today I turn 28. I couldn't sleep last night because I kept thinking about how in the morning I'd officially be about 20 years older than I feel on most days.
I do grown up things like negotiate better deals for lawn service and get pedicures. I say things in meetings at work that sound smart. And last year, when the time finally came, I helped pack up my grandparent's house and said goodbye to a coo-coo clock and a kitchen that had been a part of my life for as long as I can remember.
Despite all the stuff that points to my being 28-years-old now, on the inside (and to those who know me best), I'm still a goofy little girl whose feet are way too big for her body.
I don't mean to exaggerate or get overly dramatic here. I absolutely realize that 28-years-old is still young as hell. I guess this is more about the people around me getting older too. Like my aunt (and second-favorite person in the world), who'll be turning 70 in three days. And my two cats who turned 14 last month! And then, at about 2:30 am, it hit me: It's a pretty wonderful thing, that as I get older I can still feel like little ole me. And then I fell asleep.
Aside from my feet still being way too big for my body, another thing that has remained constant over the years, is my love for cookies. My mom says one of my first words was actually "cookie." And every now and then she'll still make reference to "her little cookie monster." That would be me.
I grew up with a cookie jar. And I think because if that, cookies are both a comfort and a thrill for me. So now, even as an old woman, I still love my cookies. So much that, a couple times a week I have something I've dubbed 'cookie cookie teatime.' This is when I sit down with, yup you guessed it, a couple cookies and a cup of tea. Jason will usually walk in the room and say, "oh, cookie cookie teatime, huh?" And then he'll walk right back out because he knows nothing else exists during cookie cookie teatime. So today, on my birthday, we're all going to have a little 'cookie cookie teatime.' Cause today is about me, right? And that's what I want, dammit.
The preferred 'cookie cookie teatime' cookie is something simple like a gingersnap or a basic shortbread of some kind. Nothing too sweet or loaded.
Something good for dunking.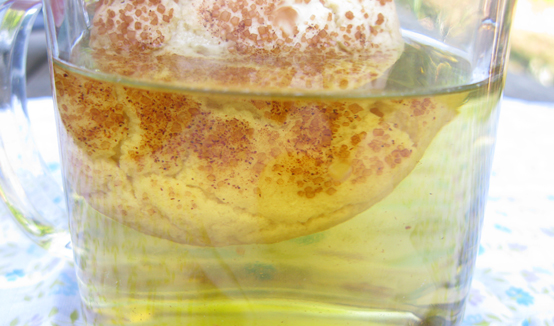 Cause I love when they dissolve a little!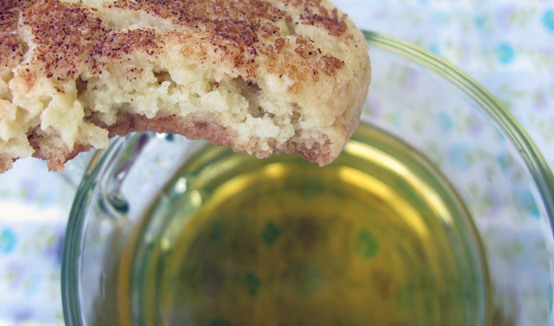 For this installment of 'cookie cookie teatime,' we're having sinckerdoodles, courtesy of Katie and her magical baking skills. I highly recommend you make these cookies. Now, I won't lie and tell you they're particularly good for you. But they're not terrible…there are certainly way more buttery cookies out there.
The recipe is easy and they've got a quick 8 minute bake time. The raw dough should be rolled into walnut sized balls and dabbed in a mixture of cinnamon and raw sugar.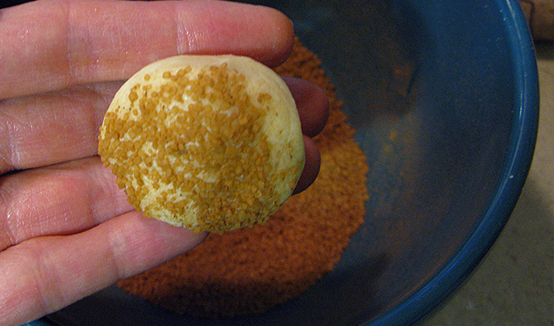 Take them out when the tops are nice and cracked open and look something like this (remember they will continue to cook a bit when you take them out). Always better underdone than overdone with these.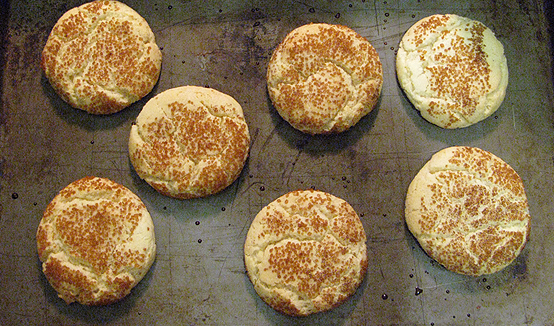 I firmly believe that cookies are good for everyone on some level. They've kept me young all these years… Happy 'cookie cookie teatime' and happy birthday me!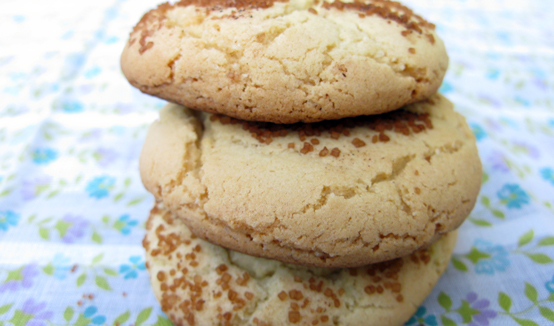 Print Recipe
Back to Top
Recipe
Coop+prep time: 20 mins. If you don't have pastry flour, all purpose flour may be used, but cookies may be less tender. To make your own pastry flour for this recipe, combine 2 cups all-purpose flour with 1 cup of cake flour and then use the 2 3/4 cups of it. If you substitute the shortening with all butter for this recipe, the cookies will spread too much and flatten out; they will also brown more quickly. Makes about 3 dozen. Eat these while drinking your favorite tea…and don't be afraid to do some dunking.
You need:
1/2 cup each butter and shortening
2 eggs
2 3/4 cups pastry flour
1 1/4 cup sugar
1 1/2 teaspoons cream of tartar
1 teaspoon baking soda
1 teaspoon vanilla extract
1/3 teaspoon salt
1 tablespoon cinnamon
3 tablespoons Turbinado sugar
Directions
Preheat the oven to 400°F.
In the bowl of an electric mixer, cream room temperature butter with shortening until light, gradually adding sugar. Add eggs, one at a time, beating after each addition.
In a small bowl, mix together flour, cream of tartar, baking soda and salt, stirring until well combined. Gradually add flour mixture into butter/sugar mixture.
Combine 2 teaspoons cinnamon with 3 tablespoons coarse turbinado sugar and stir until evenly mixed.
For larger cookies, shape 1 tablespoon of cookie dough into balls (for smaller ones only use a teaspoon of dough). Press tops into sugar/cinnamon mix and place 2-3 inches apart onto ungreased cookie sheets. Bake in a preheated 400°F oven for about 8-9 minutes (bake small cookies for 4-5 minutes).
HonestFare.com