You've got to respect the person who just whips up a batch of oatmeal raisin cookies from scratch at 10pm for no other reason than to satisfy a craving. I'm not talking about myself, of course. I would probably never do such a wild thing. But, that's exactly what a friend (rather discretely) did for us after dinner the other night, reminding me of how very much I love oatmeal cookies. I limited myself to just one pancake-sized, warm and chewy with the steam still rising cookie that that evening, but I thought about those damn things for the rest of the week. Until one morning, it occurred to me that I should just throw caution to the wind and bake a batch of spontaneous cookies for breakfast! So I basically just opened the cupboard and started pulling things out and this is what I came up with…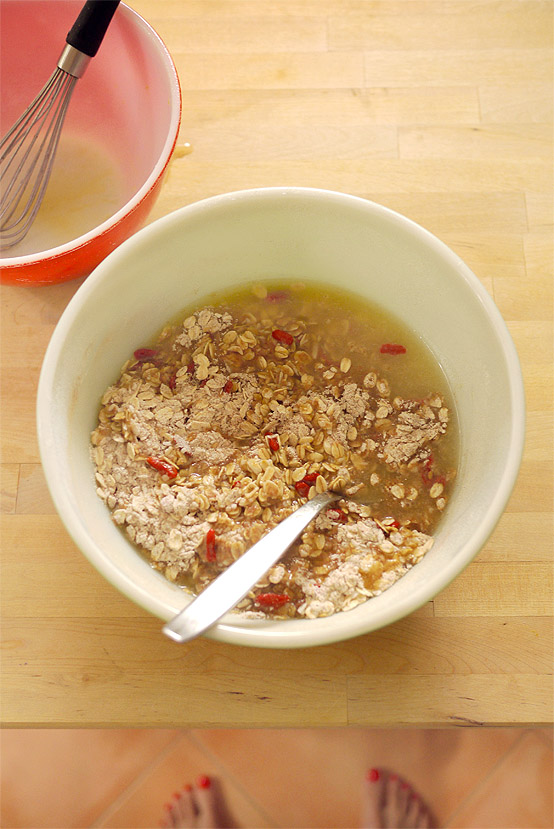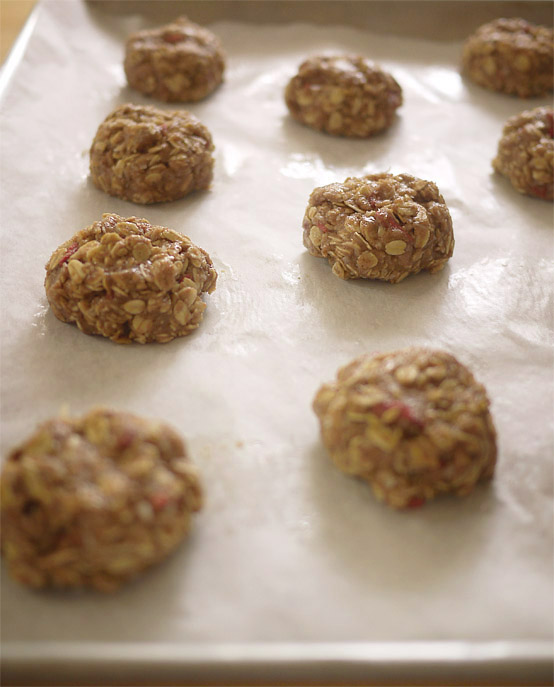 Instead of sugar I used honey. And rather than butter, I went with coconut oil. Also added some coconut flakes and flax seeds for good measure. And I didn't have any raisins so I used goji berries.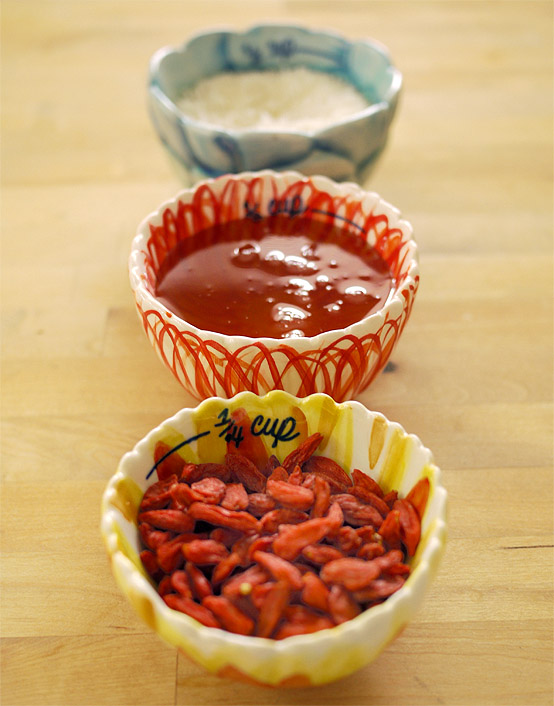 And there you have them – Coconut Oat Goji Berry Cokkies. Impossibly good. They're somewhere between an oatmeal raisin cookie and a coconut macaroon. But they taste healthy so they're perfect for breakfast! I've experimented using brown sugar in place of half the amount of honey and it results in a sweeter and richer cookie, so definitely do that if you're looking for more of a sweet treat.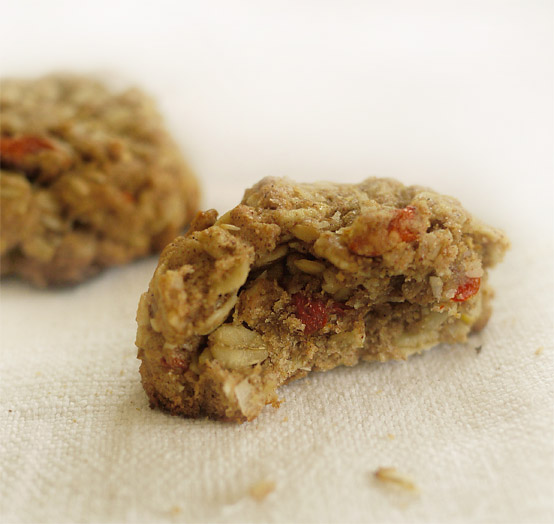 I happen to love raisins, but I didn't miss them at all here. In fact, the earthiness of the goji berries is fantastic with the nutty sweetness of the coconut flakes. Not to mention that goji berries are great for you! Super food status, with one of the highest vitamin C ratings and more iron per serving than spinach and amnio acids than bee pollen. They're also said to increase HGH (Human Growth Hormone) production. Nothing wrong with cookies that keep you young and beautiful! And here's a great source for organic goji berries online. The dark chocolate covered ones are awesome too….obviously not for cooking with though.
If you haven't experimented with coconut oil before, this recipe is a great place to start. You'll be shocked at what a fantastic substitute it is for butter. In this case, the coconut oil results in a much cleaner and less greasy cookie, but you can actually use coconut oil as a substitute for other oils and butter in most your cooking and baking. (Some additional info on the health benefits of coconut oil.)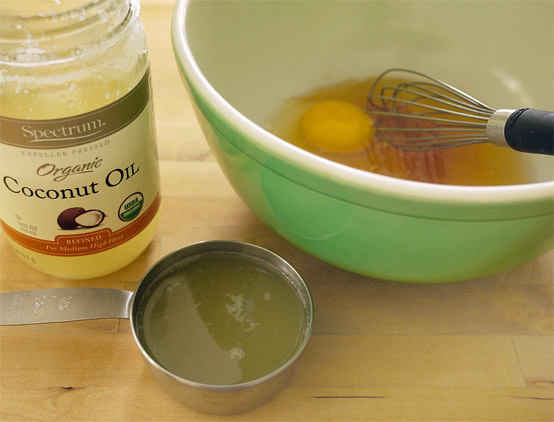 These things are cookie monster material. Luckily they're guilt free!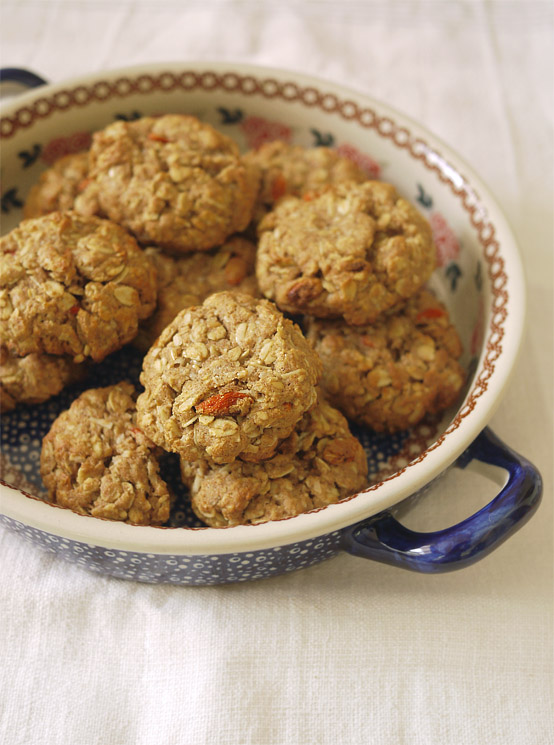 Print Recipe
Back to Top
Recipe
Prep + bake time: 40 minutes. Makes about 2 dozen cookies. These cookies are lightly sweetened so feel free to add or even substitute in brown sugar for half the amount of honey for a slightly sweeter and richer flavor.
You need:
1 cup whole wheat flour
1 1/2 cups large rolled oats
1/2 tsp baking soda
1/2 tsp baking powder
1/3 tsp salt
1 Tbsp cinnamon
2 Tbsp flax seeds
1/4 cup goji berries
1/2 cup unsweetened desiccated coconut
1/2 cup honey (add some brown sugar too for sweeter version)
1/2 cup coconut oil
1 egg beaten with 1 Tbsp water
1 tsp vanilla
Directions
Preheat oven to 325° Use this lower temp and keep your eye on the cookies because the honey cooks faster than sugar and has the potential to burn.
Except for the goji berries, mix all dry ingredients together in a large bowl. Mix all wet ingredients together in another bowl. Combine wet and dry ingredients together and fold in goji berries until evenly distributed in the batter.
Cool mix in the fridge for at least 20 minutes. This will make it easier to shape and work with.
Place heaping teaspoonful sized balls of batter on a lined baking sheet and press each lightly in center.
Bake 15-20 minutes or until the bottoms are just golden brown.
HonestFare.com